Cricket
Consistent Nitin Menon keeps flag flying for Indian umpires | Cricket News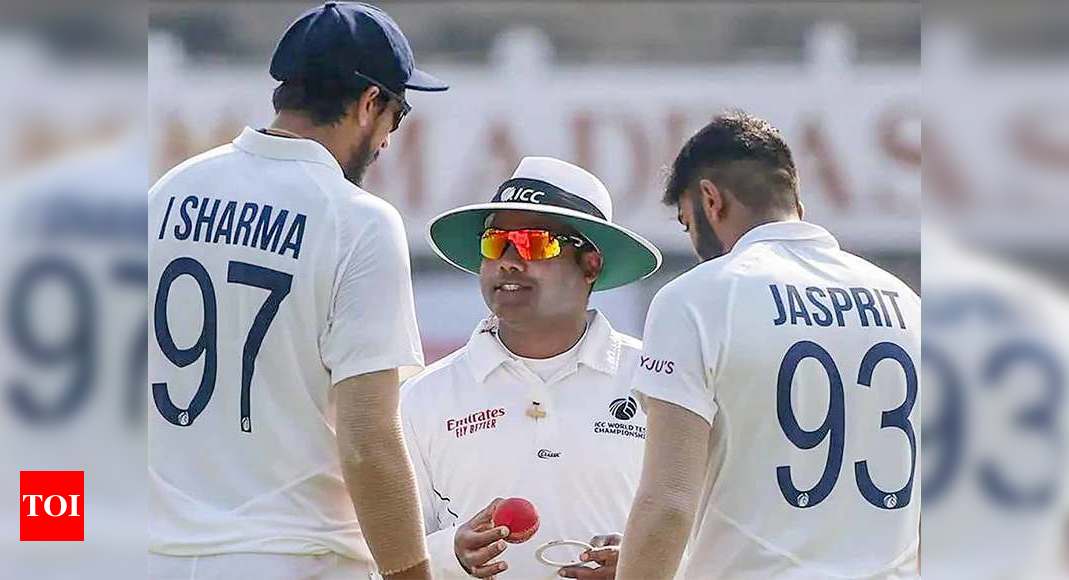 Modest Nitin Menon gives credit to his team for a successful series
NAGPUR: In normal circumstances, Nitin Menon wouldn't have dreamt of officiating in the Test series involving India. However, due to Covid restrictions, Menon, only the third Indian umpire to be included in the ICC's Elite Panel of umpires after S Venkataraghavan and S Ravi, got to stand in the high-pressure India-England series.
Menon, the youngest in the panel, did the job with aplomb and was praised for his composure throughout the series.
"Don't want to put the 'analyst's' curse on him, but Nitin Menon is having a brilliant series as an umpire. It's great news for Indian cricket. Have always felt India needs to produce many world class umpires along with world class cricketers," former India batsman and noted commentator Sanjay Manjrekar had tweeted about Menon in the last match.
Legends like Sunil Gavaskar and experts like Aakash Chopra, too, showered praises. While he might have passed the litmus test with flying colours, Menon understands that he needs to do his job consistently and will always be under scrutiny.
"I don't do umpiring to prove a point to anyone. I do it because I love this game. I get to see some of the best players from close quarters. There will always be pressure and expectations. People will always judge you for what you are doing in the current match even though you may have had a fantastic last match. For me, it's about living in the present and focusing on one ball at a time, just like players do. Much like the players, consistency is the key for umpires as well. I have just started at the Test level and I want to perform well consistently," Menon told TOI.
Being in the elite panel, the spotlight was on Menon. The 37-year-old credits the whole team for the successful series. "I honestly think we have done well as a team. It's not my achievement alone. Ultimately you are judged as a team. I think Anil (Chaudhary), Virendra (Sharma) and Shamsuddin have done a great job. If my partners won't do well, I will be under pressure and may make mistakes and vice-versa. What we have done the whole world has seen in this series. There was always this perception that Indian umpires aren't good enough but our performance in this series may change that. For me, the views of the ICC's selection panel are more important," he said, adding, there wasn't any pressure on him while officiating in the home series.
"Our job is to make the right decisions, irrespective of whichever team plays. It's people's perception that Indian umpires will favour the Indian team or umpires from other countries will favour their players. We can't stop fans from having their point of view. We understand that we are here to do a good job. However, it feels nice when legends like Sunil Gavaskar Sir, experts like Sanjay Manjrekar and Akash Chopra appreciate my performance," said Menon, who has also played two List 'A' matches for MP.
In the past, Indian umpires have often come in for a lot of criticism. There's always a question mark regarding the standard of umpiring in India.
Menon, however, feels that Indian umpires are thorough professionals and as good as anyone in the world.
"I honestly don't think that the standard of umpiring in the country isn't up to the mark. Whatever mistakes international umpires make, it happens on the domestic circuit as well. The only difference is DRS. Without DRS, mistakes get exposed at the domestic level, whereas they get rectified at the international level. When teams lose they either blame the quality of pitches or umpiring. Pitches and umpires are soft targets. Take the example of Virendra Sharma. He was criticized a lot at the domestic level but he did a fabulous job in the high-pressure Test series between two quality sides. The winning and losing side will always have a different perception about the same umpire. You don't lose just because of umpiring decisions," he signed off.