Cricket
Chandigarh's Nirmohi, Bishnoi to be re-tested for Covid on December 26 | Cricket News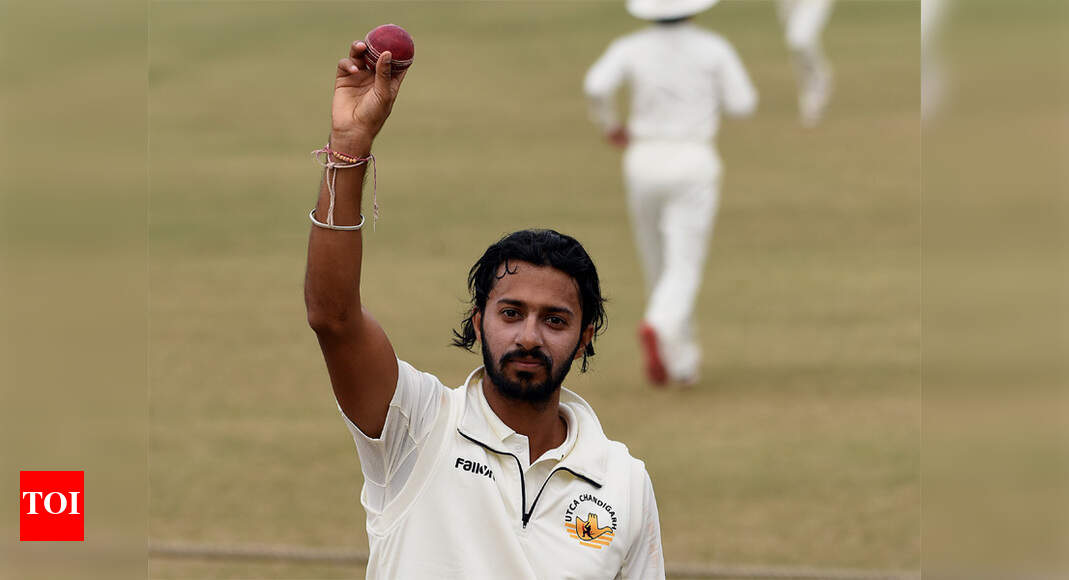 Read more at timesofindia.indiatimes.com
CHANDIGARH: Seasoned professionals
Uday Kaul
and
Bipul Sharma
were among the 37 probables named for the upcoming preparatory camp, starting Wednesday at the Sector 16 Stadium in Chandigarh.
The list of probables expectedly had two notable omissions in star pacer Shresth Nirmohi and promising batsman Raman Bishnoi, who had tested positive for
Covid-19
on Monday, and are set to be retested on Saturday.
With match fitness on focus ahead of the all-important
Syed Mushtaq Ali T20 tournament
, starting January 10, the list of probable will be further pruned down to 20 players at the end of the camp, on December 30.
Chandigarh found themselves clubbed with the Northeastern states of Meghalaya, Manipur, Mizoram, Sikkim, Nagaland, Arunachal Pradesh, and Bihar in the Plate group. Chennai will be hosting the matches of the Plate Group, while the other 30 teams have been divided into five Elite Groups, with each Group, having six teams.
UT Cricket Association president Sanjay Tandon dropped by the stadium to take stock of the preparations ahead of the camp, and expressed his concerns at the two Covid-positive players while assuring all possible help to the duo.
Tandon said that he is in constant touch with both Nirmohi and Bishnoi, and added Dr GD Puri, head, Covid-19 affairs, PGI had personally spoken to players and instructed a strict regime for the next 3-4 days.
"Both the players will undergo the Covid-19 test once again on December 26," said Tandon.
When TOI got in touch with Nirmohi to enquire about his health, the pacer sounded in high spirits.
"I am doing quite well, thanks," came a prompt reply from the frontline pacer, who utilized the Covid-19-foced national lockdown to hone his skills at stock broking, digital marketing and web coding languages.
List of probables for camp
Aman Bharti,
Anirudh Kanwar
, Amit Parashar, Ankit Kaushik, Arpit Singh, Bhagmender Lather, Bipul Sharma, Gaurav Gambhir, Gaurav Puri, Gurinder Singh, Jaskarandeep Singh, Jaskaran Sohi, Karanvir Singh, Kunal Mahajan, Manan Vohra, Mandeep Singh, Ronit Dhawan, Sarul Kanwar, Uday Kaul, Ayush Sikka, Amrit Lal Lubana, Harshit, Jagjit Singh Sandhu, Mohammad Arslan Khan, Nippun Pandita, Taranpreet Singh, Shivang Saini, Jagmeet Singh, Pardeep Yadav, Arjun Azad, Chiragveer Singh Dhindsa, Rajangad Bawa, Shahbaz Singh, Surya Narayan Yadav, Yuvraj Chaudhary, Sanyam Saini and Amit Kumar Shukla