Tennis
Central tennis wins Kickapoo Invitational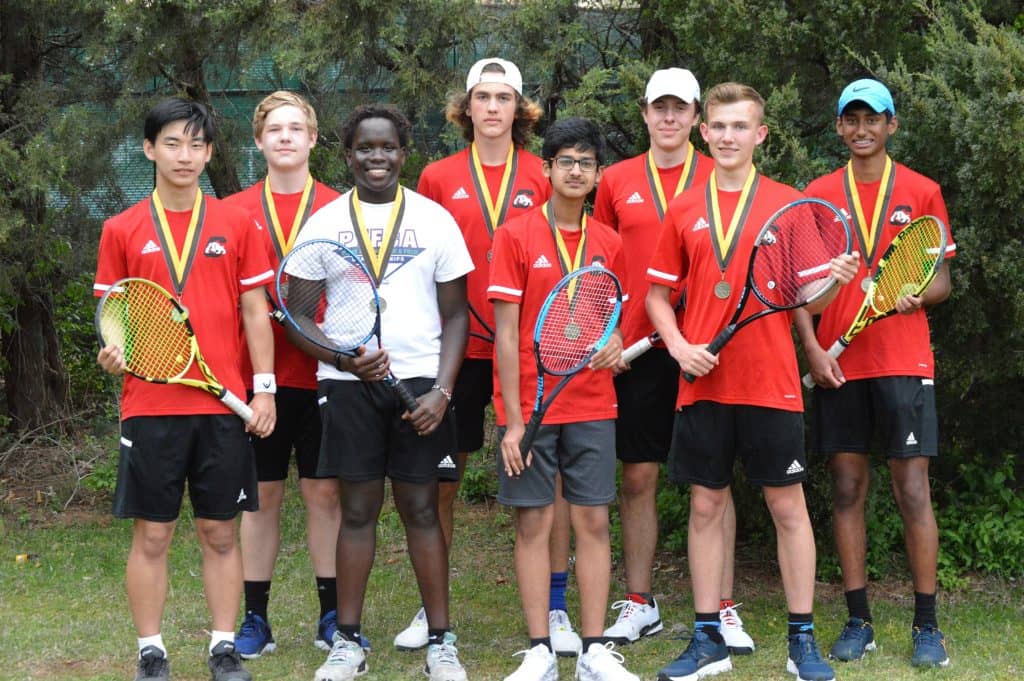 By Don Eskins (For OzarksSportsZone.com)
The Central High School Bulldogs laid claim to this year's Kickapoo Invitational Tennis Tournament championship at the Gillenwaters Tennis Complex on Friday.
The Bulldogs posted an unblemished 3-0 record en route to picking up the win with victories over Nixa (5-2), Catholic (5-0) and Republic (5-1).
Finishing second were the 2-1 Nixa Eagles. Kickapoo, who also posted a 2-1 record, placed third. Medals went out to the top two teams.
The tournament finished earlier than had been expected due to an afternoon storm.
"We didn't get to finish our last matches because of the storm," said Kickapoo coach and tournament director Eric Wilbur. "But the scores indicated that Central and Nixa were going to finish first and second. The rain out would not have possibly altered the outcome."
It was the first tournament of the year for Central High, a tournament that Bulldog coach Donita Cox says offered her kids lots of quality play.
"Our kids played well today but we were lucky to," said the Bulldog coach. "There were some very good teams here today and we needed great efforts from all of our kids to get the win."
"We have a really fun group of kids on our team this year but they all practice hard, have great work ethics and help each other out a lot" said Cox. "Today they really came together, they were a team."
CLICK HERE FOR PHOTOS OF THE TOURNAMENT
Cox said that while the Bulldogs have a lot of players on hand they still have to function as a team to win and credits seniors Alexi Shunyakov and Anthony Trimble for helping to provide the leadership they need to get everybody focused on playing together.
"I think it's important for us to have fun and not take things too seriously," said Shunyakov. "So instead of going out just to win Anthony and I focus more on playing our best and lifting our team members up."
"This year really means a lot to Alexi and me," said Trimble. "Especially since we had no season last year due to COVID. This is a big year for us and we're doing all we can to help make it a good one for all of us."
The Kickapoo Invitational was also the first tournament of the year for Nixa. Eagle coach Slade Snowden says that his kids were ready to compete.
"I was very pleased with the effort we got from our kids," said Snowden. "They played really well today and picked up a couple of big wins against Kickapoo and Ozark."
The Nixa coach was especially pleased with the play he got from the bottom of his lineup.
"We have a lot of depth this year, mainly due to the play we've been getting from Brody Ball and Trey Hartwell, the number five and six players on our team," Snowden said. "They've proven to be the most consistent performers on our team. I don't think they've lost a singles or doubles match all year."
"It's great to have good kids at the one, two and three spots," he said. "But to be successful it's just as important to have good kids at the four, five and six spots. And right now that's exactly what we're getting from our kids, good play up and down our lineup."
For senior Issac Forbis finishing second was a good sign that his Eagles are on track in 2021.
"I didn't play as well as I wanted to today but overall I think this was one of our better performances. Beating Kickapoo was especially big for us," he said. "I think we all had a lot of fun today and through it all we came together as a team."