Australia
Bucks' DiVincenzo: From the Big Ragu to a Big Deal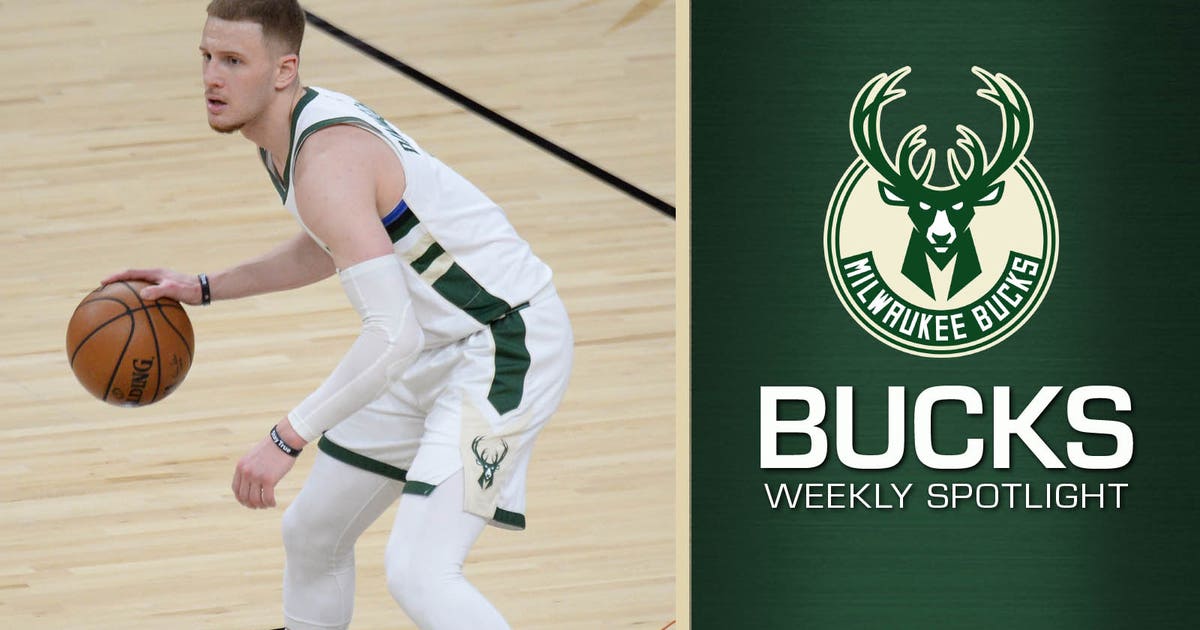 Welcome to the 2020-21 edition of the Bucks Weekly Spotlight. Each Thursday, we'll track the progress of the players who are trying to help Milwaukee make a championship run and give updates on other players from the previous week.
This is the 10th edition of the 2020-21 Bucks Weekly Spotlight.
SPOTLIGHT ON …
Guard Donte DiVincenzo
DiVincenzo's role has increased this season — but especially so in the last week.
On Monday in Milwaukee's win against Washington the third-year guard out of Villanova saw 33:06 of court time. Then on Wednesday's overtime squeaker over Philadelphia, he played 36:17. Those represented two of his three-highest minute totals of the season (he played 34:43 vs. New Orleans on Feb. 25).
Good things happen when DiVincenzo is on the court.
In all, DiVincenzo averaged 30.4 minutes in four games — all Bucks victories — posting 13.3 points, 9.0 rebounds, 4.0 assists and 1.8 steals per game. He also had a box score plus/minus of +13.0, which trailed only Giannis Antetokounmpo (+19.5) on the Bucks over that span.
The Delaware native enjoyed his pseudo-homecoming against the Sixers, tallying 20 points – including knocking down 4 of 9 3-point attempts – eight rebounds, five assists and three steals with just one turnover.
On March 13 against Washington he notched his second double-double of the season (10 points, career-high 13 rebounds). He was a plus-34 against the Knicks on March 11 despite playing only 23:06 (11 points, eight rebounds) and a plus-24 in the rematch game against the Wizards on March 15, when he also had a nice line of 12 points on 5-of-8 shooting, seven rebounds and six assists.
Entrenched in the starting lineup – he's started all 40 games Milwaukee has played – DiVincenzo is averaging career highs in points (10.6), rebounds (5.1) and assists (3.1). He's also making 38.2% of his 3-point attempts, a big step up from his first two seasons (31.8% combined).
He's also still one of Milwaukee's top defenders – fourth on the team (as per NBA.com) in defensive rating among players averaging at least 10 minutes per game.
The Big Ragu is starting to become a Big Deal for the Bucks.
BUCKSHOTS
— This week in Giannis: Three consecutive triple-doubles is nothing to sneeze at, which Antetokounmpo did against the Knicks and Wizards (twice) before "only" recording 32 points, 15 rebounds and five assists at Philly. Giannis joins this group of players who had three straight triple-doubles since the 1983-84 season: Larry Bird, Jimmy Butler, Draymond Green, James Harden, Grant Hill, LeBron James, Nikola Jokic, Magic Johnson, Michael Jordan, Jason Kidd, Fat Lever, Elfrid Payton, Russell Westbrook. Those who had at least 24 points in 3 consecutive triple-doubles: Giannis, Jordan, Lever, Westbrook. Oh yeah, in Milwaukee's four games this past week Antetokounmpo averaged 30.0 points, 12.8 rebounds and 9.0 assists. He also shot 62.5% from the field, 41.7% from 3 and 86.2% (!!) at the line.
— Brook Lopez is finding his offensive game. He averaged 15.3 points on 52.3% shooting in the four games, raising his season averages to 11.2 ppg and 47.4 FG%.
— Head coach Mike Budenholzer did not go with a deep bench this past week. Eight players appeared in all four games. D.J. Augustin (16.0 minutes per game) and Thanasis Antetokounmpo (6.1 mpg) played in three. Four players appeared in just one game, the blowout over New York.
— Mamadi Diakite, an undrafted rookie forward out of Virginia who is on a two-way contract, did make his NBA debut in that game against the Knicks. Playing 5:16, he had two points, two rebounds, two assists and a block.