NASCAR
Bubba Wallace Just Sent a 20-Second Message About His Future With Michael Jordan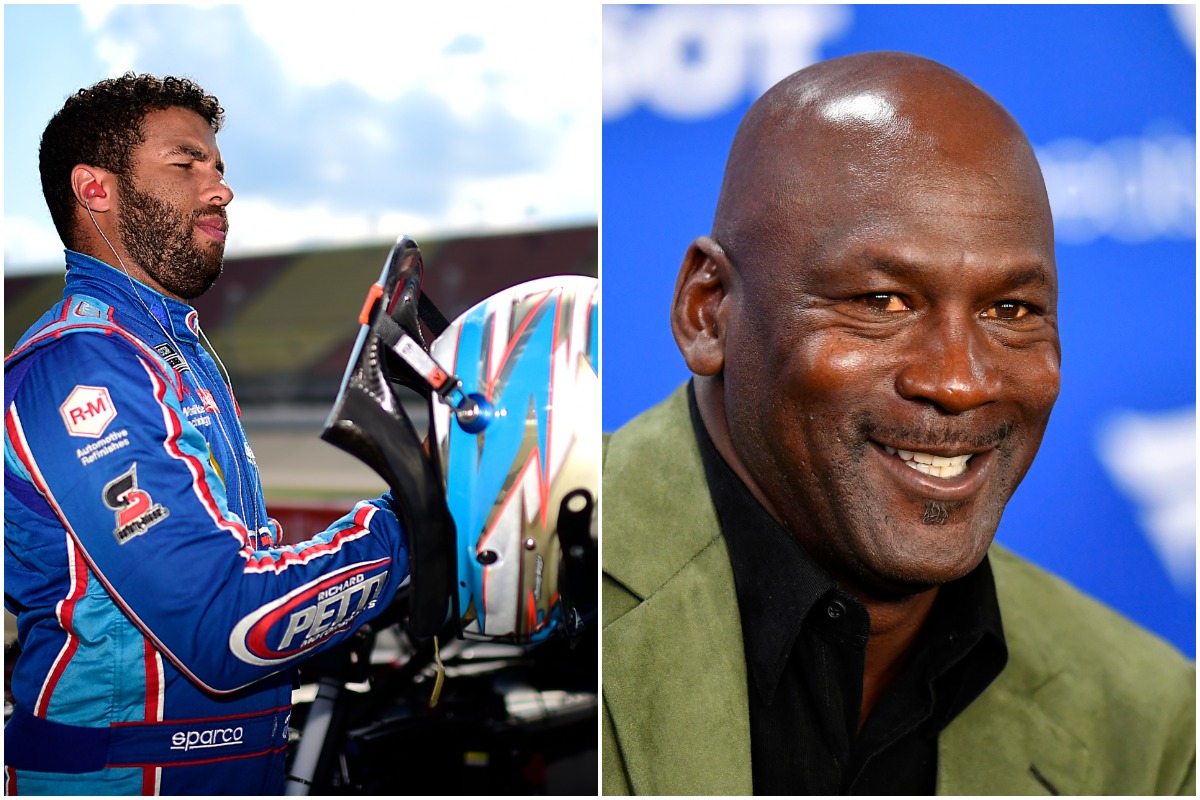 NASCAR star Bubba Wallace is no stranger to attention. Not only is he the only Black driver in NASCAR's top-level Cup Series, but he's now driving for Michael Jordan.
In September of 2020, Jordan teamed up with Denny Hamlin and Wallace to form his own NASCAR team. By doing so, the Chicago Bulls legend became the first Black principal owner of a full-time race team in NASCAR's premier series in almost 50 years. Jordan also showed he supported Wallace amid the noose incident and that he wouldn't let the horrific moment define Bubba's racing career.
Being the main driver for a team owned by Michael Jordan is pressure in and of itself. However, Bubba Wallace is ready to take on this next chapter of his racing career head-on.
Michael Jordan has always had a strong passion for NASCAR
RELATED: Michael Jordan Cursed Out a Famous Rapper Before Demanding Him to Pay $15,000 For a Simple Favor
As a kid in North Carolina, Michael Jordan would go to NASCAR races all the time with his family. However, MJ noticed that the sport lacked diversity.
So, when Jordan had an opportunity to not only become an owner of a NASCAR team but sign a Black driver, the six-time NBA champion jumped at the chance given the social climate we are living in. Jordan saw this historic investment as a good time to educate a new audience and open more opportunities for Black people in racing.
"The opportunity to own my own racing team in partnership with my friend, Denny Hamlin, and to have Bubba Wallace driving for us, is very exciting for me," Jordan said about his new NASCAR team. "Historically, NASCAR has struggled with diversity and there have been few Black owners. The timing seemed perfect as NASCAR is evolving and embracing social change more and more. In addition to the recent commitment and donations I have made to combat systemic racism, I see this as a chance to educate a new audience and open more opportunities for Black people in racing."
During his NBA career, Michael Jordan established himself as the greatest basketball player of all time. He won six titles, six Finals MVPs, five regular-season MVPs, and went 6-0 in the Finals. MJ made history when he bought the Charlotte Hornets, becoming the only Black owner in the NBA. Now, His Airness is making history in NASCAR with the help of Bubba Wallace.
Michael Jordan's 23XI Racing NASCAR team unveils Bubba Wallace's car for the Daytona 500
RELATED: Bubba Wallace's Move to Michael Jordan's NASCAR Team Paved the Way for a Watermelon Farmer to Join the Cup Series
Bubba Wallace took to Twitter to unveil the car he'll be driving during the 2021 Daytona 500. The slick car is primarily red and white and has Michael Jordan's No. 23 on it.
Before the unfortunate noose incident Wallace had to go through last summer, NASCAR made the right move by banning confederate flags from race sites. Slowly but surely, NASCAR is becoming more diverse. With Jordan now as a team owner and Wallace as his main driver, expect to see more and more Black people coming to the races once COVID-19 ends. Despite no longer playing in the NBA, Jordan is still one of the most popular celebrities globally, so his racing team will surely draw major crowds.
Jordan could have picked any driver to be his main guy, but he made sure to pick Wallace so he could make history with a fellow individual who is proud to be Black.
"If I'm getting involved in NASCAR, then get a Black driver (with) a Black owner. If I'm investing, if I'm a participant, then I want to win! I don't want to be out there to be just another car. I feel like Bubba feels the same, and Denny (with six victories this season) has definitely done that this year," Jordan told Rick Bonnell of the Charlotte Observer. "We've got the right people involved. Now, we need to get the right equipment. The right information and data. Give Bubba his best chance to win."
Michael Jordan and Bubba Wallace are two insanely competitive people, so look for Jordan's 23XI NASCAR team to have a lot of success.
Bubba Wallace is inspiring a new generation of Black kids
Bubba Wallace is a hero to so many young Black kids since he fought racism on the race track and became the lead driver for Michael Jordan's team. Hopefully, more Black drivers join NASCAR in the future because of Wallace and Jordan.
The 2021 Cup Series begins with three minor races at Daytona before the legendary Daytona 500 takes place on Feb. 14.