Baseball
Bold predictions for all 30 MLB teams for 2021 season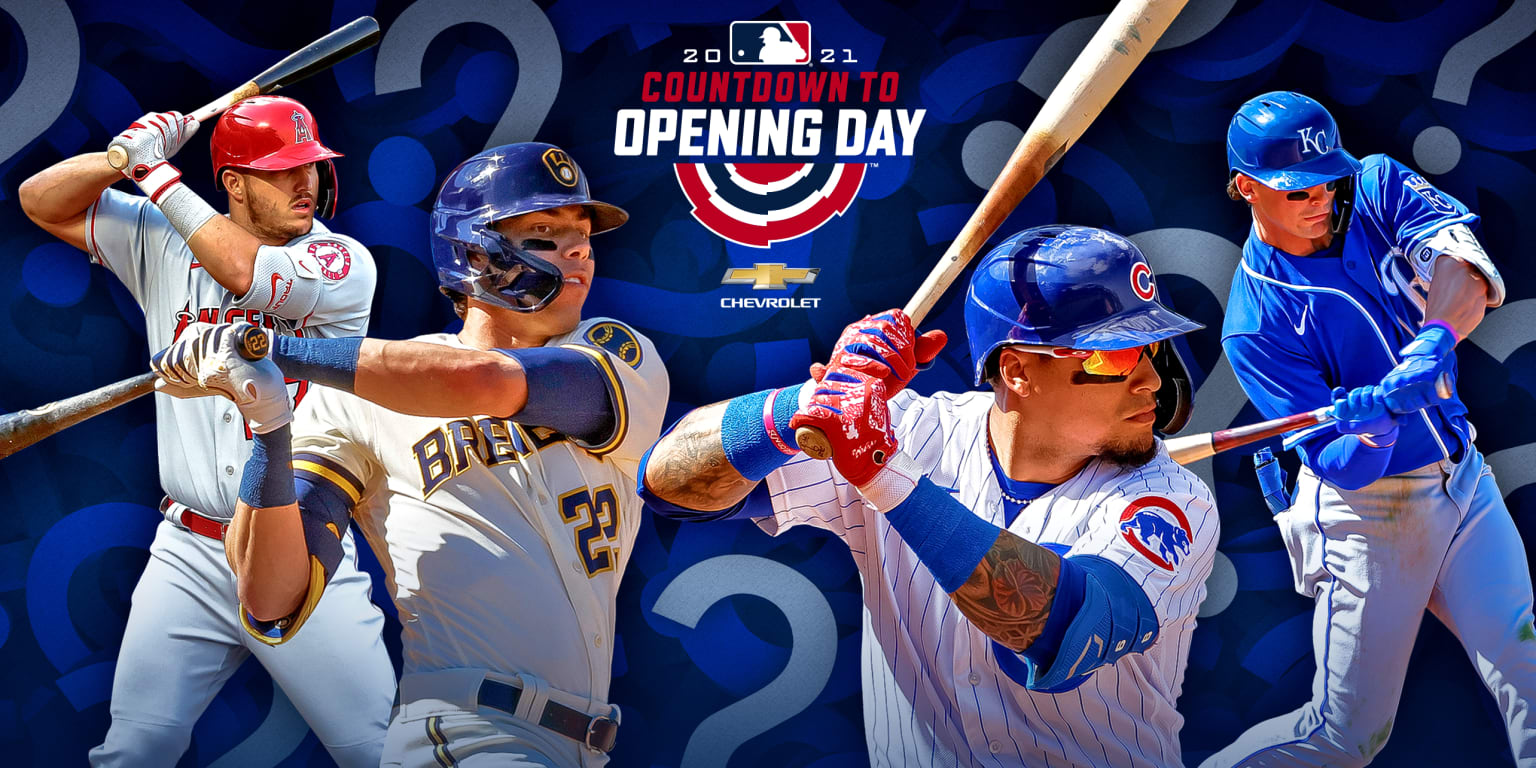 n","providerName":"Twitter","providerUrl":"https://twitter.com","type":"rich","width":550,"__typename":"ExternalEmbedContent"},"$ROOT_QUERY.getForgeContentBySlug({"locale":"en-us","slug":"bold-predictions-for-all-30-mlb-teams-for-2021-season","type":"story"}).parts.11″:{"data":{"type":"id","generated":true,"id":"$ROOT_QUERY.getForgeContentBySlug({"locale":"en-us","slug":"bold-predictions-for-all-30-mlb-teams-for-2021-season","type":"story"}).parts.11.data","typename":"ExternalEmbedContent"},"type":"oembed","__typename":"ExternalEmbed"},"$ROOT_QUERY.getForgeContentBySlug({"locale":"en-us","slug":"bold-predictions-for-all-30-mlb-teams-for-2021-season","type":"story"}).parts.12″:{"content":"### **NATIONAL LEAGUE EAST**nn**BRAVES: Ian Anderson and Cristian Pache finish 1-2 in ROY balloting** nIt's not too often you find a Rookie of the Year candidate who was in the starting lineup for Game 7 of a League Championship Series game the previous year, but that's what we have with both Anderson and Pache. Anderson produced a 1.95 ERA over six regular-season starts and worked 17 2/3 scoreless innings during the postseason before finally allowing a run in the third inning of Game 7 of the NLCS. He possesses one of the game's best changeups and has the potential to rival Mike Soroka's 2019 rookie season. Pache will instantly become a Gold Glove Award winner, and after some initial struggles, he will hit enough in the second half to draw strong consideration for this award. — _Mark Bowman_nn**MARLINS: "Bottom Feeders" reach postseason again** nHow bold are we talking? With a relatively clean bill of health on the pitching side, the Marlins will do just enough on offense to once again shock pundits by reaching the postseason for a second straight year. Turns out the combination of a young starting staff, a veteran-laden lineup, an experienced bullpen and a deep farm system can win enough close games to secure a Wild Card berth. Was that too bold? Miami will at least be part of the playoff chase into August, when the pitching begins to wear down during a long season. — _Christina DeNicola_nn**METS: Jacob deGrom produces his best season … ever** nThat's not to say deGrom will improve upon his otherworldly 1.70 ERA from his first Cy Young-winning campaign in 2018, but he could come close while reaching new heights in other areas. deGrom has consistently added velocity over the past three years — he hit 102 mph on the radar gun this spring — without sacrificing the refinement of his pitches. A couple minor muscle tweaks held him back from winning a third straight Cy Young Award last summer, but things might have been different over a full season. deGrom has already demonstrated his ability to stay strong as others fade. Now entering his age-33 campaign with relatively little mileage on his right arm, deGrom is primed to prove himself all over again as the best pitcher in baseball. Don't be shocked if he sets a career high in innings, approaches 300 strikeouts and, yes, with a better offense behind him, wins 20 games for the first time in his career. — _Anthony DiComo_","type":"markdown","__typename":"Markdown"},"$ROOT_QUERY.getForgeContentBySlug({"locale":"en-us","slug":"bold-predictions-for-all-30-mlb-teams-for-2021-season","type":"story"}).parts.13″:{"contentDate":"2021-03-26T23:00:37.793Z","description":"Mets ace Jacob deGrom talks about his expectations for 2021 with the team's new additions and getting his pitch count up for regular season","duration":"00:03:20″,"slug":"jacob-degrom-on-2021-expectations","source":null,"tags":[{"type":"id","generated":true,"id":"$ROOT_QUERY.getForgeContentBySlug({"locale":"en-us","slug":"bold-predictions-for-all-30-mlb-teams-for-2021-season","type":"story"}).parts.13.tags.0″,"typename":"Tag"},{"type":"id","generated":true,"id":"$ROOT_QUERY.getForgeContentBySlug({"locale":"en-us","slug":"bold-predictions-for-all-30-mlb-teams-for-2021-season","type":"story"}).parts.13.tags.1″,"typename":"Tag"},{"type":"id","generated":true,"id":"$ROOT_QUERY.getForgeContentBySlug({"locale":"en-us","slug":"bold-predictions-for-all-30-mlb-teams-for-2021-season","type":"story"}).parts.13.tags.2″,"typename":"Tag"},{"type":"id","generated":true,"id":"$ROOT_QUERY.getForgeContentBySlug({"locale":"en-us","slug":"bold-predictions-for-all-30-mlb-teams-for-2021-season","type":"story"}).parts.13.tags.3″,"typename":"Tag"},{"type":"id","generated":true,"id":"$ROOT_QUERY.getForgeContentBySlug({"locale":"en-us","slug":"bold-predictions-for-all-30-mlb-teams-for-2021-season","type":"story"}).parts.13.tags.4″,"typename":"Tag"}],"templateUrl":"https://img.mlbstatic.com/mlb-images/image/private/{formatInstructions}/mlb/ehndkrq8bwpjpglh5kf6″,"title":"Jacob deGrom on 2021 expectations","type":"video","url":"/video/jacob-degrom-on-2021-expectations","__typename":"Video"},"$ROOT_QUERY.getForgeContentBySlug({"locale":"en-us","slug":"bold-predictions-for-all-30-mlb-teams-for-2021-season","type":"story"}).parts.13.tags.0″:{"slug":"teamid-121″,"title":"New York Mets","__typename":"Tag"},"$ROOT_QUERY.getForgeContentBySlug({"locale":"en-us","slug":"bold-predictions-for-all-30-mlb-teams-for-2021-season","type":"story"}).parts.13.tags.1″:{"slug":"playerid-594798″,"title":"Jacob deGrom","__typename":"Tag"},"$ROOT_QUERY.getForgeContentBySlug({"locale":"en-us","slug":"bold-predictions-for-all-30-mlb-teams-for-2021-season","type":"story"}).parts.13.tags.2″:{"slug":"interview","title":"interview","__typename":"Tag"},"$ROOT_QUERY.getForgeContentBySlug({"locale":"en-us","slug":"bold-predictions-for-all-30-mlb-teams-for-2021-season","type":"story"}).parts.13.tags.3″:{"slug":"grapefruit-league","title":"Grapefruit League","__typename":"Tag"},"$ROOT_QUERY.getForgeContentBySlug({"locale":"en-us","slug":"bold-predictions-for-all-30-mlb-teams-for-2021-season","type":"story"}).parts.13.tags.4″:{"slug":"spring-training","title":"Spring Training","__typename":"Tag"},"$ROOT_QUERY.getForgeContentBySlug({"locale":"en-us","slug":"bold-predictions-for-all-30-mlb-teams-for-2021-season","type":"story"}).parts.14″:{"content":"**NATIONALS:** **Soto wins NL MVP Award** nSoto finished fifth in NL MVP voting last year in his third Major League season, so it's not a stretch to think he will contend again in 2021. There is tough competition in the NL, with the four vote-getters who finished ahead of him returning to the same teams, but Soto has the potential to put up even more head-turning numbers than he has before. According to ZiPS, [Soto is projected](https://www.mlb.com/news/most-interesting-2021-mlb-player-projections) to lead all of baseball in RBIs (141) and slash .305/.420/.595 with a 1.015 OPS, 37 homers and 105 walks. The Nationals added power around him, as well, to protect his bat in the lineup. — _Jessica Camerato_nn**PHILLIES: Phillies go for it in July** nWho cares about money? The Phillies will find themselves playing well in July, and president of baseball operations Dave Dombrowski will make a push for a piece to give his club an edge against the rest of the NL East. The Phils will move over the luxury tax threshold for the first time in franchise history as they chase their first postseason appearance since 2011. — _Todd Zolecki_","type":"markdown","__typename":"Markdown"},"$ROOT_QUERY.getForgeContentBySlug({"locale":"en-us","slug":"bold-predictions-for-all-30-mlb-teams-for-2021-season","type":"story"}).parts.15″:{"content":"### **NL CENTRAL**nn**BREWERS: Christian Yelich hits 60 homers** nEven with the new baseballs. (Hey, the instructions said "bold" and I'm swinging for the fences here.) Yelich is at his best when he plays with a chip on his shoulder, from the rumblings about "regression" going into 2019 to this spring, when he is bidding to bounce back from a .205 average and otherwise pedestrian — by his standards — production during the pandemic-shortened season. He went deep with Andy Haines, Yelich's first full-season manager in the Minors who is now Milwaukee's hitting coach, during a multi-day workshop over the winter in which they talked through '20 and worked extensively in the batting cage. The result this spring? "He looks like Christian up there," Haines said midway through camp. Maybe he won't actually get to 60 homers, but with the league's best pitchers watching their workloads this year, there's every reason to believe Yelich's numbers will look more like themselves, too. — _Adam McCalvy_nn**CARDINALS: Adam Wainwright gets NL Cy Young Award votes** nWainwright may be set to turn 40 in August, but he's pitching like he's bound to turn just 30. The right-hander has said that he's pitching better than he's ever physically felt before, with a 1.83 spring ERA to show for it, to go along with 20 strikeouts against just three walks. Jack Flaherty may be the Cardinals' true Cy Young candidate, but don't discount Wainwright from at least finding his name on some ballots. It was Wainwright who led the club in starts last season, pitching to a 3.15 ERA, and it was Wainwright who was the only Cards starter to make it out of the first inning in the rotation's first turn this spring. — _Zachary Silver_","type":"markdown","__typename":"Markdown"},"$ROOT_QUERY.getForgeContentBySlug({"locale":"en-us","slug":"bold-predictions-for-all-30-mlb-teams-for-2021-season","type":"story"}).parts.16″:{"contentDate":"2021-03-23T19:05:48.261Z","description":"Adam Wainwright goes six innings, surrendering only two hits and racking up seven strikeouts against the Nationals","duration":"00:01:31″,"slug":"wainwright-s-impressive-outing","source":null,"tags":[{"type":"id","generated":true,"id":"$ROOT_QUERY.getForgeContentBySlug({"locale":"en-us","slug":"bold-predictions-for-all-30-mlb-teams-for-2021-season","type":"story"}).parts.16.tags.0″,"typename":"Tag"},{"type":"id","generated":true,"id":"$ROOT_QUERY.getForgeContentBySlug({"locale":"en-us","slug":"bold-predictions-for-all-30-mlb-teams-for-2021-season","type":"story"}).parts.16.tags.1″,"typename":"Tag"},{"type":"id","generated":true,"id":"$ROOT_QUERY.getForgeContentBySlug({"locale":"en-us","slug":"bold-predictions-for-all-30-mlb-teams-for-2021-season","type":"story"}).parts.16.tags.2″,"typename":"Tag"},{"type":"id","generated":true,"id":"$ROOT_QUERY.getForgeContentBySlug({"locale":"en-us","slug":"bold-predictions-for-all-30-mlb-teams-for-2021-season","type":"story"}).parts.16.tags.3″,"typename":"Tag"},{"type":"id","generated":true,"id":"$ROOT_QUERY.getForgeContentBySlug({"locale":"en-us","slug":"bold-predictions-for-all-30-mlb-teams-for-2021-season","type":"story"}).parts.16.tags.4″,"typename":"Tag"},{"type":"id","generated":true,"id":"$ROOT_QUERY.getForgeContentBySlug({"locale":"en-us","slug":"bold-predictions-for-all-30-mlb-teams-for-2021-season","type":"story"}).parts.16.tags.5″,"typename":"Tag"},{"type":"id","generated":true,"id":"$ROOT_QUERY.getForgeContentBySlug({"locale":"en-us","slug":"bold-predictions-for-all-30-mlb-teams-for-2021-season","type":"story"}).parts.16.tags.6″,"typename":"Tag"},{"type":"id","generated":true,"id":"$ROOT_QUERY.getForgeContentBySlug({"locale":"en-us","slug":"bold-predictions-for-all-30-mlb-teams-for-2021-season","type":"story"}).parts.16.tags.7″,"typename":"Tag"}],"templateUrl":"https://img.mlbstatic.com/mlb-images/image/private/{formatInstructions}/mlb/cfzpxkcjmpfauvtzxdn8″,"title":"Wainwright's impressive outing","type":"video","url":"/video/wainwright-s-impressive-outing","__typename":"Video"},"$ROOT_QUERY.getForgeContentBySlug({"locale":"en-us","slug":"bold-predictions-for-all-30-mlb-teams-for-2021-season","type":"story"}).parts.16.tags.0″:{"slug":"gamepk-641605″,"title":"2021/03/23 [email protected]","__typename":"Tag"},"$ROOT_QUERY.getForgeContentBySlug({"locale":"en-us","slug":"bold-predictions-for-all-30-mlb-teams-for-2021-season","type":"story"}).parts.16.tags.1″:{"slug":"teamid-138″,"title":"St. Louis Cardinals","__typename":"Tag"},"$ROOT_QUERY.getForgeContentBySlug({"locale":"en-us","slug":"bold-predictions-for-all-30-mlb-teams-for-2021-season","type":"story"}).parts.16.tags.2″:{"slug":"playerid-425794″,"title":"Adam Wainwright","__typename":"Tag"},"$ROOT_QUERY.getForgeContentBySlug({"locale":"en-us","slug":"bold-predictions-for-all-30-mlb-teams-for-2021-season","type":"story"}).parts.16.tags.3″:{"slug":"pitching","title":"pitching","__typename":"Tag"},"$ROOT_QUERY.getForgeContentBySlug({"locale":"en-us","slug":"bold-predictions-for-all-30-mlb-teams-for-2021-season","type":"story"}).parts.16.tags.4″:{"slug":"highlight-reel-pitching","title":"highlight reel pitching","__typename":"Tag"},"$ROOT_QUERY.getForgeContentBySlug({"locale":"en-us","slug":"bold-predictions-for-all-30-mlb-teams-for-2021-season","type":"story"}).parts.16.tags.5″:{"slug":"highlight","title":"highlight","__typename":"Tag"},"$ROOT_QUERY.getForgeContentBySlug({"locale":"en-us","slug":"bold-predictions-for-all-30-mlb-teams-for-2021-season","type":"story"}).parts.16.tags.6″:{"slug":"spring-training","title":"Spring Training","__typename":"Tag"},"$ROOT_QUERY.getForgeContentBySlug({"locale":"en-us","slug":"bold-predictions-for-all-30-mlb-teams-for-2021-season","type":"story"}).parts.16.tags.7″:{"slug":"grapefruit-league","title":"Grapefruit League","__typename":"Tag"},"$ROOT_QUERY.getForgeContentBySlug({"locale":"en-us","slug":"bold-predictions-for-all-30-mlb-teams-for-2021-season","type":"story"}).parts.17″:{"content":"**CUBS: Javy wins NL MVP Award** nA couple seasons ago, this would hardly have been considered a bold prediction. After all, Javier Báez was the runner-up for the trophy in his stellar 2018 season. But now? After what Báez went through last year? And with so many great shortstops throughout the game? It's definitely a bold prognostication. Last season, Báez hit .203 and ended with a 62 OPS+ in 59 games. He was vocal about the lack of in-game video hindering his routine and approach, and the energetic shortstop (like many players) looked a bit lost without an audience there in person to enjoy "The El Mago Show."nnWell, Báez will have his video and Wrigley Field will have its fans (at 25 percent capacity to start the season). Báez started for the NL All-Star team at second base in 2018 and then started for the Senior Circuit at shortstop in '19. He led infielders in Outs Above Average in '19 and picked up his first career Gold Glove Award at short in '20. If his offense returns this season, and he pairs it with that stellar defense — not to mention all those made-for-GIF slides, tags and bat flips — then Báez might just be able to reach MVP heights. — _Jordan Bastian_nn**PIRATES:** **Hayes will get more than NL ROY Award votes** nKe'Bryan Hayes will win the NL Rookie of the Year Award. Is that not bold enough for you? Fine, he'll also garner NL MVP Award votes. What's not to love? Hayes is a guy who has been compared to Matt Chapman and Nolan Arenado on defense, can hit for power and average and is a threat on the basepaths. That's basically the blueprint for the types of players regularly earning MVP Award votes — and the hype is already there. Even if the Pirates don't compete, I don't think it's unimaginable that a great year by Hayes could sway a few voters to give him consideration. — _Jake Crouse_","type":"markdown","__typename":"Markdown"},"$ROOT_QUERY.getForgeContentBySlug({"locale":"en-us","slug":"bold-predictions-for-all-30-mlb-teams-for-2021-season","type":"story"}).parts.18″:{"contentDate":"2021-03-20T02:02:44.093Z","description":"Ke'Bryan Hayes goes 2-for-4 with two doubles, collects an RBI on a fielder's choice and steals a base in a spring game against the Orioles","duration":"00:02:37″,"slug":"ke-bryan-hayes-shines-in-st-game","source":null,"tags":[{"type":"id","generated":true,"id":"$ROOT_QUERY.getForgeContentBySlug({"locale":"en-us","slug":"bold-predictions-for-all-30-mlb-teams-for-2021-season","type":"story"}).parts.18.tags.0″,"typename":"Tag"},{"type":"id","generated":true,"id":"$ROOT_QUERY.getForgeContentBySlug({"locale":"en-us","slug":"bold-predictions-for-all-30-mlb-teams-for-2021-season","type":"story"}).parts.18.tags.1″,"typename":"Tag"},{"type":"id","generated":true,"id":"$ROOT_QUERY.getForgeContentBySlug({"locale":"en-us","slug":"bold-predictions-for-all-30-mlb-teams-for-2021-season","type":"story"}).parts.18.tags.2″,"typename":"Tag"},{"type":"id","generated":true,"id":"$ROOT_QUERY.getForgeContentBySlug({"locale":"en-us","slug":"bold-predictions-for-all-30-mlb-teams-for-2021-season","type":"story"}).parts.18.tags.3″,"typename":"Tag"},{"type":"id","generated":true,"id":"$ROOT_QUERY.getForgeContentBySlug({"locale":"en-us","slug":"bold-predictions-for-all-30-mlb-teams-for-2021-season","type":"story"}).parts.18.tags.4″,"typename":"Tag"},{"type":"id","generated":true,"id":"$ROOT_QUERY.getForgeContentBySlug({"locale":"en-us","slug":"bold-predictions-for-all-30-mlb-teams-for-2021-season","type":"story"}).parts.18.tags.5″,"typename":"Tag"},{"type":"id","generated":true,"id":"$ROOT_QUERY.getForgeContentBySlug({"locale":"en-us","slug":"bold-predictions-for-all-30-mlb-teams-for-2021-season","type":"story"}).parts.18.tags.6″,"typename":"Tag"},{"type":"id","generated":true,"id":"$ROOT_QUERY.getForgeContentBySlug({"locale":"en-us","slug":"bold-predictions-for-all-30-mlb-teams-for-2021-season","type":"story"}).parts.18.tags.7″,"typename":"Tag"},{"type":"id","generated":true,"id":"$ROOT_QUERY.getForgeContentBySlug({"locale":"en-us","slug":"bold-predictions-for-all-30-mlb-teams-for-2021-season","type":"story"}).parts.18.tags.8″,"typename":"Tag"},{"type":"id","generated":true,"id":"$ROOT_QUERY.getForgeContentBySlug({"locale":"en-us","slug":"bold-predictions-for-all-30-mlb-teams-for-2021-season","type":"story"}).parts.18.tags.9″,"typename":"Tag"}],"templateUrl":"https://img.mlbstatic.com/mlb-images/image/private/{formatInstructions}/mlb/a01ymkoztppxslpl0pi7″,"title":"Ke'Bryan Hayes shines in ST game","type":"video","url":"/video/ke-bryan-hayes-shines-in-st-game","__typename":"Video"},"$ROOT_QUERY.getForgeContentBySlug({"locale":"en-us","slug":"bold-predictions-for-all-30-mlb-teams-for-2021-season","type":"story"}).parts.18.tags.0″:{"slug":"gamepk-642033″,"title":"2021/03/19 [email protected]","__typename":"Tag"},"$ROOT_QUERY.getForgeContentBySlug({"locale":"en-us","slug":"bold-predictions-for-all-30-mlb-teams-for-2021-season","type":"story"}).parts.18.tags.1″:{"slug":"teamid-134″,"title":"Pittsburgh Pirates","__typename":"Tag"},"$ROOT_QUERY.getForgeContentBySlug({"locale":"en-us","slug":"bold-predictions-for-all-30-mlb-teams-for-2021-season","type":"story"}).parts.18.tags.2″:{"slug":"playerid-663647″,"title":"Ke'Bryan Hayes","__typename":"Tag"},"$ROOT_QUERY.getForgeContentBySlug({"locale":"en-us","slug":"bold-predictions-for-all-30-mlb-teams-for-2021-season","type":"story"}).parts.18.tags.3″:{"slug":"highlight","title":"highlight","__typename":"Tag"},"$ROOT_QUERY.getForgeContentBySlug({"locale":"en-us","slug":"bold-predictions-for-all-30-mlb-teams-for-2021-season","type":"story"}).parts.18.tags.4″:{"slug":"in-game-highlight","title":"in-game highlight","__typename":"Tag"},"$ROOT_QUERY.getForgeContentBySlug({"locale":"en-us","slug":"bold-predictions-for-all-30-mlb-teams-for-2021-season","type":"story"}).parts.18.tags.5″:{"slug":"hitting","title":"hitting","__typename":"Tag"},"$ROOT_QUERY.getForgeContentBySlug({"locale":"en-us","slug":"bold-predictions-for-all-30-mlb-teams-for-2021-season","type":"story"}).parts.18.tags.6″:{"slug":"highlight-reel-offense","title":"highlight reel offense","__typename":"Tag"},"$ROOT_QUERY.getForgeContentBySlug({"locale":"en-us","slug":"bold-predictions-for-all-30-mlb-teams-for-2021-season","type":"story"}).parts.18.tags.7″:{"slug":"mlb-top-prospects","title":"MLB Top Prospects","__typename":"Tag"},"$ROOT_QUERY.getForgeContentBySlug({"locale":"en-us","slug":"bold-predictions-for-all-30-mlb-teams-for-2021-season","type":"story"}).parts.18.tags.8″:{"slug":"young-stars","title":"Young Stars","__typename":"Tag"},"$ROOT_QUERY.getForgeContentBySlug({"locale":"en-us","slug":"bold-predictions-for-all-30-mlb-teams-for-2021-season","type":"story"}).parts.18.tags.9″:{"slug":"grapefruit-league","title":"Grapefruit League","__typename":"Tag"},"$ROOT_QUERY.getForgeContentBySlug({"locale":"en-us","slug":"bold-predictions-for-all-30-mlb-teams-for-2021-season","type":"story"}).parts.19″:{"content":"**REDS:** **Eugenio Suárez hits a club-record 55 home runs** nSuárez has dropped 15 pounds and will move to shortstop, his natural position. That, combined with having a full season again and being able to see his family during the year under more normal conditions, will have the veteran slugger happier and more relaxed. And that will yield the similar good vibes he had when he crushed 49 homers in 2019. Suárez found '20 to be mostly a struggle until his power resurfaced down the stretch. The Reds' single-season record for homers is 52 by George Foster in 1977. Suárez is tied for second with Ted Kluszewski, but he very well could be standing alone with the record by the time '21 is complete. — _Mark Sheldon_nn### **NL WEST**nn**D-BACKS:** **D-backs make the playoffs** nWhat do the last two D-backs' playoff teams — 2011 and '17 — have in common? In both years, Arizona was coming off last-place finishes and little was expected. Well, here we are in '21 and the D-backs are coming off a last-place finish and are not among most people's postseason predictions. The times the D-backs have underperformed came the year after those successful seasons when there were actual expectations. It's possible this year that Arizona will get enough from its pitching staff while its key offensive performers rebound from last year, helping the club find a way to earn a Wild Card spot. — _Steve Gilbert_nn**DODGERS: Dodgers win 110 games** nSomehow, this doesn't feel bold enough. That's all you need to know about the talent on this year's Dodgers team. But the franchise's single-season wins record is 106, so that should give everyone some perspective on just how difficult it is to win that many games in the Majors. If this Dodgers team stays healthy for most of the season, they have a chance to break multiple franchise records. If a couple of things break Los Angeles' way, the '01 Mariners and 1906 Cubs, who share the all-time record with 116 wins, might be in danger of losing their mark. — _Juan Toribio_","type":"markdown","__typename":"Markdown"},"$ROOT_QUERY.getForgeContentBySlug({"locale":"en-us","slug":"bold-predictions-for-all-30-mlb-teams-for-2021-season","type":"story"}).parts.20″:{"contentDate":"2021-03-17T00:16:45.607Z","description":"Mookie Betts joins 30 Clubs in 30 Days to discuss how Spring Training is going and his commitment to the Dodgers' organization","duration":"00:02:55″,"slug":"mookie-betts-talks-spring-2021″,"source":null,"tags":[{"type":"id","generated":true,"id":"$ROOT_QUERY.getForgeContentBySlug({"locale":"en-us","slug":"bold-predictions-for-all-30-mlb-teams-for-2021-season","type":"story"}).parts.20.tags.0″,"typename":"Tag"},{"type":"id","generated":true,"id":"$ROOT_QUERY.getForgeContentBySlug({"locale":"en-us","slug":"bold-predictions-for-all-30-mlb-teams-for-2021-season","type":"story"}).parts.20.tags.1″,"typename":"Tag"},{"type":"id","generated":true,"id":"$ROOT_QUERY.getForgeContentBySlug({"locale":"en-us","slug":"bold-predictions-for-all-30-mlb-teams-for-2021-season","type":"story"}).parts.20.tags.2″,"typename":"Tag"},{"type":"id","generated":true,"id":"$ROOT_QUERY.getForgeContentBySlug({"locale":"en-us","slug":"bold-predictions-for-all-30-mlb-teams-for-2021-season","type":"story"}).parts.20.tags.3″,"typename":"Tag"},{"type":"id","generated":true,"id":"$ROOT_QUERY.getForgeContentBySlug({"locale":"en-us","slug":"bold-predictions-for-all-30-mlb-teams-for-2021-season","type":"story"}).parts.20.tags.4″,"typename":"Tag"},{"type":"id","generated":true,"id":"$ROOT_QUERY.getForgeContentBySlug({"locale":"en-us","slug":"bold-predictions-for-all-30-mlb-teams-for-2021-season","type":"story"}).parts.20.tags.5″,"typename":"Tag"}],"templateUrl":"https://img.mlbstatic.com/mlb-images/image/private/{formatInstructions}/mlb/dlsiiovrnmcqcbveqqaz","title":"Mookie Betts talks spring, 2021″,"type":"video","url":"/video/mookie-betts-talks-spring-2021″,"__typename":"Video"},"$ROOT_QUERY.getForgeContentBySlug({"locale":"en-us","slug":"bold-predictions-for-all-30-mlb-teams-for-2021-season","type":"story"}).parts.20.tags.0″:{"slug":"teamid-119″,"title":"Los Angeles Dodgers","__typename":"Tag"},"$ROOT_QUERY.getForgeContentBySlug({"locale":"en-us","slug":"bold-predictions-for-all-30-mlb-teams-for-2021-season","type":"story"}).parts.20.tags.1″:{"slug":"playerid-605141″,"title":"Mookie Betts","__typename":"Tag"},"$ROOT_QUERY.getForgeContentBySlug({"locale":"en-us","slug":"bold-predictions-for-all-30-mlb-teams-for-2021-season","type":"story"}).parts.20.tags.2″:{"slug":"mlb-network","title":"MLB Network","__typename":"Tag"},"$ROOT_QUERY.getForgeContentBySlug({"locale":"en-us","slug":"bold-predictions-for-all-30-mlb-teams-for-2021-season","type":"story"}).parts.20.tags.3″:{"slug":"mlbn-mlb-tonight","title":"MLB Tonight","__typename":"Tag"},"$ROOT_QUERY.getForgeContentBySlug({"locale":"en-us","slug":"bold-predictions-for-all-30-mlb-teams-for-2021-season","type":"story"}).parts.20.tags.4″:{"slug":"mlbn-30-clubs","title":"MLBN 30 Clubs in 30 Days","__typename":"Tag"},"$ROOT_QUERY.getForgeContentBySlug({"locale":"en-us","slug":"bold-predictions-for-all-30-mlb-teams-for-2021-season","type":"story"}).parts.20.tags.5″:{"slug":"interview","title":"interview","__typename":"Tag"},"$ROOT_QUERY.getForgeContentBySlug({"locale":"en-us","slug":"bold-predictions-for-all-30-mlb-teams-for-2021-season","type":"story"}).parts.21″:{"content":"**GIANTS:** **Logan Webb emerges as the Giants' best starter** nWebb debuted with the Giants in 2019, but he's logged a 5.36 ERA over his first two Major League seasons and has struggled to pitch deep into games on a consistent basis. Still, the 24-year-old right-hander has been untouchable this spring, firing 11 scoreless innings with three hits, 17 strikeouts and one walk over his first four Cactus League starts. Along with improved fastball command, Webb has flashed a devastating changeup that has the potential to be an elite secondary weapon moving forward. Everything seems to be coming together for Webb, who is poised to develop into a rotation mainstay for the Giants for years to come. — _Maria Guardado_nn**PADRES:** **Padres set the franchise wins record** nThe best team in franchise history — the 1998 Padres — won 98 games. This team is every bit as talented, if not more so. Whether a win total in the high-90s is enough to win the NL West remains to be seen. The Padres share a division with the defending-champion Dodgers, after all. But following a disheartening exit at the hands of L.A. last season, the Padres are hungry. — _AJ Cassavell_nn**ROCKIES:** **Cron has found a home** nC.J. Cron, who joined the Rockies on a Minor League contract but was clearly signed to be the regular first baseman, has shown when he gets consistent playing time that he can be counted on for high home run totals. After having his playing time with the Angels early in his career limited by the presence of Albert Pujols, Cron hit 30 homers with the Rays in 2018 and knocked 25 with the Twins in 2019 while playing through a right thumb injury. He went to the Tigers last year and early indications were good until he sustained an early season knee injury that cost him the rest of the year. Cron will exceed 30, and put himself in line for a multi-year contract. And the Rockies will end up signing him as the answer to a longtime headache position in the infield. — _Thomas Harding_","type":"markdown","__typename":"Markdown"},"$ROOT_QUERY.getForgeContentBySlug({"locale":"en-us","slug":"bold-predictions-for-all-30-mlb-teams-for-2021-season","type":"story"}).tags.0.data":{"__typename":"UnsupportedTagType"},"$ROOT_QUERY.getForgeContentBySlug({"locale":"en-us","slug":"bold-predictions-for-all-30-mlb-teams-for-2021-season","type":"story"}).tags.0″:{"data":{"type":"id","generated":true,"id":"$ROOT_QUERY.getForgeContentBySlug({"locale":"en-us","slug":"bold-predictions-for-all-30-mlb-teams-for-2021-season","type":"story"}).tags.0.data","typename":"UnsupportedTagType"},"externalSourceName":null,"slug":"storytype-article","title":"Article","type":"article","__typename":"Tag"},"$ROOT_QUERY.getForgeContentBySlug({"locale":"en-us","slug":"bold-predictions-for-all-30-mlb-teams-for-2021-season","type":"story"}).tags.1.data":{"__typename":"UnsupportedTagType"},"$ROOT_QUERY.getForgeContentBySlug({"locale":"en-us","slug":"bold-predictions-for-all-30-mlb-teams-for-2021-season","type":"story"}).tags.1″:{"data":{"type":"id","generated":true,"id":"$ROOT_QUERY.getForgeContentBySlug({"locale":"en-us","slug":"bold-predictions-for-all-30-mlb-teams-for-2021-season","type":"story"}).tags.1.data","typename":"UnsupportedTagType"},"externalSourceName":"taxonomy","slug":"opening-week","title":"Opening Week","type":"taxonomy","__typename":"Tag"}},"appConfig":{"graphqlServiceUrl":"https://content-service.mlb.com"},"appState":{"adDomain":"mlb.mlb","appId":"","basePath":"news","club":"mlb","contentfulProperties":{"organismHeadlineFont":null,"urlLogo":null,"favicon":null,"headerMastheadTagline":null,"headerPrimaryLogo":null,"headerMastheadTaglineContainerWidth":"512px","headerMastheadTaglineContainerHeight":"56px","organismLogoVersion":"caplogo","organismLogoStyle":"light","headerMastheadLogoVersion":"cap","headerMastheadLogoStyle":"dark","footerLogoVersion":"primary","footerLogoStyle":"dark","headlineTextTransform":"none","headlineFontFamily":null,"headlineFontFamilySizeMultiplier":1,"articleVideoAutoPlay":true,"articleVideoAutoPlaySound":false,"__typename":"CF_WebProperties"},"contentfulPalette":{"headerNavigationBackgroundColor":"#041E42″,"headerNavigationTextColor":"#ffffff","headerNavigationTextColorHover":"#ffffff","headerNavigationBorderColor":"#057AFF","headerMastheadBackgroundColor":"#002D72″,"buttonSpotlightBackgroundColor":"#333333″,"buttonSpotlightBackgroundColorHover":"lighten","buttonSpotlightTextColor":"#ffffff","buttonSpotlightTextColorHover":"#ffffff","footerBackgroundColor":"#333″,"footerBorderColor":"#f3f3f3″,"footerLinkColorActive":"#fff","footerLinkColor":"#ffffff","footerLinkColorHover":"#147CD1″,"footerTextColor":"#d2d2d2″,"__typename":"CF_Palette"},"contextUrlPrefix":"","env":"production","footerState":{"clubId":"mlb","deviceProperties":{},"footerData":{"instanceId":"db2f8fb2-78c8-4d3c-a328-9e91c349dfee","name":"global-footer","variables":[],"menuItems":[{"itemId":"aec375d3-3afa-4491-ab28-60b736f38982″,"text":"Terms of Use","properties":{"link":"/official-information/terms-of-use","target":"_blank"},"menuItems":[]},{"itemId":"debe8dbf-de27-4eae-b7ec-adae43fc4642″,"text":"Privacy Policy","properties":{"link":"/official-information/privacy-policy"},"menuItems":[]},{"itemId":"345a1847-cac1-43a4-91bf-70c21ecee681″,"text":"Legal Notices","properties":{"link":"/official-information/legal-notices"},"menuItems":[]},{"itemId":"34014aad-1069-4bba-b22e-4b287a4f7df1″,"text":"Contact Us","properties":{"link":"/official-information/contact"},"menuItems":[]},{"itemId":"65e06970-7f8e-4328-ad82-9d90df0f3e87″,"text":"Do Not Sell My Personal Data","properties":{"link":"https://privacyportal.onetrust.com/webform/53a301ae-6882-46f9-af93-24f64f792aee/3251a424-8286-4725-9313-603f12c85a49″,"target":"_blank"},"menuItems":[]},{"itemId":"dd307e97-49c6-4f80-aff3-89a59696fb80″,"text":"Official Information","properties":{},"menuItems":[{"itemId":"bdf571d3-e8bb-403b-bb5f-7f28a7127c74″,"text":"Official Info","properties":{"link":"/official-information"},"menuItems":[]},{"itemId":"ecfd4d42-aa8d-4872-80a5-869c6b493018″,"text":"About MLB","properties":{"link":"/official-information/about-mlb"},"menuItems":[]},{"itemId":"bb62de22-5c84-4cab-b9fb-5429ea9d647c","text":"Team Information","properties":{"link":"https://www.mlb.com/team"},"menuItems":[]},{"itemId":"7cc37e2a-667c-4405-bd1f-87ad88bc4d9e","text":"Official Rules","properties":{"link":"https://content.mlb.com/documents/2/2/4/305750224/2019_Official_Baseball_Rules_FINAL_.pdf"},"menuItems":[]},{"itemId":"e658056b-608b-4eee-a04a-43772f9e6bb4″,"text":"Replay Review Regulations","properties":{"link":"http://m.mlb.com/glossary/rules/replay-review"},"menuItems":[]},{"itemId":"0b3fc77c-c7d1-4584-a184-90fd8c4959e9″,"text":"Umpires","properties":{"link":"/official-information/umpires"},"menuItems":[]},{"itemId":"23dde9d7-6aba-4bec-a449-b1b4d5a5767c","text":"Advertise with Us","properties":{"link":"/sponsorship"},"menuItems":[]},{"itemId":"ca43b715-5423-4314-ac5a-f9229bee6fb6″,"text":"Press Releases","properties":{"link":"/news/topic/mlb-press-releases"},"menuItems":[]}]},{"itemId":"7a60a8fc-0c3c-4c87-b04b-2b57b6c9894c","text":"Help/Contact Us","properties":{},"menuItems":[{"itemId":"efb27376-accc-4ca4-9017-c3309ee122d3″,"text":"Accessibility Information","properties":{"link":"/official-information/accessibility"},"menuItems":[]},{"itemId":"cf3490fc-f093-4457-99a7-d2bc3f4d4cef","text":"Auctions Customer Service","properties":{"link":"http://auctions.mlb.com/iSynApp/manageUserEmail!showEmailContactUsForm.action?sid=1101001″},"menuItems":[]},{"itemId":"c6867706-11b7-4634-a78e-b5d513948f43″,"text":"Harassment Policy","properties":{"link":"/official-information/harassment-policy"},"menuItems":[]},{"itemId":"0e3932c9-beec-43f2-b712-66879a51ab63″,"text":"Help/Contact Us","properties":{"link":"/official-information/contact"},"menuItems":[]},{"itemId":"6d4ebef1-3168-4b79-a237-9f36931d3a2c","text":"MLB App FAQs","properties":{"link":"https://www.mlb.com/apps/mlb-app/faq-apple"},"menuItems":[]},{"itemId":"4b3c6ee8-d4ae-4265-a7e7-7e5bea8cde28″,"text":"MLB.com Account Information","properties":{"link":"/official-information/faqs"},"menuItems":[]},{"itemId":"4d33a7c1-38d5-4b3b-a999-53377f55738d","text":"MLB.TV Help Center","properties":{"link":"/live-stream-games/help-center"},"menuItems":[]},{"itemId":"36f01834-7979-4a42-aa12-52439c2e320b","text":"Shop Help","properties":{"link":"https://help-mlb.custhelp.com/"},"menuItems":[]},{"itemId":"bb6e7a31-4b7d-4e49-8c2e-00dda9e237ab","text":"Ticket Information","properties":{"link":"/official-information/ticket-faqs"},"menuItems":[]}]},{"itemId":"6ca8b189-8c54-428f-9f79-3c357ef18469″,"text":"More MLB Sites & Affiliates","properties":{},"menuItems":[{"itemId":"becc9309-94fc-491b-ad15-45f7c17f85a9″,"text":"MLB Players Alumni Association","properties":{"link":"/mlbpaa","target":""},"menuItems":[]},{"itemId":"9ff49c09-8a0d-41e6-b8b0-14f37f8e7f52″,"text":"MLB Players Association","properties":{"link":"http://www.mlbplayers.com/"},"menuItems":[]},{"itemId":"022ec2ca-bb20-4543-9cdc-95ba3a4443ca","text":"Minor League Baseball","properties":{"link":"https://www.milb.com/"},"menuItems":[]},{"itemId":"c6f9948e-3521-4788-83ed-b568f39e86aa","text":"MLB Network","properties":{"link":"https://www.mlb.com/network"},"menuItems":[]},{"itemId":"de2ea389-0a29-4600-8048-b4261916183d","text":"Baseball Assistance Team","properties":{"link":"/baseball-assistance-team"},"menuItems":[]},{"itemId":"e1a2af1c-ee36-4672-935b-17e62d0b4ddc","text":"Player Resource Center","properties":{"link":"/player-resource-center","target":""},"menuItems":[]},{"itemId":"75f0b763-612d-4557-ae38-227fb5b3b7f1″,"text":"Tickets.com","properties":{"link":"http://www.tickets.com/"},"menuItems":[]},{"itemId":"f8599d26-5069-4417-8c26-0965dd8d9435″,"text":"YES Network","properties":{"link":"https://www.yesnetwork.com/"},"menuItems":[]},{"itemId":"5c8f6196-a4d5-4ed5-b830-189580691d3e","text":"Australian Baseball League","properties":{"link":"https://theabl.com.au/"},"menuItems":[]},{"itemId":"ab6fc805-0bb7-439b-8c3c-92c61b035387″,"text":"World Baseball Classic","properties":{"link":"https://www.worldbaseballclassic.com/"},"menuItems":[]},{"itemId":"e218ed4d-89f9-4f7d-87e7-c05a3559cd74″,"text":"sabr.org","properties":{"link":"http://sabr.org/"},"menuItems":[]},{"itemId":"158a95a6-bd4f-4654-b57f-465d3c356a55″,"text":"College Baseball Hall of Fame","properties":{"link":"https://www.mlb.com/college-baseball-hall-of-fame"},"menuItems":[]},{"itemId":"5e602a1a-e518-455b-ac5f-5c0e80430e38″,"text":"Golden Spikes Award","properties":{"link":"https://www.usabaseball.com/golden-spikes-award"},"menuItems":[]},{"itemId":"ccd9020d-c619-45d2-bc1f-ef80ae2cd651″,"text":"USA Baseball","properties":{"link":"https://www.usabaseball.com"},"menuItems":[]},{"itemId":"75512a93-d52d-4d71-a6d3-70d6b44dfa0f","text":"LasMayores.com","properties":{"link":"https://www.mlb.com/es"},"menuItems":[]},{"itemId":"3b7bbad3-1ed5-468d-8703-205519315e04″,"text":"MLBCommunity.org","properties":{"link":"/mlb-community"},"menuItems":[]},{"itemId":"f8058121-3606-4ff2-be8a-d1a3d47642db","text":"AllStarGame.com","properties":{"link":"https://www.mlb.com/all-star"},"menuItems":[]},{"itemId":"a624b4e5-c8d8-44b9-9084-7522ed0cee59″,"text":"MLB.com/Kids","properties":{"link":"https://www.mlb.com/fans/kids"},"menuItems":[]},{"itemId":"43c6bc47-f7d9-445a-85a1-10b3cdc02ee0″,"text":"MLB Photostore","properties":{"link":"https://photostore.mlb.com/"},"menuItems":[]},{"itemId":"d9f4ea22-70a7-4085-a16e-83f70a5711b2″,"text":"Offseason Leagues","properties":{"link":"http://mlb.mlb.com/mlb/events/winterleagues/"},"menuItems":[]},{"itemId":"c574a4a2-45ec-47fe-8ca3-b5b99d1cb443″,"text":"PlayBall.org","properties":{"link":"https://www.playball.org"},"menuItems":[]}]},{"itemId":"e3a86593-6da0-4d00-a512-0b8c78c9b8a5″,"text":"Careers","properties":{"link":""},"menuItems":[{"itemId":"35caab61-51c7-4b17-a9b8-e9ecd201058a","text":"Careers Home","properties":{"link":"/careers/home"},"menuItems":[]}]}]},"headerData":{"instanceId":"fbde1dcd-c837-4740-991c-1087d1db26d1″,"name":"global-nav","variables":[],"menuItems":[{"itemId":"tickets","text":"Tickets","properties":{"link":"https://www.mlb.com/tickets","customProperties":"align:right;"},"menuItems":[{"itemId":"764d21d8-0f58-4d63-b57c-035ec47d193c","text":"General Ticket Information","properties":{"link":"https://www.mlb.com/tickets","customProperties":""},"menuItems":[]},{"itemId":"4e45f354-0ccd-4c89-ac5e-12f16dd11f3a","text":"Season Tickets","properties":{"link":"https://www.mlb.com/tickets/season-tickets","customProperties":""},"menuItems":[]},{"itemId":"020f5910-a69a-443a-b5a3-37b7664d8a4f","text":"Spring Training","properties":{"link":"https://www.mlb.com/tickets/spring-training"},"menuItems":[]},{"itemId":"0a8ddc10-4b69-4a97-a677-6301ac30971b","text":"Fan Value","properties":{"link":"https://www.mlb.com/tickets/fan-value","customProperties":""},"menuItems":[]},{"itemId":"417de43e-baa5-4ca1-802d-c0814be88688″,"text":"Ballpark Tours","properties":{"link":"https://www.mlb.com/tickets/ballpark-tours"},"menuItems":[]},{"itemId":"dc1ab63d-4195-4a41-8248-cfa5513a66e9″,"text":"StubHub.com","properties":{"link":"https://www.stubhub.com/mlb-tickets/grouping/81/?gcid=C12289x371″,"customProperties":""},"menuItems":[]},{"itemId":"92c55e19-5b07-4d4f-8bfe-ee6a86e64c8a","text":"World Baseball Classic","properties":{"link":"https://www.mlb.com/world-baseball-classic/schedule"},"menuItems":[]},{"itemId":"5d7d5f77-3b9d-4d21-bece-8b3245b7bf2a","text":"International Events","properties":{"link":"https://www.mlb.com/international"},"menuItems":[]}]},{"itemId":"7b24aad4-85fb-4206-b915-85dc84bf8046″,"text":"MLB.TV","properties":{"link":"https://www.mlb.com/tv?&affiliateId=mlbMENU","customProperties":"amp:true;align:right;","icon":"watch"},"menuItems":[{"itemId":"6e4bf96d-d9e2-4c33-8d42-3e94aae42607″,"text":"Buy MLB.TV","properties":{"link":"https://www.mlb.com/live-stream-games/subscribe?&affiliateId=mlbMENU"},"menuItems":[]},{"itemId":"f33ef990-5609-45cd-be24-0e40cb0a5368″,"text":"Buy MLB Audio","properties":{"link":"https://www.mlb.com/live-stream-games/subscribe/mlb-audio?&affiliateId=mlbMENU"},"menuItems":[]},{"itemId":"993d3d74-7886-48fd-9d9f-12d189ed5630″,"text":"Watch MLB.TV","properties":{"link":"/live-stream-games?&affiliateId=mlbMENU","customProperties":""},"menuItems":[]},{"itemId":"350c78fb-4db4-4c1c-8430-85c1dfc08fca","text":"MLB.TV Spring Training Schedule","properties":{"link":"https://www.mlb.com/live-stream-games/spring-training?&affiliateId=mlbMENU"},"menuItems":[]},{"itemId":"e5e2c318-6b50-4406-8434-b4c84716dfe6″,"text":"MLB.TV Student Discounts","properties":{"link":"https://www.mlb.com/live-stream-games/subscribe/student-discount?&affiliateId=mlbMENU"},"menuItems":[]},{"itemId":"00132689-c7ce-46b0-bfac-228fa9f70a22″,"text":"Watch MLB.TV Docs & Features","properties":{"link":"https://www.mlb.com/tv/featured?&affiliateId=mlbMENU"},"menuItems":[]},{"itemId":"68b755ed-4f9d-4c0a-96ea-ffafb22ca5c5″,"text":"MLB.TV Help Center","properties":{"link":"/live-stream-games/help-center?&affiliateId=mlbMENU","customProperties":""},"menuItems":[]},{"itemId":"05b81a24-a196-4ee9-86f6-443cc7ce6934″,"text":"MLB.TV with Extra Innings","properties":{"link":"https://www.mlb.com/live-stream-games/third-party?&affiliateId=mlbMENU"},"menuItems":[]}]},{"itemId":"6bfaf88e-891c-4e05-a935-8a32bd23086a","text":"Shop","properties":{"link":"https://www.mlbshop.com/?_s=bm-mlbcom-hp","customProperties":"align:right;","icon":"shopping-cart"},"menuItems":[{"itemId":"d7b3c8e0-42c4-45c5-8278-c51adb21b47f","text":"Auction","properties":{"link":"http://auction.mlb.com/"},"menuItems":[]},{"itemId":"216d4562-456b-442d-b078-9e9be9b35b20″,"text":"Authentication","properties":{"link":"https://www.mlb.com/authentication"},"menuItems":[]},{"itemId":"20f4725a-5dc1-4543-a153-7795cd789463″,"text":"Autographed","properties":{"link":"http://auctions.mlb.com/iSynApp/allAuction.action?sid=1101001&rc=25&selectedCatId=17342&sort=timeleft_asc&pgmode2=catpage"},"menuItems":[]},{"itemId":"f4f69cd4-2549-45f2-ba63-d97ddb0b564c","text":"Jerseys","properties":{"link":"https://www.mlbshop.com/jerseys/d-1250336792+z-990485-1677480024?_s=bm-mlbcom-hp","customProperties":""},"menuItems":[]},{"itemId":"a67b9b28-c511-47a8-87e6-594cb719c787″,"text":"Caps","properties":{"link":"https://www.mlbshop.com/caps/d-3494554436+z-921549-1032840697?_s=bm-mlbcom-hp","customProperties":""},"menuItems":[]},{"itemId":"f5b9b657-5322-40c1-b2e8-1bd31e27abf6″,"text":"Men's","properties":{"link":"https://www.mlbshop.com/men/ga-12+z-9112397524-3608394688?_s=bm-mlbcom-hp","customProperties":""},"menuItems":[]},{"itemId":"dfa13a6f-17fd-4a4a-9963-f3e3734e28bf","text":"Women's","properties":{"link":"https://www.mlbshop.com/women/ga-57+z-822989763-3950492570?_s=bm-mlbcom-hp","customProperties":""},"menuItems":[]},{"itemId":"c2bf810b-0d1f-4135-b7f8-919c53fc8cc2″,"text":"Kids","properties":{"link":"https://www.mlbshop.com/kids/ga-36+z-861270405-1171990865?_s=bm-mlbcom-hp","customProperties":""},"menuItems":[]},{"itemId":"1b321c96-eb8a-4077-9868-9420205878bc","text":"Collectibles & Memorabilia","properties":{"link":"https://www.mlbshop.com/collectibles-and-memorabilia/d-7883550038+z-87646-4052890706?_s=bm-mlbcom-hp","customProperties":""},"menuItems":[]},{"itemId":"91dcfa1d-f4de-4bf9-93f8-8f91f4069272″,"text":"Home & Office","properties":{"link":"https://www.mlbshop.com/home-and-office/d-3449556733+z-992406-855732365?_s=bm-mlbcom-hp","customProperties":""},"menuItems":[]},{"itemId":"c69e35fc-900e-4fcc-9348-085aa0febeab","text":"Gift Certificates","properties":{"link":"https://www.mlbshop.com/gift-cards/x-462351+z-94899005-3509039474?_s=bm-mlbcom-Home","customProperties":""},"menuItems":[]},{"itemId":"44958e84-599e-44b1-96b4-44f38a477942″,"text":"European Shop","properties":{"link":"http://www.mlbshopeurope.com/stores/mlb/en?portal=MLTS66FS&CMP=PSC-MLTS66FS","customProperties":""},"menuItems":[]},{"itemId":"51d3278e-90fd-4462-aec0-7cfd8de1cb79″,"text":"Photo Store","properties":{"link":"https://photostore.mlb.com/"},"menuItems":[]}]},{"itemId":"5052bac6-3f1d-4847-8739-42021d7cfc2d","text":"News","properties":{"link":"https://www.mlb.com/news","customProperties":"amp:true;"},"menuItems":[{"itemId":"7b725a20-961b-4511-bd88-20600551baf2″,"text":"In this section","properties":{"visible":"true"},"menuItems":[{"itemId":"82d45c9a-d055-4ab4-b785-576d982a2077″,"text":"Probable pitchers","properties":{"link":"https://www.mlb.com/probable-pitchers/","visible":"true","enabled":"true"},"menuItems":[]},{"itemId":"4bfdb502-31e4-49dd-bae1-89a4772d0739″,"text":"Prospect Rankings","properties":{"link":"https://www.mlb.com/prospects"},"menuItems":[]},{"itemId":"831050d9-d4d2-427f-85a3-fe56aad2682a","text":"Injury report","properties":{"link":"https://www.mlb.com/injury-report"},"menuItems":[]},{"itemId":"02f947b5-cc72-40f9-9f37-a97b37dcaef3″,"text":"Transactions","properties":{"link":"http://mlb.mlb.com/mlb/transactions/?tcid=mm_mlb_news"},"menuItems":[]},{"itemId":"f499f46a-a51b-443e-82aa-3b6006f9b306″,"text":"Starting Lineups","properties":{"link":"https://www.mlb.com/starting-lineups"},"menuItems":[]},{"itemId":"53776d17-03af-4b04-8840-45b6c624df6b","text":"Hall of Fame","properties":{"link":"https://www.mlb.com/hall-of-fame"},"menuItems":[]},{"itemId":"6ee1c331-faa0-4865-a062-1c98a2f67c0d","text":"Longform","properties":{"link":"https://www.mlb.com/news/topic/longform"},"menuItems":[]},{"itemId":"844e328c-713f-46da-8183-965d19eb7dd8″,"text":"Awards","properties":{"link":"https://www.mlb.com/awards"},"menuItems":[]},{"itemId":"c1ac7886-1d18-4ad8-9fc4-326ab4753144″,"text":"MLB Draft","properties":{"link":"https://www.mlb.com/draft/2020″},"menuItems":[]},{"itemId":"a0e4c375-afb7-4fc2-8ba3-4faa668698b9″,"text":"All-Star Game","properties":{"link":"https://www.mlb.com/all-star"},"menuItems":[]}]},{"itemId":"dc121961-fe11-49ac-92b5-a8797acafa7c","text":"Featured","properties":{},"menuItems":[{"itemId":"230d1ec0-9d0a-4a3f-a04c-3cf16474390f","text":"Pipeline","properties":{"link":"https://www.mlb.com/pipeline"},"menuItems":[]},{"itemId":"216ae480-9b79-4faa-a748-98a8604e5cde","text":"Play Ball","properties":{"link":"https://www.playball.org/"},"menuItems":[]},{"itemId":"c2182d4d-c537-410e-a63d-267e593fbb74″,"text":"Trivia & Quizzes","properties":{"link":"https://www.mlb.com/news/topic/trivia","enabled":"true","visible":"true"},"menuItems":[]},{"itemId":"d7d653b8-5585-44b7-b94f-226b51681ed8″,"text":"MLB Photos","properties":{"link":"https://www.mlb.com/photos/home"},"menuItems":[]},{"itemId":"eb4bceb4-bb14-4a84-8b60-12e51dab40f8″,"text":"Offbeat","properties":{"link":"https://www.mlb.com/news/topic/offbeat"},"menuItems":[]},{"itemId":"28a2e573-86ba-4cdc-a924-86d3b6500979″,"text":"Glossary","properties":{"link":"https://www.mlb.com/glossary"},"menuItems":[]},{"itemId":"7e424446-ea76-4b0d-8dc0-e7ee108993ef","text":"Rare Feats","properties":{"link":"https://www.mlb.com/news/topic/rare-feats"},"menuItems":[]},{"itemId":"38b78c07-c2e2-40be-9172-fb2ddc1d1817″,"text":"Trade Trees","properties":{"link":"https://www.mlb.com/news/topic/trade-trees-coverage"},"menuItems":[]}]}]},{"itemId":"86b4ade1-0488-40d3-8472-b1e323f23914″,"text":"Video","properties":{"link":"https://www.mlb.com/video","customProperties":"mobile:true;amp:true;"},"menuItems":[{"itemId":"bbddb943-54df-4d88-a3ee-14265e727677″,"text":"In this section","properties":{"customProperties":""},"menuItems":[{"itemId":"d6f95b2e-b8ee-41f0-a313-e74537eff685″,"text":"Film Room","properties":{"link":"https://www.mlb.com/video/search"},"menuItems":[]},{"itemId":"a24a8e9d-471b-4626-9535-28e1b8f62bad","text":"Watch Live Games","properties":{"link":"https://www.mlb.com/live-stream-games?affiliateId=mlbMENU"},"menuItems":[]},{"itemId":"fb982f48-2253-46ec-84f2-ec3282782fb8″,"text":"Condensed Games","properties":{"link":"https://www.mlb.com/video/topic/condensed-games"},"menuItems":[]},{"itemId":"0f387774-edb6-4e09-84c1-3b6f9a8c65d5″,"text":"Game Recaps","properties":{"link":"https://www.mlb.com/video/topic/daily-recaps","enabled":"true"},"menuItems":[]},{"itemId":"3dcbafe8-f9f6-4a32-8534-7a00b6b07f4c","text":"Daily FastCast","properties":{"link":"https://www.mlb.com/video/topic/fastcast"},"menuItems":[]},{"itemId":"830b3ff1-c650-48a0-b8ee-6c910acc0204″,"text":"Instant Replay","properties":{"link":"https://www.mlb.com/video/topic/replay-review"},"menuItems":[]},{"itemId":"286ad1ca-abe4-4d67-b80a-9020e756750e","text":"MLB Network","properties":{"link":"https://www.mlb.com/network"},"menuItems":[]},{"itemId":"948d378c-7d73-49b1-b5ba-8729c59bca9a","text":"Podcasts","properties":{"link":"https://www.mlb.com/podcasts"},"menuItems":[]},{"itemId":"e95e19ff-2024-4d84-b9e5-d5f0d1831e5b","text":"Business of Baseball","properties":{"link":"https://www.mlb.com/video/topic/business-of-baseball"},"menuItems":[]},{"itemId":"bf659638-4fb7-4c46-be4c-49b736c0fd69″,"text":"Untouchable Pitches","properties":{"link":"https://www.mlb.com/es/video/topic/untouchable-pitches-cristal-products?cacheBurro"},"menuItems":[]}]},{"itemId":"74f35bdb-7baf-4fa5-abb5-3c3613fa00fe","text":"Featured","properties":{"customProperties":""},"menuItems":[{"itemId":"d87342bf-bac9-4811-9863-4a5d7ddabe94″,"text":"Most Popular","properties":{"link":"https://www.mlb.com/video"},"menuItems":[]},{"itemId":"b4deff8a-ac2f-46bd-924a-108c63e6d4a6″,"text":"Home Runs","properties":{"link":"https://www.mlb.com/video/topic/home-runs"},"menuItems":[]},{"itemId":"6a7e200b-2443-4e01-b95a-16bf6326a089″,"text":"Walk-Offs","properties":{"link":"https://www.mlb.com/video/topic/walk-offs"},"menuItems":[]},{"itemId":"b56c8c85-d75f-4511-8276-0246a51f83e6″,"text":"Comebacks","properties":{"link":"https://www.mlb.com/video/topic/comebacks"},"menuItems":[]},{"itemId":"e9fc5098-1904-4089-8fa2-c4b3d9a0feaf","text":"Top Defensive Plays","properties":{"link":"https://www.mlb.com/video/topic/top-defensive-plays"},"menuItems":[]},{"itemId":"d1a89b62-ed0e-4df5-a65d-9471b06eb3ad","text":"Grand Slams","properties":{"link":"https://www.mlb.com/video/topic/grand-slams"},"menuItems":[]},{"itemId":"c19fb88b-a3c7-4141-a616-0299dc17e774″,"text":"Best of Statcast","properties":{"link":"https://www.mlb.com/video/topic/statcast"},"menuItems":[]},{"itemId":"4cdb4f64-f058-43e3-a0f3-a078c3701cc9″,"text":"Let's Rally","properties":{"link":"https://www.mlb.com/video/topic/rallies"},"menuItems":[]},{"itemId":"3d4947a4-61d9-4ce6-9bec-5ef974a5aff1″,"text":"Curtain Calls","properties":{"link":"https://www.mlb.com/video/topic/curtain-calls"},"menuItems":[]},{"itemId":"ea8c81d8-3594-4318-b95e-7d7c4c92c1db","text":"Legendary Moments","properties":{"link":"https://www.mlb.com/video/topic/key-moments"},"menuItems":[]},{"itemId":"550155b7-3825-4c73-bf84-0250dec41903″,"text":"Carry the Freight","properties":{"link":"https://www.mlb.com/video/topic/carry-the-freight"},"menuItems":[]}]}]},{"itemId":"7c68f445-5095-46cc-bab3-73af6c921597″,"text":"Scores","properties":{"link":"https://www.mlb.com/scores","customProperties":"mobile:true;amp:true;","visible":"true"},"menuItems":[]},{"itemId":"9efaf5e3-6a93-4e4f-b8af-1219110ecb30″,"text":"Stats","properties":{"link":"https://www.mlb.com/stats","customProperties":"mobile:true;amp:true;"},"menuItems":[{"itemId":"c26bdb6a-e2f7-48dc-bd44-39e522f7b5ca","text":"2021 Spring Training Stats","properties":{"link":"https://www.mlb.com/stats/2021/spring-training"},"menuItems":[]},{"itemId":"f31b263b-34d4-46ab-aa46-9796e93b048b","text":"2020 Regular Season Stats","properties":{"link":"https://www.mlb.com/stats/2020″},"menuItems":[]},{"itemId":"62c5195b-2630-4d9e-9896-6aee0709aeee","text":"2020 Sortable Team Stats","properties":{"link":"https://www.mlb.com/stats/team/2020″},"menuItems":[]},{"itemId":"41566816-1cb8-421f-9a4a-9ccdefa7ed69″,"text":"Statcast Leaders","properties":{"link":"https://baseballsavant.mlb.com/statcast_leaderboard"},"menuItems":[]},{"itemId":"2d0a2684-64c6-4d9f-87a1-a7cf9f661e2f","text":"Baseball Savant","properties":{"link":"https://baseballsavant.mlb.com/"},"menuItems":[]},{"itemId":"b9d0ae31-f31d-449b-82fb-5a77f59293ba","text":"Top Prospect Stats","properties":{"link":"/prospects/stats/top-prospects?type=all&dateRange=Year2019&minPA=1″},"menuItems":[]},{"itemId":"2ae90479-df9d-458e-a47e-7acf851728e7″,"text":"Offseason Leagues","properties":{"link":"http://mlb.mlb.com/milb/stats/?tcid=mm_mlb_stats","customProperties":""},"menuItems":[]},{"itemId":"cf9eab1e-1dba-458c-949b-8db03f86d49e","text":"Glossary","properties":{"link":"http://m.mlb.com/glossary"},"menuItems":[]}]},{"itemId":"6af88ec1-9bfe-4494-abc0-898dc919a081″,"text":"Standings","properties":{"link":"https://www.mlb.com/standings","customProperties":"mobile:true;amp:true;"},"menuItems":[{"itemId":"a9713ec1-4849-41b5-8f0b-fa0746a205e4″,"text":"2021 Spring Training Standings","properties":{"link":"https://www.mlb.com/standings/spring-training/2021″,"customProperties":""},"menuItems":[]},{"itemId":"4c250046-6a0d-4352-b3f2-3059a5881c2a","text":"2020 Regular Season Standings","properties":{"link":"https://www.mlb.com/standings/regular-season/2020″},"menuItems":[]},{"itemId":"a84f52a4-d7d4-4661-b193-8c81901e8e7e","text":"2020 Advanced Standings","properties":{"link":"https://www.mlb.com/standings/regular-season/advanced-splits/2020″},"menuItems":[]}]},{"itemId":"248fea7e-1d19-452a-bb5c-999e1a09b7cd","text":"Schedule","properties":{"link":"https://www.mlb.com/schedule","customProperties":"amp:true;"},"menuItems":[{"itemId":"12fd9194-8902-43f1-9686-f9f321c90450″,"text":"2021 Regular Season","properties":{"link":"https://www.mlb.com/schedule/2021-04-01″},"menuItems":[]},{"itemId":"74ae0fd1-28f5-41ab-8861-23d056482243″,"text":"2021 Spring Training","properties":{"link":"https://www.mlb.com/schedule/2021-02-28″},"menuItems":[]},{"itemId":"6aae1937-f9bd-4929-847a-74c4808cc993″,"text":"2020 Postseason","properties":{"link":"https://www.mlb.com/postseason"},"menuItems":[]},{"itemId":"f4010b7a-902c-41e0-b405-e0fa695b5c64″,"text":"2020 Regular Season","properties":{"link":"https://www.mlb.com/schedule/2020-07-23″},"menuItems":[]},{"itemId":"94c9d7e4-3477-4217-87f3-008d2290b9ee","text":"Important Dates","properties":{"link":"https://www.mlb.com/schedule/events#important-dates"},"menuItems":[]},{"itemId":"d3566c69-34a7-4e6c-b2bb-28203c847f9e","text":"Probable Pitchers","properties":{"link":"https://www.mlb.com/probable-pitchers"},"menuItems":[]},{"itemId":"3747c1bc-9b3d-43f5-bd04-d1274c59c02a","text":"Team by Team Schedule","properties":{"link":"https://www.mlb.com/schedule/team-by-team"},"menuItems":[]},{"itemId":"e75ecc62-7e72-4b53-9705-a23e2b511f83″,"text":"National Broadcasts","properties":{"link":"http://mlb.mlb.com/mlb/official_info/broadcasts/national.jsp?tcid=mm_mlb_schedule"},"menuItems":[]},{"itemId":"bce30443-7f92-4c61-979f-058e5e6ebe17″,"text":"Sunday Night Broadcasts","properties":{"link":"http://m.mlb.com/promo/sunday-night-broadcasts"},"menuItems":[]}]},{"itemId":"8c842eeb-dedd-430c-a452-57a740d5c3df","text":"Players","properties":{"link":"https://www.mlb.com/players","customProperties":"","icon":"group"},"menuItems":[{"itemId":"650da3ef-b96d-4a7d-bf4b-47a55b2e6cb3″,"text":"Players A to Z","properties":{"link":"https://www.mlb.com/players"},"menuItems":[]},{"itemId":"b971e11e-c0ea-4f42-a693-a9e18e15447f","text":"Injury updates","properties":{"link":"https://www.mlb.com/injury-report"},"menuItems":[]},{"itemId":"76a61c3c-c73a-497a-9d6f-f762ad0fdecd","text":"Depth Charts","properties":{"link":"https://www.mlb.com/team/roster/depth-chart"},"menuItems":[]},{"itemId":"b30fe902-714f-4f74-a901-d2397c750dab","text":"Transactions","properties":{"link":"http://mlb.mlb.com/mlb/transactions/?tcid=mm_mlb_players"},"menuItems":[]},{"itemId":"3e585331-af20-4e73-8419-2067bed2677c","text":"Starting Lineups","properties":{"link":"https://www.mlb.com/starting-lineups"},"menuItems":[]},{"itemId":"a327060e-962d-428e-91ee-40522edcda03″,"text":"Prospect Rankings","properties":{"link":"https://www.mlb.com/prospects"},"menuItems":[]},{"itemId":"a30f9694-b2cd-4a2a-9118-d3c7f00b39b1″,"text":"Mobile Player Alerts","properties":{"link":"http://mlb.mlb.com/mobile/text.jsp?tcid=mm_mlb_players"},"menuItems":[]},{"itemId":"f45e2471-de5a-4a07-b035-43f1b405f296″,"text":"MLB Players Association","properties":{"link":"http://mlb.mlb.com/pa/index.jsp"},"menuItems":[]},{"itemId":"6e855928-8a3d-41b6-8adc-71fe99a9508b","text":"Probable Pitchers","properties":{"link":"https://www.mlb.com/probable-pitchers"},"menuItems":[]},{"itemId":"e7ba059f-ad80-486d-bf9f-3992d718f129″,"text":"Negro Leagues","properties":{"link":"https://www.mlb.com/history/negro-leagues"},"menuItems":[]}]},{"itemId":"781f2bb2-a66a-44be-8fee-b0a0250d60e6″,"text":"Play Ball","properties":{"link":"https://www.playball.org/","target":"_blank","customProperties":"topNav:false;","icon":"baseball"},"menuItems":[{"itemId":"2a74747c-e482-42f5-b750-ce710dea6568″,"text":"PlayBall.org","properties":{"link":"https://www.playball.org/","target":"_blank"},"menuItems":[]},{"itemId":"9f5ab700-d2c0-43be-a398-6926ceef9e1c","text":"Hank Aaron Invitational","properties":{"link":"https://www.mlb.com/hank-aaron-invitational"},"menuItems":[]},{"itemId":"d7c7e170-573e-45c1-a1ab-b1bd3aec819f","text":"Videos","properties":{"link":"https://www.mlb.com/video/topic/play-ball"},"menuItems":[]},{"itemId":"5be26d3e-4ff2-4a84-8ea5-92aef9d759b2″,"text":"Photos","properties":{"link":"https://www.playball.org/photos"},"menuItems":[]},{"itemId":"14d9fdc8-ba24-44cf-9a77-7a867852f418″,"text":"News","properties":{"link":"https://www.mlb.com/news/topic/youth-baseball"},"menuItems":[]},{"itemId":"4c876067-e576-4874-b914-d86fe7f4a538″,"text":"Pitch Smart","properties":{"link":"https://www.mlb.com/pitch-smart"},"menuItems":[]},{"itemId":"6996ed01-d31d-4fc4-8d0d-a5baf177f69a","text":"Play Ball Near You","properties":{"link":"https://www.playball.org/playball-near-you"},"menuItems":[]},{"itemId":"4e66a4b2-0f27-483c-81d4-f27b0b630eac","text":"States Play","properties":{"link":"https://www.mlb.com/states-play"},"menuItems":[]},{"itemId":"aed729a5-4ff6-45cc-868c-f90b9b9190af","text":"MLB TOUR","properties":{"link":"https://www.mlb.com/mlb-tour"},"menuItems":[]},{"itemId":"28d79b33-aebd-4685-9cc9-c4ccce1262f8″,"text":"RBI","properties":{"link":"https://www.mlb.com/rbi"},"menuItems":[]},{"itemId":"18001329-d9d0-47b9-b2e0-5043b69cee9e","text":"Pitch, Hit & Run","properties":{"link":"https://www.mlb.com/pitch-hit-and-run"},"menuItems":[]},{"itemId":"df867e3c-db53-4d4f-9958-e10cb0939c8a","text":"Jr. Home Run Derby","properties":{"link":"https://www.mlb.com/junior-home-run-derby"},"menuItems":[]},{"itemId":"6af5ec56-5e26-45b3-93d6-2f79d929c046″,"text":"MLB Pipeline","properties":{"link":"https://www.mlb.com/pipeline"},"menuItems":[]},{"itemId":"bc715814-2692-4bde-9b1d-99cbd9ada5dc","text":"Youth Academies","properties":{"link":"https://www.mlb.com/mlb-youth-academy"},"menuItems":[]},{"itemId":"26715913-0ae8-4106-baa4-3d914b0a33b0″,"text":"Breakthrough Series","properties":{"link":"https://www.mlb.com/breakthrough-series"},"menuItems":[]},{"itemId":"56cb414b-eb00-4632-8acc-81d74ee4745e","text":"Elite Development Invitational","properties":{"link":"https://www.mlb.com/elite-development-invitational"},"menuItems":[]},{"itemId":"04697c74-2811-4d84-8150-aa1016aa6272″,"text":"USA Baseball","properties":{"link":"https://www.usabaseball.com/","target":"_blank"},"menuItems":[]},{"itemId":"ae77ea02-173a-4439-be6c-9ee75225bd50″,"text":"USA Softball","properties":{"link":"http://www.teamusa.org/USA-Softball","target":"_blank"},"menuItems":[]},{"itemId":"c293b7e0-f056-4102-89cd-d20649d4eff0″,"text":"Dream Series","properties":{"link":"https://www.mlb.com/dream-series"},"menuItems":[]},{"itemId":"181a47ba-9ea0-4a7a-8924-ccedef1cd372″,"text":"Trailblazer Series","properties":{"link":"https://www.mlb.com/trailblazer-series"},"menuItems":[]}]},{"itemId":"mlb-fans","text":"Fans","properties":{"link":"https://www.mlb.com/fans"},"menuItems":[{"itemId":"25c7540a-c3a3-42e8-a8f8-1e3be9f5d4fe","text":"MLB Kids","properties":{"link":"https://www.mlb.com/fans/kids"},"menuItems":[]},{"itemId":"8ee0a750-a1d7-4c8f-80ee-cb7beb4268ff","text":"MLB International","properties":{"link":"https://www.mlb.com/international/"},"menuItems":[]},{"itemId":"841025ef-a361-46e1-b5d0-c963c1a42827″,"text":"Postseason Publications","properties":{"link":"https://www.mlb.com/postseason/publications"},"menuItems":[]},{"itemId":"59ffbbaf-a56c-4cb4-b874-d5a5ce36c9f1″,"text":"MLB Newsletters","properties":{"link":"https://www.mlb.com/fans/newsletters"},"menuItems":[]},{"itemId":"9e37a80a-34da-4e92-ae40-8462146aef1c","text":"Virtual Backgrounds","properties":{"link":"https://www.mlb.com/fans/virtual-backgrounds"},"menuItems":[]},{"itemId":"ef7c9f4a-5e11-4700-aad3-b29a8c5acc4c","text":"Podcasts","properties":{"link":"https://www.mlb.com/fans/podcasts"},"menuItems":[]},{"itemId":"fcc0e750-dbe2-47b3-b681-0e3e379390c8″,"text":"Walk-Up Music","properties":{"link":"https://www.mlb.com/fans/music"},"menuItems":[]},{"itemId":"ad51f9be-9a3e-41d5-83aa-27d4351d583f","text":"Connect with MLB","properties":{"link":"https://www.mlb.com/social"},"menuItems":[]},{"itemId":"5d6dbbbf-fdff-41e7-b187-793bdb998ec8″,"text":"MLB Photos","properties":{"link":"https://www.mlb.com/photos/home"},"menuItems":[]}]},{"itemId":"832ad058-32b1-4fbd-940d-a68456ad3c25″,"text":"Fantasy","properties":{"link":"https://www.mlb.com/fantasy","customProperties":""},"menuItems":[{"itemId":"ee7dde99-2f2c-49e4-a5df-b319f51afa21″,"text":"Yahoo Fantasy Baseball","properties":{"target":"","link":"http://yhoo.it/3aK5QQw"},"menuItems":[]},{"itemId":"82ecd1d5-6055-4846-99de-2e5d99461009″,"text":"MLB Rally","properties":{"link":"https://www.mlb.com/apps/rally","visible":"true"},"menuItems":[]},{"itemId":"82b08ad3-ff33-4c90-8303-277dbf8190a3″,"text":"MLB Rally Quick Pick","properties":{"link":"https://www.mlb.com/apps/rally/quickpick"},"menuItems":[]},{"itemId":"4e35b374-27ca-40c1-8f4b-d0e861496179″,"text":"Postseason Bracket Challenge","properties":{"link":"https://www.mlb.com/brackets/postseason"},"menuItems":[]},{"itemId":"fa818f3d-e28a-4dce-8ed8-928d7000a1f6″,"text":"The Vault","properties":{"link":"https://www.mlb.com/the-vault"},"menuItems":[]},{"itemId":"5342efbb-aee3-4b7a-bd6b-da451509d65b","text":"Yahoo Fantasy Baseball","properties":{"link":"https://yhoo.it/2w7w4vr","visible":"false"},"menuItems":[]},{"itemId":"36bd3b31-a5df-4061-9abb-33d42ffa1818″,"text":"R.B.I. Baseball 21″,"properties":{"link":"https://www.rbigame.com"},"menuItems":[]},{"itemId":"3dab9102-cd2d-442e-ab8a-ad07d7b159f4″,"text":"MLB Home Run Derby","properties":{"link":"https://www.mlb.com/fantasy/home-run-derby"},"menuItems":[]},{"itemId":"a3152a55-11b7-4772-86e0-58d7982a1c76″,"text":"Opening Day Pick 'Em","properties":{"link":"https://www.mlb.com/opening-day-pick-em?affiliateId=odpe-fantasy-mlb-2021″},"menuItems":[]},{"itemId":"7af822e8-dc82-4b7e-818a-97080c0938f2″,"text":"Closer Report","properties":{"link":"/closer-report","visible":"false"},"menuItems":[]},{"itemId":"c2b4eeef-ec9c-4c5b-831c-1edca0316768″,"text":"Prospect Rankings","properties":{"link":"https://www.mlb.com/prospects"},"menuItems":[]},{"itemId":"3b212a3b-4687-4ea7-a276-3e780e18210c","text":"MLB Champions","properties":{"link":"https://www.mlbc-app.com/?ref=mlbcom"},"menuItems":[]}]},{"itemId":"f857d698-35a3-4b1b-8e88-d92056ca5507″,"text":"Apps","properties":{"link":"https://www.mlb.com/apps","customProperties":"topNav:false;"},"menuItems":[{"itemId":"c974a38d-8537-4d03-9dfa-681ac5bd0f08″,"text":"MLB","properties":{"link":"https://www.mlb.com/apps/mlb-app"},"menuItems":[]},{"itemId":"13d77816-460d-4783-8ed7-f1ff1d3a97ed","text":"MLB Rally","properties":{"link":"https://www.mlb.com/apps/rally","visible":"true"},"menuItems":[]},{"itemId":"89f7398c-7a79-46e4-a8cd-843a44ceee13″,"text":"MLB Ballpark","properties":{"link":"https://www.mlb.com/apps/ballpark"},"menuItems":[]},{"itemId":"03c8451e-6437-4aa6-8b5d-50c3fedad25e","text":"MiLB First Pitch","properties":{"link":"https://www.milb.com/about/first-pitch"},"menuItems":[]},{"itemId":"5d19666b-0c26-48ad-8465-09ed9f28dfc2″,"text":"R.B.I. Baseball 21″,"properties":{"link":"https://www.rbigame.com"},"menuItems":[]},{"itemId":"94808840-9046-445e-9a6a-83016bdadb72″,"text":"MLB Home Run Derby","properties":{"link":"https://www.mlb.com/fantasy/home-run-derby"},"menuItems":[]},{"itemId":"fbe4d233-e766-4207-8886-55a2fc1f7f74″,"text":"MLB FAQs","properties":{"link":"https://www.mlb.com/apps/mlb-app/faq-apple"},"menuItems":[]},{"itemId":"34d7bc2e-a216-4956-8105-b42f2ba4bea3″,"text":"MLB Ballpark FAQs","properties":{"link":"https://www.mlb.com/apps/ballpark/faq-apple"},"menuItems":[]},{"itemId":"c081befb-bde5-446d-a4d4-c9292d29d525″,"text":"MLB Rally FAQs","properties":{"link":"https://www.mlb.com/apps/rally/faq-apple","visible":"true"},"menuItems":[]}]},{"itemId":"57ec62ff-6517-49b7-8bef-7a3edc6874cb","text":"Auction","properties":{"link":"http://auction.mlb.com/","visible":"false","customProperties":"topNav:false;"},"menuItems":[{"itemId":"3ea7f7ac-0734-47d9-8804-967eba72da0e","text":"Authentication","properties":{"link":"https://www.mlb.com/authentication"},"menuItems":[]},{"itemId":"e3e18801-29de-4b11-86ac-a475342dff41″,"text":"Autographed","properties":{"link":"http://auctions.mlb.com/iSynApp/allAuction.action?sid=1101001&rc=25&selectedCatId=17342&sort=timeleft_asc&pgmode2=catpage"},"menuItems":[]},{"itemId":"f4c0200f-4437-47c0-8c15-1a54c26d22c0″,"text":"Baseball Cards","properties":{"link":"http://www.baseballcards.mlb.com/"},"menuItems":[]},{"itemId":"21b7a4a2-6c76-47b5-af79-51dc0334f2c9″,"text":"Baseballs","properties":{"link":"http://auctions.mlb.com/iSynApp/allAuction.action?sid=1101001&rc=25&selectedCatId=13020&sort=timeleft_asc&pgmode2=catpage"},"menuItems":[]},{"itemId":"6b056370-0888-43e4-9f8c-8100e2ee7653″,"text":"Bats","properties":{"link":"http://auctions.mlb.com/iSynApp/allAuction.action?sid=1101001&rc=25&selectedCatId=13041&sort=timeleft_asc&pgmode2=catpage"},"menuItems":[]},{"itemId":"1b036e35-5977-4af1-9cb0-736c76d18ec4″,"text":"Caps","properties":{"link":"http://auctions.mlb.com/iSynApp/allAuction.action?sid=1101001&rc=25&selectedCatId=13021&sort=timeleft_asc&pgmode2=catpage"},"menuItems":[]},{"itemId":"74ae99a1-5ed5-44e4-842c-b49dc99e982d","text":"Experiences","properties":{"link":"http://auctions.mlb.com/iSynApp/allAuction.action?sid=1101001&rc=25&selectedCatId=13060&sort=timeleft_asc&pgmode2=catpage"},"menuItems":[]},{"itemId":"d41a4007-2f65-4b0f-a0a8-7df58870e507″,"text":"Game-Used","properties":{"link":"http://auctions.mlb.com/iSynApp/allAuction.action?sid=1101001&rc=25&selectedCatId=13022&sort=timeleft_asc&pgmode2=catpage"},"menuItems":[]},{"itemId":"aafaf49c-cfb9-432d-9119-f86a64fdbb27″,"text":"Jerseys","properties":{"link":"http://auctions.mlb.com/iSynApp/allAuction.action?sid=1101001&rc=25&selectedCatId=13062&sort=timeleft_asc&pgmode2=catpage"},"menuItems":[]},{"itemId":"c0be3bdb-025a-42ac-b09d-c391d058342b","text":"Photos","properties":{"link":"http://auctions.mlb.com/iSynApp/allAuction.action?sid=1101001&rc=25&selectedCatId=13024&sort=timeleft_asc&pgmode2=catpage"},"menuItems":[]}]},{"itemId":"98430c25-7924-4112-a70f-0b32fd31594f","text":"Teams","properties":{"link":"https://www.mlb.com/team","customProperties":"amp:true;module:teammodule;align:right;"},"menuItems":[{"itemId":"9191834c-54c4-40a7-8aac-9745d3666084″,"text":"Team Module","properties":{"customProperties":"module:teammodule;"},"menuItems":[]}]},{"itemId":"397b9e10-6d65-4fc0-bbe6-8d07f5e8d3a8″,"text":"ES","properties":{"link":"https://www.mlb.com/es","customProperties":"align:right;","toolTip":"Español"},"menuItems":[{"itemId":"ceb83c80-eaf2-4dd4-bdc6-e23b1e11ae60″,"text":"日本語","properties":{"link":"http://www.mlb.jp/","customProperties":"lang:ja"},"menuItems":[]},{"itemId":"27ac6728-00c1-4965-963b-05d33268fb50″,"text":"한국어","properties":{"link":"http://mlb.mbcsportsplus.com/","customProperties":"lang:ko"},"menuItems":[]}]}]},"locale":"en","reqPath":"/news/bold-predictions-for-all-30-mlb-teams-for-2021-season","sharedNav":{"instanceId":"6c265854-d856-4f92-aea1-07dfe5cda020″,"name":"shared-nav","variables":[],"menuItems":[{"itemId":"93b3e9b2-65a9-4585-9185-03e255cb523c","text":"MLB.TV","properties":{"link":"https://www.mlb.com/tv?&affiliateId=clubMENU","icon":"watch","customProperties":"align:right;"},"menuItems":[{"itemId":"162f5687-7f5b-4422-a782-133dc3db8aa0″,"text":"Buy MLB.TV","properties":{"link":"https://www.mlb.com/live-stream-games/subscribe?&affiliateId=clubMENU"},"menuItems":[]},{"itemId":"f75d3e53-5cc5-4eb5-b64d-7e72c3f601b9″,"text":"Buy MLB Audio","properties":{"link":"https://www.mlb.com/live-stream-games/subscribe/mlb-audio?&affiliateId=clubMENU"},"menuItems":[]},{"itemId":"d54a2b21-9db9-4252-9ebe-e3a4b2a3cf83″,"text":"Watch MLB.TV","properties":{"link":"https://www.mlb.com/live-stream-games?&affiliateId=clubMENU"},"menuItems":[]},{"itemId":"2a0ee52e-dc18-4f5b-a5b2-9ab8bd1ee507″,"text":"MLB.TV Spring Training Schedule","properties":{"link":"https://www.mlb.com/live-stream-games/spring-training?&affiliateId=clubMENU"},"menuItems":[]},{"itemId":"3d0c17bc-b611-42aa-a6ce-d2a4d6d38f96″,"text":"MLB.TV Student Discounts","properties":{"link":"https://www.mlb.com/live-stream-games/subscribe/student-discount?&affiliateId=clubMENU"},"menuItems":[]},{"itemId":"2d8d6ad8-dc2a-4971-9b12-f1853530c5d3″,"text":"Watch MLB.TV Docs & Features","properties":{"link":"https://www.mlb.com/tv/featured?&affiliateId=clubMENU"},"menuItems":[]},{"itemId":"6254640c-2069-4447-822f-084d0a38f161″,"text":"MLB.TV Help Center","properties":{"link":"https://www.mlb.com/live-stream-games/help-center?&affiliateId=clubMENU"},"menuItems":[]},{"itemId":"6d167d3d-4063-43ae-b13c-283e83c0e91c","text":"MLB.TV with Extra Innings","properties":{"link":"https://www.mlb.com/live-stream-games/third-party?&affiliateId=clubMENU"},"menuItems":[]}]},{"itemId":"d54d0be0-f610-4f8b-90ac-c246c361e2e2″,"text":"Fantasy","properties":{"link":"https://www.mlb.com/fantasy"},"menuItems":[{"itemId":"5ec4bde4-6bc1-412b-a92b-6b7cb3b2f07c","text":"Yahoo Fantasy Baseball","properties":{"link":"http://yhoo.it/3aK5QQw","visible":"true"},"menuItems":[]},{"itemId":"b2a63b51-03fc-423d-971e-1e566f6008f4″,"text":"MLB Rally","properties":{"link":"https://www.mlb.com/apps/rally","visible":"true"},"menuItems":[]},{"itemId":"f6929b88-632d-4a6f-ba73-8a64fccba1b0″,"text":"MLB Rally Quick Pick","properties":{"link":"https://www.mlb.com/apps/rally/quickpick"},"menuItems":[]},{"itemId":"0ebe9e5d-3fc7-48d2-acb1-c33eb931b911″,"text":"Postseason Bracket Challenge","properties":{"link":"https://www.mlb.com/brackets/postseason"},"menuItems":[]},{"itemId":"14aa1d4b-0193-4670-a1fc-b4386d4977e8″,"text":"The Vault","properties":{"link":"https://www.mlb.com/the-vault"},"menuItems":[]},{"itemId":"1543c12c-66d1-4033-9e05-c025fcb71a6a","text":"R.B.I. Baseball 21″,"properties":{"link":"https://www.rbigame.com"},"menuItems":[]},{"itemId":"4e0abdd4-8a0f-4bc5-838f-91dd2796041e","text":"MLB Home Run Derby","properties":{"link":"https://www.mlb.com/fantasy/home-run-derby"},"menuItems":[]},{"itemId":"7d8dfda7-345a-46fa-82dc-105068ba223e","text":"Opening Day Pick 'Em","properties":{"link":"https://www.mlb.com/opening-day-pick-em?affiliateId=odpe-fantasy-mlb-2021″},"menuItems":[]},{"itemId":"9f1ff266-0ed8-4adb-ba77-428d1871b237″,"text":"Closer Report","properties":{"link":"https://www.mlb.com/closer-report","visible":"false"},"menuItems":[]},{"itemId":"4c4f57bd-e31a-46c9-8f73-0fa2227451d3″,"text":"Prospect Rankings","properties":{"link":"https://www.mlb.com/prospects"},"menuItems":[]},{"itemId":"1ebe4dc3-2c6a-469f-be59-474fe14dbbd7″,"text":"MLB Champions","properties":{"link":"https://www.mlbc-app.com/?ref=mlbcom"},"menuItems":[]}]},{"itemId":"d1f61f89-9fd0-4f03-be17-2c5e128711a4″,"text":"Apps","properties":{"link":"https://www.mlb.com/apps"},"menuItems":[{"itemId":"83ac2ddf-414b-47d1-afec-ffacd068ab57″,"text":"MLB","properties":{"link":"https://www.mlb.com/apps/mlb-app"},"menuItems":[]},{"itemId":"83dbba73-02ac-4ba0-bebf-2c62ef04c19e","text":"MLB Rally","properties":{"link":"https://www.mlb.com/apps/rally","visible":"true"},"menuItems":[]},{"itemId":"e09e6978-fcf7-4c2f-8387-59d83b7be38e","text":"MLB Ballpark","properties":{"link":"https://www.mlb.com/apps/ballpark"},"menuItems":[]},{"itemId":"5e7b8019-9484-4872-abd7-8b963cd5969e","text":"MiLB First Pitch","properties":{"link":"https://www.milb.com/about/first-pitch"},"menuItems":[]},{"itemId":"e3a0183d-1b5f-4e56-9b81-02632ba4ec60″,"text":"R.B.I. Baseball 21″,"properties":{"link":"https://www.rbigame.com"},"menuItems":[]},{"itemId":"4fd8c1f8-a753-4501-916c-663390f1a566″,"text":"MLB Home Run Derby","properties":{"link":"https://www.mlb.com/fantasy/home-run-derby"},"menuItems":[]},{"itemId":"9d8dfe8b-be1a-4ebf-9509-6bd0165a868e","text":"MLB FAQs","properties":{"link":"https://www.mlb.com/apps/mlb-app/faq-apple"},"menuItems":[]},{"itemId":"df4e8527-e357-4272-bcf7-61876ed9455d","text":"MLB Ballpark FAQs","properties":{"link":"https://www.mlb.com/apps/ballpark/faq-apple","visible":"true"},"menuItems":[]},{"itemId":"c2943c65-a843-437a-9ef4-4ccfe5be088f","text":"MLB Rally FAQs","properties":{"link":"https://www.mlb.com/apps/rally/faq-apple","visible":"true"},"menuItems":[]}]}]},"styleProps":{},"teamNameSlug":"","teamsData":[{"id":133,"name":"Oakland Athletics","link":"/api/v1/teams/133″,"season":2021,"venue":{"id":10,"name":"RingCentral Coliseum","link":"/api/v1/venues/10″,"location":{"city":"Oakland","state":"California","stateAbbrev":"CA","defaultCoordinates":{"latitude":37.751511,"longitude":-122.200698}},"timeZone":{"id":"America/Los_Angeles","offset":-7,"tz":"PDT"}},"springVenue":{"id":2507,"link":"/api/v1/venues/2507″},"teamCode":"oak","fileCode":"oak","abbreviation":"OAK","teamName":"Athletics","locationName":"Oakland","firstYearOfPlay":"1901″,"league":{"id":103,"name":"American League","link":"/api/v1/league/103″},"division":{"id":200,"name":"American League West","link":"/api/v1/divisions/200″},"sport":{"id":1,"link":"/api/v1/sports/1″,"name":"Major League Baseball"},"shortName":"Oakland","springLeague":{"id":114,"name":"Cactus League","link":"/api/v1/league/114″,"abbreviation":"CL"},"allStarStatus":"N","active":true},{"id":134,"name":"Pittsburgh Pirates","link":"/api/v1/teams/134″,"season":2021,"venue":{"id":31,"name":"PNC Park","link":"/api/v1/venues/31″,"location":{"city":"Pittsburgh","state":"Pennsylvania","stateAbbrev":"PA","defaultCoordinates":{"latitude":40.446904,"longitude":-80.005753}},"timeZone":{"id":"America/New_York","offset":-4,"tz":"EDT"}},"springVenue":{"id":2526,"link":"/api/v1/venues/2526″},"teamCode":"pit","fileCode":"pit","abbreviation":"PIT","teamName":"Pirates","locationName":"Pittsburgh","firstYearOfPlay":"1882″,"league":{"id":104,"name":"National League","link":"/api/v1/league/104″},"division":{"id":205,"name":"National League Central","link":"/api/v1/divisions/205″},"sport":{"id":1,"link":"/api/v1/sports/1″,"name":"Major League Baseball"},"shortName":"Pittsburgh","springLeague":{"id":115,"name":"Grapefruit League","link":"/api/v1/league/115″,"abbreviation":"GL"},"allStarStatus":"N","active":true},{"id":135,"name":"San Diego Padres","link":"/api/v1/teams/135″,"season":2021,"venue":{"id":2680,"name":"Petco Park","link":"/api/v1/venues/2680″,"location":{"city":"San Diego","state":"California","stateAbbrev":"CA","defaultCoordinates":{"latitude":32.707861,"longitude":-117.157278}},"timeZone":{"id":"America/Los_Angeles","offset":-7,"tz":"PDT"}},"springVenue":{"id":2530,"link":"/api/v1/venues/2530″},"teamCode":"sdn","fileCode":"sd","abbreviation":"SD","teamName":"Padres","locationName":"San Diego","firstYearOfPlay":"1968″,"league":{"id":104,"name":"National League","link":"/api/v1/league/104″},"division":{"id":203,"name":"National League West","link":"/api/v1/divisions/203″},"sport":{"id":1,"link":"/api/v1/sports/1″,"name":"Major League Baseball"},"shortName":"San Diego","springLeague":{"id":114,"name":"Cactus League","link":"/api/v1/league/114″,"abbreviation":"CL"},"allStarStatus":"N","active":true},{"id":136,"name":"Seattle Mariners","link":"/api/v1/teams/136″,"season":2021,"venue":{"id":680,"name":"T-Mobile Park","link":"/api/v1/venues/680″,"location":{"city":"Seattle","state":"Washington","stateAbbrev":"WA","defaultCoordinates":{"latitude":47.591333,"longitude":-122.33251}},"timeZone":{"id":"America/Los_Angeles","offset":-7,"tz":"PDT"}},"springVenue":{"id":2530,"link":"/api/v1/venues/2530″},"teamCode":"sea","fileCode":"sea","abbreviation":"SEA","teamName":"Mariners","locationName":"Seattle","firstYearOfPlay":"1977″,"league":{"id":103,"name":"American League","link":"/api/v1/league/103″},"division":{"id":200,"name":"American League West","link":"/api/v1/divisions/200″},"sport":{"id":1,"link":"/api/v1/sports/1″,"name":"Major League Baseball"},"shortName":"Seattle","springLeague":{"id":114,"name":"Cactus League","link":"/api/v1/league/114″,"abbreviation":"CL"},"allStarStatus":"N","active":true},{"id":137,"name":"San Francisco Giants","link":"/api/v1/teams/137″,"season":2021,"venue":{"id":2395,"name":"Oracle Park","link":"/api/v1/venues/2395″,"location":{"city":"San Francisco","state":"California","stateAbbrev":"CA","defaultCoordinates":{"latitude":37.778383,"longitude":-122.389448}},"timeZone":{"id":"America/Los_Angeles","offset":-7,"tz":"PDT"}},"springVenue":{"id":2532,"link":"/api/v1/venues/2532″},"teamCode":"sfn","fileCode":"sf","abbreviation":"SF","teamName":"Giants","locationName":"San Francisco","firstYearOfPlay":"1883″,"league":{"id":104,"name":"National League","link":"/api/v1/league/104″},"division":{"id":203,"name":"National League West","link":"/api/v1/divisions/203″},"sport":{"id":1,"link":"/api/v1/sports/1″,"name":"Major League Baseball"},"shortName":"San Francisco","springLeague":{"id":114,"name":"Cactus League","link":"/api/v1/league/114″,"abbreviation":"CL"},"allStarStatus":"N","active":true},{"id":138,"name":"St. Louis Cardinals","link":"/api/v1/teams/138″,"season":2021,"venue":{"id":2889,"name":"Busch Stadium","link":"/api/v1/venues/2889″,"location":{"city":"St. Louis","state":"Missouri","stateAbbrev":"MO","defaultCoordinates":{"latitude":38.62256667,"longitude":-90.19286667}},"timeZone":{"id":"America/Chicago","offset":-5,"tz":"CDT"}},"springVenue":{"id":2520,"link":"/api/v1/venues/2520″},"teamCode":"sln","fileCode":"stl","abbreviation":"STL","teamName":"Cardinals","locationName":"St. Louis","firstYearOfPlay":"1892″,"league":{"id":104,"name":"National League","link":"/api/v1/league/104″},"division":{"id":205,"name":"National League Central","link":"/api/v1/divisions/205″},"sport":{"id":1,"link":"/api/v1/sports/1″,"name":"Major League Baseball"},"shortName":"St. Louis","springLeague":{"id":115,"name":"Grapefruit League","link":"/api/v1/league/115″,"abbreviation":"GL"},"allStarStatus":"N","active":true},{"id":139,"name":"Tampa Bay Rays","link":"/api/v1/teams/139″,"season":2021,"venue":{"id":12,"name":"Tropicana Field","link":"/api/v1/venues/12″,"location":{"city":"St. Petersburg","state":"Florida","stateAbbrev":"FL","defaultCoordinates":{"latitude":27.767778,"longitude":-82.6525}},"timeZone":{"id":"America/New_York","offset":-4,"tz":"EDT"}},"springVenue":{"id":2534,"link":"/api/v1/venues/2534″},"teamCode":"tba","fileCode":"tb","abbreviation":"TB","teamName":"Rays","locationName":"St. Petersburg","firstYearOfPlay":"1996″,"league":{"id":103,"name":"American League","link":"/api/v1/league/103″},"division":{"id":201,"name":"American League East","link":"/api/v1/divisions/201″},"sport":{"id":1,"link":"/api/v1/sports/1″,"name":"Major League Baseball"},"shortName":"Tampa Bay","springLeague":{"id":115,"name":"Grapefruit League","link":"/api/v1/league/115″,"abbreviation":"GL"},"allStarStatus":"N","active":true},{"id":140,"name":"Texas Rangers","link":"/api/v1/teams/140″,"season":2021,"venue":{"id":5325,"name":"Globe Life Field","link":"/api/v1/venues/5325″,"location":{"city":"Arlington","state":"Texas","stateAbbrev":"TX","defaultCoordinates":{"latitude":32.747299,"longitude":-97.081818}},"timeZone":{"id":"America/Chicago","offset":-5,"tz":"CDT"}},"springVenue":{"id":2603,"link":"/api/v1/venues/2603″},"teamCode":"tex","fileCode":"tex","abbreviation":"TEX","teamName":"Rangers","locationName":"Arlington","firstYearOfPlay":"1961″,"league":{"id":103,"name":"American League","link":"/api/v1/league/103″},"division":{"id":200,"name":"American League West","link":"/api/v1/divisions/200″},"sport":{"id":1,"link":"/api/v1/sports/1″,"name":"Major League Baseball"},"shortName":"Texas","springLeague":{"id":114,"name":"Cactus League","link":"/api/v1/league/114″,"abbreviation":"CL"},"allStarStatus":"N","active":true},{"id":141,"name":"Toronto Blue Jays","link":"/api/v1/teams/141″,"season":2021,"venue":{"id":14,"name":"Rogers Centre","link":"/api/v1/venues/14″,"location":{"city":"Toronto","state":"Ontario","stateAbbrev":"ON","defaultCoordinates":{"latitude":43.64155,"longitude":-79.38915}},"timeZone":{"id":"America/Toronto","offset":-4,"tz":"EDT"}},"springVenue":{"id":2536,"link":"/api/v1/venues/2536″},"teamCode":"tor","fileCode":"tor","abbreviation":"TOR","teamName":"Blue Jays","locationName":"Toronto","firstYearOfPlay":"1977″,"league":{"id":103,"name":"American League","link":"/api/v1/league/103″},"division":{"id":201,"name":"American League East","link":"/api/v1/divisions/201″},"sport":{"id":1,"link":"/api/v1/sports/1″,"name":"Major League Baseball"},"shortName":"Toronto","springLeague":{"id":115,"name":"Grapefruit League","link":"/api/v1/league/115″,"abbreviation":"GL"},"allStarStatus":"N","active":true},{"id":142,"name":"Minnesota Twins","link":"/api/v1/teams/142″,"season":2021,"venue":{"id":3312,"name":"Target Field","link":"/api/v1/venues/3312″,"location":{"city":"Minneapolis","state":"Minnesota","stateAbbrev":"MN","defaultCoordinates":{"latitude":44.981829,"longitude":-93.277891}},"timeZone":{"id":"America/Chicago","offset":-5,"tz":"CDT"}},"springVenue":{"id":2862,"link":"/api/v1/venues/2862″},"teamCode":"min","fileCode":"min","abbreviation":"MIN","teamName":"Twins","locationName":"Minneapolis","firstYearOfPlay":"1901″,"league":{"id":103,"name":"American League","link":"/api/v1/league/103″},"division":{"id":202,"name":"American League Central","link":"/api/v1/divisions/202″},"sport":{"id":1,"link":"/api/v1/sports/1″,"name":"Major League Baseball"},"shortName":"Minnesota","springLeague":{"id":115,"name":"Grapefruit League","link":"/api/v1/league/115″,"abbreviation":"GL"},"allStarStatus":"N","active":true},{"id":143,"name":"Philadelphia Phillies","link":"/api/v1/teams/143″,"season":2021,"venue":{"id":2681,"name":"Citizens Bank Park","link":"/api/v1/venues/2681″,"location":{"city":"Philadelphia","state":"Pennsylvania","stateAbbrev":"PA","defaultCoordinates":{"latitude":39.90539086,"longitude":-75.16716957}},"timeZone":{"id":"America/New_York","offset":-4,"tz":"EDT"}},"springVenue":{"id":2700,"link":"/api/v1/venues/2700″},"teamCode":"phi","fileCode":"phi","abbreviation":"PHI","teamName":"Phillies","locationName":"Philadelphia","firstYearOfPlay":"1883″,"league":{"id":104,"name":"National League","link":"/api/v1/league/104″},"division":{"id":204,"name":"National League East","link":"/api/v1/divisions/204″},"sport":{"id":1,"link":"/api/v1/sports/1″,"name":"Major League Baseball"},"shortName":"Philadelphia","springLeague":{"id":115,"name":"Grapefruit League","link":"/api/v1/league/115″,"abbreviation":"GL"},"allStarStatus":"N","active":true},{"id":144,"name":"Atlanta Braves","link":"/api/v1/teams/144″,"season":2021,"venue":{"id":4705,"name":"Truist Park","link":"/api/v1/venues/4705″,"location":{"city":"Atlanta","state":"Georgia","stateAbbrev":"GA","defaultCoordinates":{"latitude":33.890672,"longitude":-84.467641}},"timeZone":{"id":"America/New_York","offset":-4,"tz":"EDT"}},"springVenue":{"id":5380,"link":"/api/v1/venues/5380″},"teamCode":"atl","fileCode":"atl","abbreviation":"ATL","teamName":"Braves","locationName":"Atlanta","firstYearOfPlay":"1871″,"league":{"id":104,"name":"National League","link":"/api/v1/league/104″},"division":{"id":204,"name":"National League East","link":"/api/v1/divisions/204″},"sport":{"id":1,"link":"/api/v1/sports/1″,"name":"Major League Baseball"},"shortName":"Atlanta","springLeague":{"id":115,"name":"Grapefruit League","link":"/api/v1/league/115″,"abbreviation":"GL"},"allStarStatus":"N","active":true},{"id":145,"name":"Chicago White Sox","link":"/api/v1/teams/145″,"season":2021,"venue":{"id":4,"name":"Guaranteed Rate Field","link":"/api/v1/venues/4″,"location":{"city":"Chicago","state":"Illinois","stateAbbrev":"IL","defaultCoordinates":{"latitude":41.83,"longitude":-87.634167}},"timeZone":{"id":"America/Chicago","offset":-5,"tz":"CDT"}},"springVenue":{"id":3809,"link":"/api/v1/venues/3809″},"teamCode":"cha","fileCode":"cws","abbreviation":"CWS","teamName":"White Sox","locationName":"Chicago","firstYearOfPlay":"1901″,"league":{"id":103,"name":"American League","link":"/api/v1/league/103″},"division":{"id":202,"name":"American League Central","link":"/api/v1/divisions/202″},"sport":{"id":1,"link":"/api/v1/sports/1″,"name":"Major League Baseball"},"shortName":"Chi White Sox","springLeague":{"id":114,"name":"Cactus League","link":"/api/v1/league/114″,"abbreviation":"CL"},"allStarStatus":"N","active":true},{"id":146,"name":"Miami Marlins","link":"/api/v1/teams/146″,"season":2021,"venue":{"id":4169,"name":"Marlins Park","link":"/api/v1/venues/4169″,"location":{"city":"Miami","state":"Florida","stateAbbrev":"FL","defaultCoordinates":{"latitude":25.77796236,"longitude":-80.21951795}},"timeZone":{"id":"America/New_York","offset":-4,"tz":"EDT"}},"springVenue":{"id":2520,"link":"/api/v1/venues/2520″},"teamCode":"mia","fileCode":"mia","abbreviation":"MIA","teamName":"Marlins","locationName":"Miami","firstYearOfPlay":"1991″,"league":{"id":104,"name":"National League","link":"/api/v1/league/104″},"division":{"id":204,"name":"National League East","link":"/api/v1/divisions/204″},"sport":{"id":1,"link":"/api/v1/sports/1″,"name":"Major League Baseball"},"shortName":"Miami","springLeague":{"id":115,"name":"Grapefruit League","link":"/api/v1/league/115″,"abbreviation":"GL"},"allStarStatus":"N","active":true},{"id":147,"name":"New York Yankees","link":"/api/v1/teams/147″,"season":2021,"venue":{"id":3313,"name":"Yankee Stadium","link":"/api/v1/venues/3313″,"location":{"city":"Bronx","state":"New York","stateAbbrev":"NY","defaultCoordinates":{"latitude":40.82919482,"longitude":-73.9264977}},"timeZone":{"id":"America/New_York","offset":-4,"tz":"EDT"}},"springVenue":{"id":2523,"link":"/api/v1/venues/2523″},"teamCode":"nya","fileCode":"nyy","abbreviation":"NYY","teamName":"Yankees","locationName":"Bronx","firstYearOfPlay":"1903″,"league":{"id":103,"name":"American League","link":"/api/v1/league/103″},"division":{"id":201,"name":"American League East","link":"/api/v1/divisions/201″},"sport":{"id":1,"link":"/api/v1/sports/1″,"name":"Major League Baseball"},"shortName":"NY Yankees","springLeague":{"id":115,"name":"Grapefruit League","link":"/api/v1/league/115″,"abbreviation":"GL"},"allStarStatus":"N","active":true},{"id":158,"name":"Milwaukee Brewers","link":"/api/v1/teams/158″,"season":2021,"venue":{"id":32,"name":"American Family Field","link":"/api/v1/venues/32″,"location":{"city":"Milwaukee","state":"Wisconsin","stateAbbrev":"WI","defaultCoordinates":{"latitude":43.02838,"longitude":-87.97099}},"timeZone":{"id":"America/Chicago","offset":-5,"tz":"CDT"}},"springVenue":{"id":2518,"link":"/api/v1/venues/2518″},"teamCode":"mil","fileCode":"mil","abbreviation":"MIL","teamName":"Brewers","locationName":"Milwaukee","firstYearOfPlay":"1968″,"league":{"id":104,"name":"National League","link":"/api/v1/league/104″},"division":{"id":205,"name":"National League Central","link":"/api/v1/divisions/205″},"sport":{"id":1,"link":"/api/v1/sports/1″,"name":"Major League Baseball"},"shortName":"Milwaukee","springLeague":{"id":114,"name":"Cactus League","link":"/api/v1/league/114″,"abbreviation":"CL"},"allStarStatus":"N","active":true},{"id":108,"name":"Los Angeles Angels","link":"/api/v1/teams/108″,"season":2021,"venue":{"id":1,"name":"Angel Stadium","link":"/api/v1/venues/1″,"location":{"city":"Anaheim","state":"California","stateAbbrev":"CA","defaultCoordinates":{"latitude":33.80019044,"longitude":-117.8823996}},"timeZone":{"id":"America/Los_Angeles","offset":-7,"tz":"PDT"}},"springVenue":{"id":2500,"link":"/api/v1/venues/2500″},"teamCode":"ana","fileCode":"ana","abbreviation":"LAA","teamName":"Angels","locationName":"Anaheim","firstYearOfPlay":"1961″,"league":{"id":103,"name":"American League","link":"/api/v1/league/103″},"division":{"id":200,"name":"American League West","link":"/api/v1/divisions/200″},"sport":{"id":1,"link":"/api/v1/sports/1″,"name":"Major League Baseball"},"shortName":"LA Angels","springLeague":{"id":114,"name":"Cactus League","link":"/api/v1/league/114″,"abbreviation":"CL"},"allStarStatus":"N","active":true},{"id":109,"name":"Arizona Diamondbacks","link":"/api/v1/teams/109″,"season":2021,"venue":{"id":15,"name":"Chase Field","link":"/api/v1/venues/15″,"location":{"city":"Phoenix","state":"Arizona","stateAbbrev":"AZ","defaultCoordinates":{"latitude":33.445302,"longitude":-112.066687}},"timeZone":{"id":"America/Phoenix","offset":-7,"tz":"MST"}},"springVenue":{"id":4249,"link":"/api/v1/venues/4249″},"teamCode":"ari","fileCode":"ari","abbreviation":"ARI","teamName":"D-backs","locationName":"Phoenix","firstYearOfPlay":"1996″,"league":{"id":104,"name":"National League","link":"/api/v1/league/104″},"division":{"id":203,"name":"National League West","link":"/api/v1/divisions/203″},"sport":{"id":1,"link":"/api/v1/sports/1″,"name":"Major League Baseball"},"shortName":"Arizona","springLeague":{"id":114,"name":"Cactus League","link":"/api/v1/league/114″,"abbreviation":"CL"},"allStarStatus":"N","active":true},{"id":110,"name":"Baltimore Orioles","link":"/api/v1/teams/110″,"season":2021,"venue":{"id":2,"name":"Oriole Park at Camden Yards","link":"/api/v1/venues/2″,"location":{"city":"Baltimore","state":"Maryland","stateAbbrev":"MD","defaultCoordinates":{"latitude":39.283787,"longitude":-76.621689}},"timeZone":{"id":"America/New_York","offset":-4,"tz":"EDT"}},"springVenue":{"id":2508,"link":"/api/v1/venues/2508″},"teamCode":"bal","fileCode":"bal","abbreviation":"BAL","teamName":"Orioles","locationName":"Baltimore","firstYearOfPlay":"1901″,"league":{"id":103,"name":"American League","link":"/api/v1/league/103″},"division":{"id":201,"name":"American League East","link":"/api/v1/divisions/201″},"sport":{"id":1,"link":"/api/v1/sports/1″,"name":"Major League Baseball"},"shortName":"Baltimore","springLeague":{"id":115,"name":"Grapefruit League","link":"/api/v1/league/115″,"abbreviation":"GL"},"allStarStatus":"N","active":true},{"id":111,"name":"Boston Red Sox","link":"/api/v1/teams/111″,"season":2021,"venue":{"id":3,"name":"Fenway Park","link":"/api/v1/venues/3″,"location":{"city":"Boston","state":"Massachusetts","stateAbbrev":"MA","defaultCoordinates":{"latitude":42.346456,"longitude":-71.097441}},"timeZone":{"id":"America/New_York","offset":-4,"tz":"EDT"}},"springVenue":{"id":4309,"link":"/api/v1/venues/4309″},"teamCode":"bos","fileCode":"bos","abbreviation":"BOS","teamName":"Red Sox","locationName":"Boston","firstYearOfPlay":"1901″,"league":{"id":103,"name":"American League","link":"/api/v1/league/103″},"division":{"id":201,"name":"American League East","link":"/api/v1/divisions/201″},"sport":{"id":1,"link":"/api/v1/sports/1″,"name":"Major League Baseball"},"shortName":"Boston","springLeague":{"id":115,"name":"Grapefruit League","link":"/api/v1/league/115″,"abbreviation":"GL"},"allStarStatus":"N","active":true},{"id":112,"name":"Chicago Cubs","link":"/api/v1/teams/112″,"season":2021,"venue":{"id":17,"name":"Wrigley Field","link":"/api/v1/venues/17″,"location":{"city":"Chicago","state":"Illinois","stateAbbrev":"IL","defaultCoordinates":{"latitude":41.948171,"longitude":-87.655503}},"timeZone":{"id":"America/Chicago","offset":-5,"tz":"CDT"}},"springVenue":{"id":4629,"link":"/api/v1/venues/4629″},"teamCode":"chn","fileCode":"chc","abbreviation":"CHC","teamName":"Cubs","locationName":"Chicago","firstYearOfPlay":"1874″,"league":{"id":104,"name":"National League","link":"/api/v1/league/104″},"division":{"id":205,"name":"National League Central","link":"/api/v1/divisions/205″},"sport":{"id":1,"link":"/api/v1/sports/1″,"name":"Major League Baseball"},"shortName":"Chi Cubs","springLeague":{"id":114,"name":"Cactus League","link":"/api/v1/league/114″,"abbreviation":"CL"},"allStarStatus":"N","active":true},{"id":113,"name":"Cincinnati Reds","link":"/api/v1/teams/113″,"season":2021,"venue":{"id":2602,"name":"Great American Ball Park","link":"/api/v1/venues/2602″,"location":{"city":"Cincinnati","state":"Ohio","stateAbbrev":"OH","defaultCoordinates":{"latitude":39.097389,"longitude":-84.506611}},"timeZone":{"id":"America/New_York","offset":-4,"tz":"EDT"}},"springVenue":{"id":3834,"link":"/api/v1/venues/3834″},"teamCode":"cin","fileCode":"cin","abbreviation":"CIN","teamName":"Reds","locationName":"Cincinnati","firstYearOfPlay":"1882″,"league":{"id":104,"name":"National League","link":"/api/v1/league/104″},"division":{"id":205,"name":"National League Central","link":"/api/v1/divisions/205″},"sport":{"id":1,"link":"/api/v1/sports/1″,"name":"Major League Baseball"},"shortName":"Cincinnati","springLeague":{"id":114,"name":"Cactus League","link":"/api/v1/league/114″,"abbreviation":"CL"},"allStarStatus":"N","active":true},{"id":114,"name":"Cleveland Indians","link":"/api/v1/teams/114″,"season":2021,"venue":{"id":5,"name":"Progressive Field","link":"/api/v1/venues/5″,"location":{"city":"Cleveland","state":"Ohio","stateAbbrev":"OH","defaultCoordinates":{"latitude":41.495861,"longitude":-81.685255}},"timeZone":{"id":"America/New_York","offset":-4,"tz":"EDT"}},"springVenue":{"id":3834,"link":"/api/v1/venues/3834″},"teamCode":"cle","fileCode":"cle","abbreviation":"CLE","teamName":"Indians","locationName":"Cleveland","firstYearOfPlay":"1901″,"league":{"id":103,"name":"American League","link":"/api/v1/league/103″},"division":{"id":202,"name":"American League Central","link":"/api/v1/divisions/202″},"sport":{"id":1,"link":"/api/v1/sports/1″,"name":"Major League Baseball"},"shortName":"Cleveland","springLeague":{"id":114,"name":"Cactus League","link":"/api/v1/league/114″,"abbreviation":"CL"},"allStarStatus":"N","active":true},{"id":115,"name":"Colorado Rockies","link":"/api/v1/teams/115″,"season":2021,"venue":{"id":19,"name":"Coors Field","link":"/api/v1/venues/19″,"location":{"city":"Denver","state":"Colorado","stateAbbrev":"CO","defaultCoordinates":{"latitude":39.756042,"longitude":-104.994136}},"timeZone":{"id":"America/Denver","offset":-6,"tz":"MDT"}},"springVenue":{"id":4249,"link":"/api/v1/venues/4249″},"teamCode":"col","fileCode":"col","abbreviation":"COL","teamName":"Rockies","locationName":"Denver","firstYearOfPlay":"1992″,"league":{"id":104,"name":"National League","link":"/api/v1/league/104″},"division":{"id":203,"name":"National League West","link":"/api/v1/divisions/203″},"sport":{"id":1,"link":"/api/v1/sports/1″,"name":"Major League Baseball"},"shortName":"Colorado","springLeague":{"id":114,"name":"Cactus League","link":"/api/v1/league/114″,"abbreviation":"CL"},"allStarStatus":"N","active":true},{"id":116,"name":"Detroit Tigers","link":"/api/v1/teams/116″,"season":2021,"venue":{"id":2394,"name":"Comerica Park","link":"/api/v1/venues/2394″,"location":{"city":"Detroit","state":"Michigan","stateAbbrev":"MI","defaultCoordinates":{"latitude":42.3391151,"longitude":-83.048695}},"timeZone":{"id":"America/Detroit","offset":-4,"tz":"EDT"}},"springVenue":{"id":2511,"link":"/api/v1/venues/2511″},"teamCode":"det","fileCode":"det","abbreviation":"DET","teamName":"Tigers","locationName":"Detroit","firstYearOfPlay":"1901″,"league":{"id":103,"name":"American League","link":"/api/v1/league/103″},"division":{"id":202,"name":"American League Central","link":"/api/v1/divisions/202″},"sport":{"id":1,"link":"/api/v1/sports/1″,"name":"Major League Baseball"},"shortName":"Detroit","springLeague":{"id":115,"name":"Grapefruit League","link":"/api/v1/league/115″,"abbreviation":"GL"},"allStarStatus":"N","active":true},{"id":117,"name":"Houston Astros","link":"/api/v1/teams/117″,"season":2021,"venue":{"id":2392,"name":"Minute Maid Park","link":"/api/v1/venues/2392″,"location":{"city":"Houston","state":"Texas","stateAbbrev":"TX","defaultCoordinates":{"latitude":29.756967,"longitude":-95.355509}},"timeZone":{"id":"America/Chicago","offset":-5,"tz":"CDT"}},"springVenue":{"id":5000,"link":"/api/v1/venues/5000″},"teamCode":"hou","fileCode":"hou","abbreviation":"HOU","teamName":"Astros","locationName":"Houston","firstYearOfPlay":"1962″,"league":{"id":103,"name":"American League","link":"/api/v1/league/103″},"division":{"id":200,"name":"American League West","link":"/api/v1/divisions/200″},"sport":{"id":1,"link":"/api/v1/sports/1″,"name":"Major League Baseball"},"shortName":"Houston","springLeague":{"id":115,"name":"Grapefruit League","link":"/api/v1/league/115″,"abbreviation":"GL"},"allStarStatus":"N","active":true},{"id":118,"name":"Kansas City Royals","link":"/api/v1/teams/118″,"season":2021,"venue":{"id":7,"name":"Kauffman Stadium","link":"/api/v1/venues/7″,"location":{"city":"Kansas City","state":"Missouri","stateAbbrev":"MO","defaultCoordinates":{"latitude":39.051567,"longitude":-94.480483}},"timeZone":{"id":"America/Chicago","offset":-5,"tz":"CDT"}},"springVenue":{"id":2603,"link":"/api/v1/venues/2603″},"teamCode":"kca","fileCode":"kc","abbreviation":"KC","teamName":"Royals","locationName":"Kansas City","firstYearOfPlay":"1968″,"league":{"id":103,"name":"American League","link":"/api/v1/league/103″},"division":{"id":202,"name":"American League Central","link":"/api/v1/divisions/202″},"sport":{"id":1,"link":"/api/v1/sports/1″,"name":"Major League Baseball"},"shortName":"Kansas City","springLeague":{"id":114,"name":"Cactus League","link":"/api/v1/league/114″,"abbreviation":"CL"},"allStarStatus":"N","active":true},{"id":119,"name":"Los Angeles Dodgers","link":"/api/v1/teams/119″,"season":2021,"venue":{"id":22,"name":"Dodger Stadium","link":"/api/v1/venues/22″,"location":{"city":"Los Angeles","state":"California","stateAbbrev":"CA","defaultCoordinates":{"latitude":34.07368,"longitude":-118.24053}},"timeZone":{"id":"America/Los_Angeles","offset":-7,"tz":"PDT"}},"springVenue":{"id":3809,"link":"/api/v1/venues/3809″},"teamCode":"lan","fileCode":"la","abbreviation":"LAD","teamName":"Dodgers","locationName":"Los Angeles","firstYearOfPlay":"1884″,"league":{"id":104,"name":"National League","link":"/api/v1/league/104″},"division":{"id":203,"name":"National League West","link":"/api/v1/divisions/203″},"sport":{"id":1,"link":"/api/v1/sports/1″,"name":"Major League Baseball"},"shortName":"LA Dodgers","springLeague":{"id":114,"name":"Cactus League","link":"/api/v1/league/114″,"abbreviation":"CL"},"allStarStatus":"N","active":true},{"id":120,"name":"Washington Nationals","link":"/api/v1/teams/120″,"season":2021,"venue":{"id":3309,"name":"Nationals Park","link":"/api/v1/venues/3309″,"location":{"city":"Washington","state":"District of Columbia","stateAbbrev":"DC","defaultCoordinates":{"latitude":38.872861,"longitude":-77.007501}},"timeZone":{"id":"America/New_York","offset":-4,"tz":"EDT"}},"springVenue":{"id":5000,"link":"/api/v1/venues/5000″},"teamCode":"was","fileCode":"was","abbreviation":"WSH","teamName":"Nationals","locationName":"Washington","firstYearOfPlay":"1968″,"league":{"id":104,"name":"National League","link":"/api/v1/league/104″},"division":{"id":204,"name":"National League East","link":"/api/v1/divisions/204″},"sport":{"id":1,"link":"/api/v1/sports/1″,"name":"Major League Baseball"},"shortName":"Washington","springLeague":{"id":115,"name":"Grapefruit League","link":"/api/v1/league/115″,"abbreviation":"GL"},"allStarStatus":"N","active":true},{"id":121,"name":"New York Mets","link":"/api/v1/teams/121″,"season":2021,"venue":{"id":3289,"name":"Citi Field","link":"/api/v1/venues/3289″,"location":{"city":"Flushing","state":"New York","stateAbbrev":"NY","defaultCoordinates":{"latitude":40.75753012,"longitude":-73.84559155}},"timeZone":{"id":"America/New_York","offset":-4,"tz":"EDT"}},"springVenue":{"id":2856,"link":"/api/v1/venues/2856″},"teamCode":"nyn","fileCode":"nym","abbreviation":"NYM","teamName":"Mets","locationName":"Flushing","firstYearOfPlay":"1962″,"league":{"id":104,"name":"National League","link":"/api/v1/league/104″},"division":{"id":204,"name":"National League East","link":"/api/v1/divisions/204″},"sport":{"id":1,"link":"/api/v1/sports/1″,"name":"Major League Baseball"},"shortName":"NY Mets","springLeague":{"id":115,"name":"Grapefruit League","link":"/api/v1/league/115″,"abbreviation":"GL"},"allStarStatus":"N","active":true}]},"graphqlVariables":{"getInitialData":{"contentfulLocale":"en-US","forgeLocale":"en-us","isApp":false,"preview":false,"storySlug":"bold-predictions-for-all-30-mlb-teams-for-2021-season","teamId":"mlb","teamPropertiesId":"mlb-global-properties","teamPaletteId":"mlb-base-palette"},"getRelatedContent":{"slug":"bold-predictions-for-all-30-mlb-teams-for-2021-season","options":{"locale":"en-us","teamId":"mlb","topicSlug":""}},"getTopic":{"forgeLocale":"en-us","topicSlug":""}},"headerState":{"clubId":"mlb","deviceProperties":{},"footerData":{"instanceId":"db2f8fb2-78c8-4d3c-a328-9e91c349dfee","name":"global-footer","variables":[],"menuItems":[{"itemId":"aec375d3-3afa-4491-ab28-60b736f38982″,"text":"Terms of Use","properties":{"link":"/official-information/terms-of-use","target":"_blank"},"menuItems":[]},{"itemId":"debe8dbf-de27-4eae-b7ec-adae43fc4642″,"text":"Privacy Policy","properties":{"link":"/official-information/privacy-policy"},"menuItems":[]},{"itemId":"345a1847-cac1-43a4-91bf-70c21ecee681″,"text":"Legal Notices","properties":{"link":"/official-information/legal-notices"},"menuItems":[]},{"itemId":"34014aad-1069-4bba-b22e-4b287a4f7df1″,"text":"Contact Us","properties":{"link":"/official-information/contact"},"menuItems":[]},{"itemId":"65e06970-7f8e-4328-ad82-9d90df0f3e87″,"text":"Do Not Sell My Personal Data","properties":{"link":"https://privacyportal.onetrust.com/webform/53a301ae-6882-46f9-af93-24f64f792aee/3251a424-8286-4725-9313-603f12c85a49″,"target":"_blank"},"menuItems":[]},{"itemId":"dd307e97-49c6-4f80-aff3-89a59696fb80″,"text":"Official Information","properties":{},"menuItems":[{"itemId":"bdf571d3-e8bb-403b-bb5f-7f28a7127c74″,"text":"Official Info","properties":{"link":"/official-information"},"menuItems":[]},{"itemId":"ecfd4d42-aa8d-4872-80a5-869c6b493018″,"text":"About MLB","properties":{"link":"/official-information/about-mlb"},"menuItems":[]},{"itemId":"bb62de22-5c84-4cab-b9fb-5429ea9d647c","text":"Team Information","properties":{"link":"https://www.mlb.com/team"},"menuItems":[]},{"itemId":"7cc37e2a-667c-4405-bd1f-87ad88bc4d9e","text":"Official Rules","properties":{"link":"https://content.mlb.com/documents/2/2/4/305750224/2019_Official_Baseball_Rules_FINAL_.pdf"},"menuItems":[]},{"itemId":"e658056b-608b-4eee-a04a-43772f9e6bb4″,"text":"Replay Review Regulations","properties":{"link":"http://m.mlb.com/glossary/rules/replay-review"},"menuItems":[]},{"itemId":"0b3fc77c-c7d1-4584-a184-90fd8c4959e9″,"text":"Umpires","properties":{"link":"/official-information/umpires"},"menuItems":[]},{"itemId":"23dde9d7-6aba-4bec-a449-b1b4d5a5767c","text":"Advertise with Us","properties":{"link":"/sponsorship"},"menuItems":[]},{"itemId":"ca43b715-5423-4314-ac5a-f9229bee6fb6″,"text":"Press Releases","properties":{"link":"/news/topic/mlb-press-releases"},"menuItems":[]}]},{"itemId":"7a60a8fc-0c3c-4c87-b04b-2b57b6c9894c","text":"Help/Contact Us","properties":{},"menuItems":[{"itemId":"efb27376-accc-4ca4-9017-c3309ee122d3″,"text":"Accessibility Information","properties":{"link":"/official-information/accessibility"},"menuItems":[]},{"itemId":"cf3490fc-f093-4457-99a7-d2bc3f4d4cef","text":"Auctions Customer Service","properties":{"link":"http://auctions.mlb.com/iSynApp/manageUserEmail!showEmailContactUsForm.action?sid=1101001″},"menuItems":[]},{"itemId":"c6867706-11b7-4634-a78e-b5d513948f43″,"text":"Harassment Policy","properties":{"link":"/official-information/harassment-policy"},"menuItems":[]},{"itemId":"0e3932c9-beec-43f2-b712-66879a51ab63″,"text":"Help/Contact Us","properties":{"link":"/official-information/contact"},"menuItems":[]},{"itemId":"6d4ebef1-3168-4b79-a237-9f36931d3a2c","text":"MLB App FAQs","properties":{"link":"https://www.mlb.com/apps/mlb-app/faq-apple"},"menuItems":[]},{"itemId":"4b3c6ee8-d4ae-4265-a7e7-7e5bea8cde28″,"text":"MLB.com Account Information","properties":{"link":"/official-information/faqs"},"menuItems":[]},{"itemId":"4d33a7c1-38d5-4b3b-a999-53377f55738d","text":"MLB.TV Help Center","properties":{"link":"/live-stream-games/help-center"},"menuItems":[]},{"itemId":"36f01834-7979-4a42-aa12-52439c2e320b","text":"Shop Help","properties":{"link":"https://help-mlb.custhelp.com/"},"menuItems":[]},{"itemId":"bb6e7a31-4b7d-4e49-8c2e-00dda9e237ab","text":"Ticket Information","properties":{"link":"/official-information/ticket-faqs"},"menuItems":[]}]},{"itemId":"6ca8b189-8c54-428f-9f79-3c357ef18469″,"text":"More MLB Sites & Affiliates","properties":{},"menuItems":[{"itemId":"becc9309-94fc-491b-ad15-45f7c17f85a9″,"text":"MLB Players Alumni Association","properties":{"link":"/mlbpaa","target":""},"menuItems":[]},{"itemId":"9ff49c09-8a0d-41e6-b8b0-14f37f8e7f52″,"text":"MLB Players Association","properties":{"link":"http://www.mlbplayers.com/"},"menuItems":[]},{"itemId":"022ec2ca-bb20-4543-9cdc-95ba3a4443ca","text":"Minor League Baseball","properties":{"link":"https://www.milb.com/"},"menuItems":[]},{"itemId":"c6f9948e-3521-4788-83ed-b568f39e86aa","text":"MLB Network","properties":{"link":"https://www.mlb.com/network"},"menuItems":[]},{"itemId":"de2ea389-0a29-4600-8048-b4261916183d","text":"Baseball Assistance Team","properties":{"link":"/baseball-assistance-team"},"menuItems":[]},{"itemId":"e1a2af1c-ee36-4672-935b-17e62d0b4ddc","text":"Player Resource Center","properties":{"link":"/player-resource-center","target":""},"menuItems":[]},{"itemId":"75f0b763-612d-4557-ae38-227fb5b3b7f1″,"text":"Tickets.com","properties":{"link":"http://www.tickets.com/"},"menuItems":[]},{"itemId":"f8599d26-5069-4417-8c26-0965dd8d9435″,"text":"YES Network","properties":{"link":"https://www.yesnetwork.com/"},"menuItems":[]},{"itemId":"5c8f6196-a4d5-4ed5-b830-189580691d3e","text":"Australian Baseball League","properties":{"link":"https://theabl.com.au/"},"menuItems":[]},{"itemId":"ab6fc805-0bb7-439b-8c3c-92c61b035387″,"text":"World Baseball Classic","properties":{"link":"https://www.worldbaseballclassic.com/"},"menuItems":[]},{"itemId":"e218ed4d-89f9-4f7d-87e7-c05a3559cd74″,"text":"sabr.org","properties":{"link":"http://sabr.org/"},"menuItems":[]},{"itemId":"158a95a6-bd4f-4654-b57f-465d3c356a55″,"text":"College Baseball Hall of Fame","properties":{"link":"https://www.mlb.com/college-baseball-hall-of-fame"},"menuItems":[]},{"itemId":"5e602a1a-e518-455b-ac5f-5c0e80430e38″,"text":"Golden Spikes Award","properties":{"link":"https://www.usabaseball.com/golden-spikes-award"},"menuItems":[]},{"itemId":"ccd9020d-c619-45d2-bc1f-ef80ae2cd651″,"text":"USA Baseball","properties":{"link":"https://www.usabaseball.com"},"menuItems":[]},{"itemId":"75512a93-d52d-4d71-a6d3-70d6b44dfa0f","text":"LasMayores.com","properties":{"link":"https://www.mlb.com/es"},"menuItems":[]},{"itemId":"3b7bbad3-1ed5-468d-8703-205519315e04″,"text":"MLBCommunity.org","properties":{"link":"/mlb-community"},"menuItems":[]},{"itemId":"f8058121-3606-4ff2-be8a-d1a3d47642db","text":"AllStarGame.com","properties":{"link":"https://www.mlb.com/all-star"},"menuItems":[]},{"itemId":"a624b4e5-c8d8-44b9-9084-7522ed0cee59″,"text":"MLB.com/Kids","properties":{"link":"https://www.mlb.com/fans/kids"},"menuItems":[]},{"itemId":"43c6bc47-f7d9-445a-85a1-10b3cdc02ee0″,"text":"MLB Photostore","properties":{"link":"https://photostore.mlb.com/"},"menuItems":[]},{"itemId":"d9f4ea22-70a7-4085-a16e-83f70a5711b2″,"text":"Offseason Leagues","properties":{"link":"http://mlb.mlb.com/mlb/events/winterleagues/"},"menuItems":[]},{"itemId":"c574a4a2-45ec-47fe-8ca3-b5b99d1cb443″,"text":"PlayBall.org","properties":{"link":"https://www.playball.org"},"menuItems":[]}]},{"itemId":"e3a86593-6da0-4d00-a512-0b8c78c9b8a5″,"text":"Careers","properties":{"link":""},"menuItems":[{"itemId":"35caab61-51c7-4b17-a9b8-e9ecd201058a","text":"Careers Home","properties":{"link":"/careers/home"},"menuItems":[]}]}]},"headerData":{"instanceId":"fbde1dcd-c837-4740-991c-1087d1db26d1″,"name":"global-nav","variables":[],"menuItems":[{"itemId":"tickets","text":"Tickets","properties":{"link":"https://www.mlb.com/tickets","customProperties":"align:right;"},"menuItems":[{"itemId":"764d21d8-0f58-4d63-b57c-035ec47d193c","text":"General Ticket Information","properties":{"link":"https://www.mlb.com/tickets","customProperties":""},"menuItems":[]},{"itemId":"4e45f354-0ccd-4c89-ac5e-12f16dd11f3a","text":"Season Tickets","properties":{"link":"https://www.mlb.com/tickets/season-tickets","customProperties":""},"menuItems":[]},{"itemId":"020f5910-a69a-443a-b5a3-37b7664d8a4f","text":"Spring Training","properties":{"link":"https://www.mlb.com/tickets/spring-training"},"menuItems":[]},{"itemId":"0a8ddc10-4b69-4a97-a677-6301ac30971b","text":"Fan Value","properties":{"link":"https://www.mlb.com/tickets/fan-value","customProperties":""},"menuItems":[]},{"itemId":"417de43e-baa5-4ca1-802d-c0814be88688″,"text":"Ballpark Tours","properties":{"link":"https://www.mlb.com/tickets/ballpark-tours"},"menuItems":[]},{"itemId":"dc1ab63d-4195-4a41-8248-cfa5513a66e9″,"text":"StubHub.com","properties":{"link":"https://www.stubhub.com/mlb-tickets/grouping/81/?gcid=C12289x371″,"customProperties":""},"menuItems":[]},{"itemId":"92c55e19-5b07-4d4f-8bfe-ee6a86e64c8a","text":"World Baseball Classic","properties":{"link":"https://www.mlb.com/world-baseball-classic/schedule"},"menuItems":[]},{"itemId":"5d7d5f77-3b9d-4d21-bece-8b3245b7bf2a","text":"International Events","properties":{"link":"https://www.mlb.com/international"},"menuItems":[]}]},{"itemId":"7b24aad4-85fb-4206-b915-85dc84bf8046″,"text":"MLB.TV","properties":{"link":"https://www.mlb.com/tv?&affiliateId=mlbMENU","customProperties":"amp:true;align:right;","icon":"watch"},"menuItems":[{"itemId":"6e4bf96d-d9e2-4c33-8d42-3e94aae42607″,"text":"Buy MLB.TV","properties":{"link":"https://www.mlb.com/live-stream-games/subscribe?&affiliateId=mlbMENU"},"menuItems":[]},{"itemId":"f33ef990-5609-45cd-be24-0e40cb0a5368″,"text":"Buy MLB Audio","properties":{"link":"https://www.mlb.com/live-stream-games/subscribe/mlb-audio?&affiliateId=mlbMENU"},"menuItems":[]},{"itemId":"993d3d74-7886-48fd-9d9f-12d189ed5630″,"text":"Watch MLB.TV","properties":{"link":"/live-stream-games?&affiliateId=mlbMENU","customProperties":""},"menuItems":[]},{"itemId":"350c78fb-4db4-4c1c-8430-85c1dfc08fca","text":"MLB.TV Spring Training Schedule","properties":{"link":"https://www.mlb.com/live-stream-games/spring-training?&affiliateId=mlbMENU"},"menuItems":[]},{"itemId":"e5e2c318-6b50-4406-8434-b4c84716dfe6″,"text":"MLB.TV Student Discounts","properties":{"link":"https://www.mlb.com/live-stream-games/subscribe/student-discount?&affiliateId=mlbMENU"},"menuItems":[]},{"itemId":"00132689-c7ce-46b0-bfac-228fa9f70a22″,"text":"Watch MLB.TV Docs & Features","properties":{"link":"https://www.mlb.com/tv/featured?&affiliateId=mlbMENU"},"menuItems":[]},{"itemId":"68b755ed-4f9d-4c0a-96ea-ffafb22ca5c5″,"text":"MLB.TV Help Center","properties":{"link":"/live-stream-games/help-center?&affiliateId=mlbMENU","customProperties":""},"menuItems":[]},{"itemId":"05b81a24-a196-4ee9-86f6-443cc7ce6934″,"text":"MLB.TV with Extra Innings","properties":{"link":"https://www.mlb.com/live-stream-games/third-party?&affiliateId=mlbMENU"},"menuItems":[]}]},{"itemId":"6bfaf88e-891c-4e05-a935-8a32bd23086a","text":"Shop","properties":{"link":"https://www.mlbshop.com/?_s=bm-mlbcom-hp","customProperties":"align:right;","icon":"shopping-cart"},"menuItems":[{"itemId":"d7b3c8e0-42c4-45c5-8278-c51adb21b47f","text":"Auction","properties":{"link":"http://auction.mlb.com/"},"menuItems":[]},{"itemId":"216d4562-456b-442d-b078-9e9be9b35b20″,"text":"Authentication","properties":{"link":"https://www.mlb.com/authentication"},"menuItems":[]},{"itemId":"20f4725a-5dc1-4543-a153-7795cd789463″,"text":"Autographed","properties":{"link":"http://auctions.mlb.com/iSynApp/allAuction.action?sid=1101001&rc=25&selectedCatId=17342&sort=timeleft_asc&pgmode2=catpage"},"menuItems":[]},{"itemId":"f4f69cd4-2549-45f2-ba63-d97ddb0b564c","text":"Jerseys","properties":{"link":"https://www.mlbshop.com/jerseys/d-1250336792+z-990485-1677480024?_s=bm-mlbcom-hp","customProperties":""},"menuItems":[]},{"itemId":"a67b9b28-c511-47a8-87e6-594cb719c787″,"text":"Caps","properties":{"link":"https://www.mlbshop.com/caps/d-3494554436+z-921549-1032840697?_s=bm-mlbcom-hp","customProperties":""},"menuItems":[]},{"itemId":"f5b9b657-5322-40c1-b2e8-1bd31e27abf6″,"text":"Men's","properties":{"link":"https://www.mlbshop.com/men/ga-12+z-9112397524-3608394688?_s=bm-mlbcom-hp","customProperties":""},"menuItems":[]},{"itemId":"dfa13a6f-17fd-4a4a-9963-f3e3734e28bf","text":"Women's","properties":{"link":"https://www.mlbshop.com/women/ga-57+z-822989763-3950492570?_s=bm-mlbcom-hp","customProperties":""},"menuItems":[]},{"itemId":"c2bf810b-0d1f-4135-b7f8-919c53fc8cc2″,"text":"Kids","properties":{"link":"https://www.mlbshop.com/kids/ga-36+z-861270405-1171990865?_s=bm-mlbcom-hp","customProperties":""},"menuItems":[]},{"itemId":"1b321c96-eb8a-4077-9868-9420205878bc","text":"Collectibles & Memorabilia","properties":{"link":"https://www.mlbshop.com/collectibles-and-memorabilia/d-7883550038+z-87646-4052890706?_s=bm-mlbcom-hp","customProperties":""},"menuItems":[]},{"itemId":"91dcfa1d-f4de-4bf9-93f8-8f91f4069272″,"text":"Home & Office","properties":{"link":"https://www.mlbshop.com/home-and-office/d-3449556733+z-992406-855732365?_s=bm-mlbcom-hp","customProperties":""},"menuItems":[]},{"itemId":"c69e35fc-900e-4fcc-9348-085aa0febeab","text":"Gift Certificates","properties":{"link":"https://www.mlbshop.com/gift-cards/x-462351+z-94899005-3509039474?_s=bm-mlbcom-Home","customProperties":""},"menuItems":[]},{"itemId":"44958e84-599e-44b1-96b4-44f38a477942″,"text":"European Shop","properties":{"link":"http://www.mlbshopeurope.com/stores/mlb/en?portal=MLTS66FS&CMP=PSC-MLTS66FS","customProperties":""},"menuItems":[]},{"itemId":"51d3278e-90fd-4462-aec0-7cfd8de1cb79″,"text":"Photo Store","properties":{"link":"https://photostore.mlb.com/"},"menuItems":[]}]},{"itemId":"5052bac6-3f1d-4847-8739-42021d7cfc2d","text":"News","properties":{"link":"https://www.mlb.com/news","customProperties":"amp:true;"},"menuItems":[{"itemId":"7b725a20-961b-4511-bd88-20600551baf2″,"text":"In this section","properties":{"visible":"true"},"menuItems":[{"itemId":"82d45c9a-d055-4ab4-b785-576d982a2077″,"text":"Probable pitchers","properties":{"link":"https://www.mlb.com/probable-pitchers/","visible":"true","enabled":"true"},"menuItems":[]},{"itemId":"4bfdb502-31e4-49dd-bae1-89a4772d0739″,"text":"Prospect Rankings","properties":{"link":"https://www.mlb.com/prospects"},"menuItems":[]},{"itemId":"831050d9-d4d2-427f-85a3-fe56aad2682a","text":"Injury report","properties":{"link":"https://www.mlb.com/injury-report"},"menuItems":[]},{"itemId":"02f947b5-cc72-40f9-9f37-a97b37dcaef3″,"text":"Transactions","properties":{"link":"http://mlb.mlb.com/mlb/transactions/?tcid=mm_mlb_news"},"menuItems":[]},{"itemId":"f499f46a-a51b-443e-82aa-3b6006f9b306″,"text":"Starting Lineups","properties":{"link":"https://www.mlb.com/starting-lineups"},"menuItems":[]},{"itemId":"53776d17-03af-4b04-8840-45b6c624df6b","text":"Hall of Fame","properties":{"link":"https://www.mlb.com/hall-of-fame"},"menuItems":[]},{"itemId":"6ee1c331-faa0-4865-a062-1c98a2f67c0d","text":"Longform","properties":{"link":"https://www.mlb.com/news/topic/longform"},"menuItems":[]},{"itemId":"844e328c-713f-46da-8183-965d19eb7dd8″,"text":"Awards","properties":{"link":"https://www.mlb.com/awards"},"menuItems":[]},{"itemId":"c1ac7886-1d18-4ad8-9fc4-326ab4753144″,"text":"MLB Draft","properties":{"link":"https://www.mlb.com/draft/2020″},"menuItems":[]},{"itemId":"a0e4c375-afb7-4fc2-8ba3-4faa668698b9″,"text":"All-Star Game","properties":{"link":"https://www.mlb.com/all-star"},"menuItems":[]}]},{"itemId":"dc121961-fe11-49ac-92b5-a8797acafa7c","text":"Featured","properties":{},"menuItems":[{"itemId":"230d1ec0-9d0a-4a3f-a04c-3cf16474390f","text":"Pipeline","properties":{"link":"https://www.mlb.com/pipeline"},"menuItems":[]},{"itemId":"216ae480-9b79-4faa-a748-98a8604e5cde","text":"Play Ball","properties":{"link":"https://www.playball.org/"},"menuItems":[]},{"itemId":"c2182d4d-c537-410e-a63d-267e593fbb74″,"text":"Trivia & Quizzes","properties":{"link":"https://www.mlb.com/news/topic/trivia","enabled":"true","visible":"true"},"menuItems":[]},{"itemId":"d7d653b8-5585-44b7-b94f-226b51681ed8″,"text":"MLB Photos","properties":{"link":"https://www.mlb.com/photos/home"},"menuItems":[]},{"itemId":"eb4bceb4-bb14-4a84-8b60-12e51dab40f8″,"text":"Offbeat","properties":{"link":"https://www.mlb.com/news/topic/offbeat"},"menuItems":[]},{"itemId":"28a2e573-86ba-4cdc-a924-86d3b6500979″,"text":"Glossary","properties":{"link":"https://www.mlb.com/glossary"},"menuItems":[]},{"itemId":"7e424446-ea76-4b0d-8dc0-e7ee108993ef","text":"Rare Feats","properties":{"link":"https://www.mlb.com/news/topic/rare-feats"},"menuItems":[]},{"itemId":"38b78c07-c2e2-40be-9172-fb2ddc1d1817″,"text":"Trade Trees","properties":{"link":"https://www.mlb.com/news/topic/trade-trees-coverage"},"menuItems":[]}]}]},{"itemId":"86b4ade1-0488-40d3-8472-b1e323f23914″,"text":"Video","properties":{"link":"https://www.mlb.com/video","customProperties":"mobile:true;amp:true;"},"menuItems":[{"itemId":"bbddb943-54df-4d88-a3ee-14265e727677″,"text":"In this section","properties":{"customProperties":""},"menuItems":[{"itemId":"d6f95b2e-b8ee-41f0-a313-e74537eff685″,"text":"Film Room","properties":{"link":"https://www.mlb.com/video/search"},"menuItems":[]},{"itemId":"a24a8e9d-471b-4626-9535-28e1b8f62bad","text":"Watch Live Games","properties":{"link":"https://www.mlb.com/live-stream-games?affiliateId=mlbMENU"},"menuItems":[]},{"itemId":"fb982f48-2253-46ec-84f2-ec3282782fb8″,"text":"Condensed Games","properties":{"link":"https://www.mlb.com/video/topic/condensed-games"},"menuItems":[]},{"itemId":"0f387774-edb6-4e09-84c1-3b6f9a8c65d5″,"text":"Game Recaps","properties":{"link":"https://www.mlb.com/video/topic/daily-recaps","enabled":"true"},"menuItems":[]},{"itemId":"3dcbafe8-f9f6-4a32-8534-7a00b6b07f4c","text":"Daily FastCast","properties":{"link":"https://www.mlb.com/video/topic/fastcast"},"menuItems":[]},{"itemId":"830b3ff1-c650-48a0-b8ee-6c910acc0204″,"text":"Instant Replay","properties":{"link":"https://www.mlb.com/video/topic/replay-review"},"menuItems":[]},{"itemId":"286ad1ca-abe4-4d67-b80a-9020e756750e","text":"MLB Network","properties":{"link":"https://www.mlb.com/network"},"menuItems":[]},{"itemId":"948d378c-7d73-49b1-b5ba-8729c59bca9a","text":"Podcasts","properties":{"link":"https://www.mlb.com/podcasts"},"menuItems":[]},{"itemId":"e95e19ff-2024-4d84-b9e5-d5f0d1831e5b","text":"Business of Baseball","properties":{"link":"https://www.mlb.com/video/topic/business-of-baseball"},"menuItems":[]},{"itemId":"bf659638-4fb7-4c46-be4c-49b736c0fd69″,"text":"Untouchable Pitches","properties":{"link":"https://www.mlb.com/es/video/topic/untouchable-pitches-cristal-products?cacheBurro"},"menuItems":[]}]},{"itemId":"74f35bdb-7baf-4fa5-abb5-3c3613fa00fe","text":"Featured","properties":{"customProperties":""},"menuItems":[{"itemId":"d87342bf-bac9-4811-9863-4a5d7ddabe94″,"text":"Most Popular","properties":{"link":"https://www.mlb.com/video"},"menuItems":[]},{"itemId":"b4deff8a-ac2f-46bd-924a-108c63e6d4a6″,"text":"Home Runs","properties":{"link":"https://www.mlb.com/video/topic/home-runs"},"menuItems":[]},{"itemId":"6a7e200b-2443-4e01-b95a-16bf6326a089″,"text":"Walk-Offs","properties":{"link":"https://www.mlb.com/video/topic/walk-offs"},"menuItems":[]},{"itemId":"b56c8c85-d75f-4511-8276-0246a51f83e6″,"text":"Comebacks","properties":{"link":"https://www.mlb.com/video/topic/comebacks"},"menuItems":[]},{"itemId":"e9fc5098-1904-4089-8fa2-c4b3d9a0feaf","text":"Top Defensive Plays","properties":{"link":"https://www.mlb.com/video/topic/top-defensive-plays"},"menuItems":[]},{"itemId":"d1a89b62-ed0e-4df5-a65d-9471b06eb3ad","text":"Grand Slams","properties":{"link":"https://www.mlb.com/video/topic/grand-slams"},"menuItems":[]},{"itemId":"c19fb88b-a3c7-4141-a616-0299dc17e774″,"text":"Best of Statcast","properties":{"link":"https://www.mlb.com/video/topic/statcast"},"menuItems":[]},{"itemId":"4cdb4f64-f058-43e3-a0f3-a078c3701cc9″,"text":"Let's Rally","properties":{"link":"https://www.mlb.com/video/topic/rallies"},"menuItems":[]},{"itemId":"3d4947a4-61d9-4ce6-9bec-5ef974a5aff1″,"text":"Curtain Calls","properties":{"link":"https://www.mlb.com/video/topic/curtain-calls"},"menuItems":[]},{"itemId":"ea8c81d8-3594-4318-b95e-7d7c4c92c1db","text":"Legendary Moments","properties":{"link":"https://www.mlb.com/video/topic/key-moments"},"menuItems":[]},{"itemId":"550155b7-3825-4c73-bf84-0250dec41903″,"text":"Carry the Freight","properties":{"link":"https://www.mlb.com/video/topic/carry-the-freight"},"menuItems":[]}]}]},{"itemId":"7c68f445-5095-46cc-bab3-73af6c921597″,"text":"Scores","properties":{"link":"https://www.mlb.com/scores","customProperties":"mobile:true;amp:true;","visible":"true"},"menuItems":[]},{"itemId":"9efaf5e3-6a93-4e4f-b8af-1219110ecb30″,"text":"Stats","properties":{"link":"https://www.mlb.com/stats","customProperties":"mobile:true;amp:true;"},"menuItems":[{"itemId":"c26bdb6a-e2f7-48dc-bd44-39e522f7b5ca","text":"2021 Spring Training Stats","properties":{"link":"https://www.mlb.com/stats/2021/spring-training"},"menuItems":[]},{"itemId":"f31b263b-34d4-46ab-aa46-9796e93b048b","text":"2020 Regular Season Stats","properties":{"link":"https://www.mlb.com/stats/2020″},"menuItems":[]},{"itemId":"62c5195b-2630-4d9e-9896-6aee0709aeee","text":"2020 Sortable Team Stats","properties":{"link":"https://www.mlb.com/stats/team/2020″},"menuItems":[]},{"itemId":"41566816-1cb8-421f-9a4a-9ccdefa7ed69″,"text":"Statcast Leaders","properties":{"link":"https://baseballsavant.mlb.com/statcast_leaderboard"},"menuItems":[]},{"itemId":"2d0a2684-64c6-4d9f-87a1-a7cf9f661e2f","text":"Baseball Savant","properties":{"link":"https://baseballsavant.mlb.com/"},"menuItems":[]},{"itemId":"b9d0ae31-f31d-449b-82fb-5a77f59293ba","text":"Top Prospect Stats","properties":{"link":"/prospects/stats/top-prospects?type=all&dateRange=Year2019&minPA=1″},"menuItems":[]},{"itemId":"2ae90479-df9d-458e-a47e-7acf851728e7″,"text":"Offseason Leagues","properties":{"link":"http://mlb.mlb.com/milb/stats/?tcid=mm_mlb_stats","customProperties":""},"menuItems":[]},{"itemId":"cf9eab1e-1dba-458c-949b-8db03f86d49e","text":"Glossary","properties":{"link":"http://m.mlb.com/glossary"},"menuItems":[]}]},{"itemId":"6af88ec1-9bfe-4494-abc0-898dc919a081″,"text":"Standings","properties":{"link":"https://www.mlb.com/standings","customProperties":"mobile:true;amp:true;"},"menuItems":[{"itemId":"a9713ec1-4849-41b5-8f0b-fa0746a205e4″,"text":"2021 Spring Training Standings","properties":{"link":"https://www.mlb.com/standings/spring-training/2021″,"customProperties":""},"menuItems":[]},{"itemId":"4c250046-6a0d-4352-b3f2-3059a5881c2a","text":"2020 Regular Season Standings","properties":{"link":"https://www.mlb.com/standings/regular-season/2020″},"menuItems":[]},{"itemId":"a84f52a4-d7d4-4661-b193-8c81901e8e7e","text":"2020 Advanced Standings","properties":{"link":"https://www.mlb.com/standings/regular-season/advanced-splits/2020″},"menuItems":[]}]},{"itemId":"248fea7e-1d19-452a-bb5c-999e1a09b7cd","text":"Schedule","properties":{"link":"https://www.mlb.com/schedule","customProperties":"amp:true;"},"menuItems":[{"itemId":"12fd9194-8902-43f1-9686-f9f321c90450″,"text":"2021 Regular Season","properties":{"link":"https://www.mlb.com/schedule/2021-04-01″},"menuItems":[]},{"itemId":"74ae0fd1-28f5-41ab-8861-23d056482243″,"text":"2021 Spring Training","properties":{"link":"https://www.mlb.com/schedule/2021-02-28″},"menuItems":[]},{"itemId":"6aae1937-f9bd-4929-847a-74c4808cc993″,"text":"2020 Postseason","properties":{"link":"https://www.mlb.com/postseason"},"menuItems":[]},{"itemId":"f4010b7a-902c-41e0-b405-e0fa695b5c64″,"text":"2020 Regular Season","properties":{"link":"https://www.mlb.com/schedule/2020-07-23″},"menuItems":[]},{"itemId":"94c9d7e4-3477-4217-87f3-008d2290b9ee","text":"Important Dates","properties":{"link":"https://www.mlb.com/schedule/events#important-dates"},"menuItems":[]},{"itemId":"d3566c69-34a7-4e6c-b2bb-28203c847f9e","text":"Probable Pitchers","properties":{"link":"https://www.mlb.com/probable-pitchers"},"menuItems":[]},{"itemId":"3747c1bc-9b3d-43f5-bd04-d1274c59c02a","text":"Team by Team Schedule","properties":{"link":"https://www.mlb.com/schedule/team-by-team"},"menuItems":[]},{"itemId":"e75ecc62-7e72-4b53-9705-a23e2b511f83″,"text":"National Broadcasts","properties":{"link":"http://mlb.mlb.com/mlb/official_info/broadcasts/national.jsp?tcid=mm_mlb_schedule"},"menuItems":[]},{"itemId":"bce30443-7f92-4c61-979f-058e5e6ebe17″,"text":"Sunday Night Broadcasts","properties":{"link":"http://m.mlb.com/promo/sunday-night-broadcasts"},"menuItems":[]}]},{"itemId":"8c842eeb-dedd-430c-a452-57a740d5c3df","text":"Players","properties":{"link":"https://www.mlb.com/players","customProperties":"","icon":"group"},"menuItems":[{"itemId":"650da3ef-b96d-4a7d-bf4b-47a55b2e6cb3″,"text":"Players A to Z","properties":{"link":"https://www.mlb.com/players"},"menuItems":[]},{"itemId":"b971e11e-c0ea-4f42-a693-a9e18e15447f","text":"Injury updates","properties":{"link":"https://www.mlb.com/injury-report"},"menuItems":[]},{"itemId":"76a61c3c-c73a-497a-9d6f-f762ad0fdecd","text":"Depth Charts","properties":{"link":"https://www.mlb.com/team/roster/depth-chart"},"menuItems":[]},{"itemId":"b30fe902-714f-4f74-a901-d2397c750dab","text":"Transactions","properties":{"link":"http://mlb.mlb.com/mlb/transactions/?tcid=mm_mlb_players"},"menuItems":[]},{"itemId":"3e585331-af20-4e73-8419-2067bed2677c","text":"Starting Lineups","properties":{"link":"https://www.mlb.com/starting-lineups"},"menuItems":[]},{"itemId":"a327060e-962d-428e-91ee-40522edcda03″,"text":"Prospect Rankings","properties":{"link":"https://www.mlb.com/prospects"},"menuItems":[]},{"itemId":"a30f9694-b2cd-4a2a-9118-d3c7f00b39b1″,"text":"Mobile Player Alerts","properties":{"link":"http://mlb.mlb.com/mobile/text.jsp?tcid=mm_mlb_players"},"menuItems":[]},{"itemId":"f45e2471-de5a-4a07-b035-43f1b405f296″,"text":"MLB Players Association","properties":{"link":"http://mlb.mlb.com/pa/index.jsp"},"menuItems":[]},{"itemId":"6e855928-8a3d-41b6-8adc-71fe99a9508b","text":"Probable Pitchers","properties":{"link":"https://www.mlb.com/probable-pitchers"},"menuItems":[]},{"itemId":"e7ba059f-ad80-486d-bf9f-3992d718f129″,"text":"Negro Leagues","properties":{"link":"https://www.mlb.com/history/negro-leagues"},"menuItems":[]}]},{"itemId":"781f2bb2-a66a-44be-8fee-b0a0250d60e6″,"text":"Play Ball","properties":{"link":"https://www.playball.org/","target":"_blank","customProperties":"topNav:false;","icon":"baseball"},"menuItems":[{"itemId":"2a74747c-e482-42f5-b750-ce710dea6568″,"text":"PlayBall.org","properties":{"link":"https://www.playball.org/","target":"_blank"},"menuItems":[]},{"itemId":"9f5ab700-d2c0-43be-a398-6926ceef9e1c","text":"Hank Aaron Invitational","properties":{"link":"https://www.mlb.com/hank-aaron-invitational"},"menuItems":[]},{"itemId":"d7c7e170-573e-45c1-a1ab-b1bd3aec819f","text":"Videos","properties":{"link":"https://www.mlb.com/video/topic/play-ball"},"menuItems":[]},{"itemId":"5be26d3e-4ff2-4a84-8ea5-92aef9d759b2″,"text":"Photos","properties":{"link":"https://www.playball.org/photos"},"menuItems":[]},{"itemId":"14d9fdc8-ba24-44cf-9a77-7a867852f418″,"text":"News","properties":{"link":"https://www.mlb.com/news/topic/youth-baseball"},"menuItems":[]},{"itemId":"4c876067-e576-4874-b914-d86fe7f4a538″,"text":"Pitch Smart","properties":{"link":"https://www.mlb.com/pitch-smart"},"menuItems":[]},{"itemId":"6996ed01-d31d-4fc4-8d0d-a5baf177f69a","text":"Play Ball Near You","properties":{"link":"https://www.playball.org/playball-near-you"},"menuItems":[]},{"itemId":"4e66a4b2-0f27-483c-81d4-f27b0b630eac","text":"States Play","properties":{"link":"https://www.mlb.com/states-play"},"menuItems":[]},{"itemId":"aed729a5-4ff6-45cc-868c-f90b9b9190af","text":"MLB TOUR","properties":{"link":"https://www.mlb.com/mlb-tour"},"menuItems":[]},{"itemId":"28d79b33-aebd-4685-9cc9-c4ccce1262f8″,"text":"RBI","properties":{"link":"https://www.mlb.com/rbi"},"menuItems":[]},{"itemId":"18001329-d9d0-47b9-b2e0-5043b69cee9e","text":"Pitch, Hit & Run","properties":{"link":"https://www.mlb.com/pitch-hit-and-run"},"menuItems":[]},{"itemId":"df867e3c-db53-4d4f-9958-e10cb0939c8a","text":"Jr. Home Run Derby","properties":{"link":"https://www.mlb.com/junior-home-run-derby"},"menuItems":[]},{"itemId":"6af5ec56-5e26-45b3-93d6-2f79d929c046″,"text":"MLB Pipeline","properties":{"link":"https://www.mlb.com/pipeline"},"menuItems":[]},{"itemId":"bc715814-2692-4bde-9b1d-99cbd9ada5dc","text":"Youth Academies","properties":{"link":"https://www.mlb.com/mlb-youth-academy"},"menuItems":[]},{"itemId":"26715913-0ae8-4106-baa4-3d914b0a33b0″,"text":"Breakthrough Series","properties":{"link":"https://www.mlb.com/breakthrough-series"},"menuItems":[]},{"itemId":"56cb414b-eb00-4632-8acc-81d74ee4745e","text":"Elite Development Invitational","properties":{"link":"https://www.mlb.com/elite-development-invitational"},"menuItems":[]},{"itemId":"04697c74-2811-4d84-8150-aa1016aa6272″,"text":"USA Baseball","properties":{"link":"https://www.usabaseball.com/","target":"_blank"},"menuItems":[]},{"itemId":"ae77ea02-173a-4439-be6c-9ee75225bd50″,"text":"USA Softball","properties":{"link":"http://www.teamusa.org/USA-Softball","target":"_blank"},"menuItems":[]},{"itemId":"c293b7e0-f056-4102-89cd-d20649d4eff0″,"text":"Dream Series","properties":{"link":"https://www.mlb.com/dream-series"},"menuItems":[]},{"itemId":"181a47ba-9ea0-4a7a-8924-ccedef1cd372″,"text":"Trailblazer Series","properties":{"link":"https://www.mlb.com/trailblazer-series"},"menuItems":[]}]},{"itemId":"mlb-fans","text":"Fans","properties":{"link":"https://www.mlb.com/fans"},"menuItems":[{"itemId":"25c7540a-c3a3-42e8-a8f8-1e3be9f5d4fe","text":"MLB Kids","properties":{"link":"https://www.mlb.com/fans/kids"},"menuItems":[]},{"itemId":"8ee0a750-a1d7-4c8f-80ee-cb7beb4268ff","text":"MLB International","properties":{"link":"https://www.mlb.com/international/"},"menuItems":[]},{"itemId":"841025ef-a361-46e1-b5d0-c963c1a42827″,"text":"Postseason Publications","properties":{"link":"https://www.mlb.com/postseason/publications"},"menuItems":[]},{"itemId":"59ffbbaf-a56c-4cb4-b874-d5a5ce36c9f1″,"text":"MLB Newsletters","properties":{"link":"https://www.mlb.com/fans/newsletters"},"menuItems":[]},{"itemId":"9e37a80a-34da-4e92-ae40-8462146aef1c","text":"Virtual Backgrounds","properties":{"link":"https://www.mlb.com/fans/virtual-backgrounds"},"menuItems":[]},{"itemId":"ef7c9f4a-5e11-4700-aad3-b29a8c5acc4c","text":"Podcasts","properties":{"link":"https://www.mlb.com/fans/podcasts"},"menuItems":[]},{"itemId":"fcc0e750-dbe2-47b3-b681-0e3e379390c8″,"text":"Walk-Up Music","properties":{"link":"https://www.mlb.com/fans/music"},"menuItems":[]},{"itemId":"ad51f9be-9a3e-41d5-83aa-27d4351d583f","text":"Connect with MLB","properties":{"link":"https://www.mlb.com/social"},"menuItems":[]},{"itemId":"5d6dbbbf-fdff-41e7-b187-793bdb998ec8″,"text":"MLB Photos","properties":{"link":"https://www.mlb.com/photos/home"},"menuItems":[]}]},{"itemId":"832ad058-32b1-4fbd-940d-a68456ad3c25″,"text":"Fantasy","properties":{"link":"https://www.mlb.com/fantasy","customProperties":""},"menuItems":[{"itemId":"ee7dde99-2f2c-49e4-a5df-b319f51afa21″,"text":"Yahoo Fantasy Baseball","properties":{"target":"","link":"http://yhoo.it/3aK5QQw"},"menuItems":[]},{"itemId":"82ecd1d5-6055-4846-99de-2e5d99461009″,"text":"MLB Rally","properties":{"link":"https://www.mlb.com/apps/rally","visible":"true"},"menuItems":[]},{"itemId":"82b08ad3-ff33-4c90-8303-277dbf8190a3″,"text":"MLB Rally Quick Pick","properties":{"link":"https://www.mlb.com/apps/rally/quickpick"},"menuItems":[]},{"itemId":"4e35b374-27ca-40c1-8f4b-d0e861496179″,"text":"Postseason Bracket Challenge","properties":{"link":"https://www.mlb.com/brackets/postseason"},"menuItems":[]},{"itemId":"fa818f3d-e28a-4dce-8ed8-928d7000a1f6″,"text":"The Vault","properties":{"link":"https://www.mlb.com/the-vault"},"menuItems":[]},{"itemId":"5342efbb-aee3-4b7a-bd6b-da451509d65b","text":"Yahoo Fantasy Baseball","properties":{"link":"https://yhoo.it/2w7w4vr","visible":"false"},"menuItems":[]},{"itemId":"36bd3b31-a5df-4061-9abb-33d42ffa1818″,"text":"R.B.I. Baseball 21″,"properties":{"link":"https://www.rbigame.com"},"menuItems":[]},{"itemId":"3dab9102-cd2d-442e-ab8a-ad07d7b159f4″,"text":"MLB Home Run Derby","properties":{"link":"https://www.mlb.com/fantasy/home-run-derby"},"menuItems":[]},{"itemId":"a3152a55-11b7-4772-86e0-58d7982a1c76″,"text":"Opening Day Pick 'Em","properties":{"link":"https://www.mlb.com/opening-day-pick-em?affiliateId=odpe-fantasy-mlb-2021″},"menuItems":[]},{"itemId":"7af822e8-dc82-4b7e-818a-97080c0938f2″,"text":"Closer Report","properties":{"link":"/closer-report","visible":"false"},"menuItems":[]},{"itemId":"c2b4eeef-ec9c-4c5b-831c-1edca0316768″,"text":"Prospect Rankings","properties":{"link":"https://www.mlb.com/prospects"},"menuItems":[]},{"itemId":"3b212a3b-4687-4ea7-a276-3e780e18210c","text":"MLB Champions","properties":{"link":"https://www.mlbc-app.com/?ref=mlbcom"},"menuItems":[]}]},{"itemId":"f857d698-35a3-4b1b-8e88-d92056ca5507″,"text":"Apps","properties":{"link":"https://www.mlb.com/apps","customProperties":"topNav:false;"},"menuItems":[{"itemId":"c974a38d-8537-4d03-9dfa-681ac5bd0f08″,"text":"MLB","properties":{"link":"https://www.mlb.com/apps/mlb-app"},"menuItems":[]},{"itemId":"13d77816-460d-4783-8ed7-f1ff1d3a97ed","text":"MLB Rally","properties":{"link":"https://www.mlb.com/apps/rally","visible":"true"},"menuItems":[]},{"itemId":"89f7398c-7a79-46e4-a8cd-843a44ceee13″,"text":"MLB Ballpark","properties":{"link":"https://www.mlb.com/apps/ballpark"},"menuItems":[]},{"itemId":"03c8451e-6437-4aa6-8b5d-50c3fedad25e","text":"MiLB First Pitch","properties":{"link":"https://www.milb.com/about/first-pitch"},"menuItems":[]},{"itemId":"5d19666b-0c26-48ad-8465-09ed9f28dfc2″,"text":"R.B.I. Baseball 21″,"properties":{"link":"https://www.rbigame.com"},"menuItems":[]},{"itemId":"94808840-9046-445e-9a6a-83016bdadb72″,"text":"MLB Home Run Derby","properties":{"link":"https://www.mlb.com/fantasy/home-run-derby"},"menuItems":[]},{"itemId":"fbe4d233-e766-4207-8886-55a2fc1f7f74″,"text":"MLB FAQs","properties":{"link":"https://www.mlb.com/apps/mlb-app/faq-apple"},"menuItems":[]},{"itemId":"34d7bc2e-a216-4956-8105-b42f2ba4bea3″,"text":"MLB Ballpark FAQs","properties":{"link":"https://www.mlb.com/apps/ballpark/faq-apple"},"menuItems":[]},{"itemId":"c081befb-bde5-446d-a4d4-c9292d29d525″,"text":"MLB Rally FAQs","properties":{"link":"https://www.mlb.com/apps/rally/faq-apple","visible":"true"},"menuItems":[]}]},{"itemId":"57ec62ff-6517-49b7-8bef-7a3edc6874cb","text":"Auction","properties":{"link":"http://auction.mlb.com/","visible":"false","customProperties":"topNav:false;"},"menuItems":[{"itemId":"3ea7f7ac-0734-47d9-8804-967eba72da0e","text":"Authentication","properties":{"link":"https://www.mlb.com/authentication"},"menuItems":[]},{"itemId":"e3e18801-29de-4b11-86ac-a475342dff41″,"text":"Autographed","properties":{"link":"http://auctions.mlb.com/iSynApp/allAuction.action?sid=1101001&rc=25&selectedCatId=17342&sort=timeleft_asc&pgmode2=catpage"},"menuItems":[]},{"itemId":"f4c0200f-4437-47c0-8c15-1a54c26d22c0″,"text":"Baseball Cards","properties":{"link":"http://www.baseballcards.mlb.com/"},"menuItems":[]},{"itemId":"21b7a4a2-6c76-47b5-af79-51dc0334f2c9″,"text":"Baseballs","properties":{"link":"http://auctions.mlb.com/iSynApp/allAuction.action?sid=1101001&rc=25&selectedCatId=13020&sort=timeleft_asc&pgmode2=catpage"},"menuItems":[]},{"itemId":"6b056370-0888-43e4-9f8c-8100e2ee7653″,"text":"Bats","properties":{"link":"http://auctions.mlb.com/iSynApp/allAuction.action?sid=1101001&rc=25&selectedCatId=13041&sort=timeleft_asc&pgmode2=catpage"},"menuItems":[]},{"itemId":"1b036e35-5977-4af1-9cb0-736c76d18ec4″,"text":"Caps","properties":{"link":"http://auctions.mlb.com/iSynApp/allAuction.action?sid=1101001&rc=25&selectedCatId=13021&sort=timeleft_asc&pgmode2=catpage"},"menuItems":[]},{"itemId":"74ae99a1-5ed5-44e4-842c-b49dc99e982d","text":"Experiences","properties":{"link":"http://auctions.mlb.com/iSynApp/allAuction.action?sid=1101001&rc=25&selectedCatId=13060&sort=timeleft_asc&pgmode2=catpage"},"menuItems":[]},{"itemId":"d41a4007-2f65-4b0f-a0a8-7df58870e507″,"text":"Game-Used","properties":{"link":"http://auctions.mlb.com/iSynApp/allAuction.action?sid=1101001&rc=25&selectedCatId=13022&sort=timeleft_asc&pgmode2=catpage"},"menuItems":[]},{"itemId":"aafaf49c-cfb9-432d-9119-f86a64fdbb27″,"text":"Jerseys","properties":{"link":"http://auctions.mlb.com/iSynApp/allAuction.action?sid=1101001&rc=25&selectedCatId=13062&sort=timeleft_asc&pgmode2=catpage"},"menuItems":[]},{"itemId":"c0be3bdb-025a-42ac-b09d-c391d058342b","text":"Photos","properties":{"link":"http://auctions.mlb.com/iSynApp/allAuction.action?sid=1101001&rc=25&selectedCatId=13024&sort=timeleft_asc&pgmode2=catpage"},"menuItems":[]}]},{"itemId":"98430c25-7924-4112-a70f-0b32fd31594f","text":"Teams","properties":{"link":"https://www.mlb.com/team","customProperties":"amp:true;module:teammodule;align:right;"},"menuItems":[{"itemId":"9191834c-54c4-40a7-8aac-9745d3666084″,"text":"Team Module","properties":{"customProperties":"module:teammodule;"},"menuItems":[]}]},{"itemId":"397b9e10-6d65-4fc0-bbe6-8d07f5e8d3a8″,"text":"ES","properties":{"link":"https://www.mlb.com/es","customProperties":"align:right;","toolTip":"Español"},"menuItems":[{"itemId":"ceb83c80-eaf2-4dd4-bdc6-e23b1e11ae60″,"text":"日本語","properties":{"link":"http://www.mlb.jp/","customProperties":"lang:ja"},"menuItems":[]},{"itemId":"27ac6728-00c1-4965-963b-05d33268fb50″,"text":"한국어","properties":{"link":"http://mlb.mbcsportsplus.com/","customProperties":"lang:ko"},"menuItems":[]}]}]},"locale":"en","reqPath":"/news/bold-predictions-for-all-30-mlb-teams-for-2021-season","sharedNav":{"instanceId":"6c265854-d856-4f92-aea1-07dfe5cda020″,"name":"shared-nav","variables":[],"menuItems":[{"itemId":"93b3e9b2-65a9-4585-9185-03e255cb523c","text":"MLB.TV","properties":{"link":"https://www.mlb.com/tv?&affiliateId=clubMENU","icon":"watch","customProperties":"align:right;"},"menuItems":[{"itemId":"162f5687-7f5b-4422-a782-133dc3db8aa0″,"text":"Buy MLB.TV","properties":{"link":"https://www.mlb.com/live-stream-games/subscribe?&affiliateId=clubMENU"},"menuItems":[]},{"itemId":"f75d3e53-5cc5-4eb5-b64d-7e72c3f601b9″,"text":"Buy MLB Audio","properties":{"link":"https://www.mlb.com/live-stream-games/subscribe/mlb-audio?&affiliateId=clubMENU"},"menuItems":[]},{"itemId":"d54a2b21-9db9-4252-9ebe-e3a4b2a3cf83″,"text":"Watch MLB.TV","properties":{"link":"https://www.mlb.com/live-stream-games?&affiliateId=clubMENU"},"menuItems":[]},{"itemId":"2a0ee52e-dc18-4f5b-a5b2-9ab8bd1ee507″,"text":"MLB.TV Spring Training Schedule","properties":{"link":"https://www.mlb.com/live-stream-games/spring-training?&affiliateId=clubMENU"},"menuItems":[]},{"itemId":"3d0c17bc-b611-42aa-a6ce-d2a4d6d38f96″,"text":"MLB.TV Student Discounts","properties":{"link":"https://www.mlb.com/live-stream-games/subscribe/student-discount?&affiliateId=clubMENU"},"menuItems":[]},{"itemId":"2d8d6ad8-dc2a-4971-9b12-f1853530c5d3″,"text":"Watch MLB.TV Docs & Features","properties":{"link":"https://www.mlb.com/tv/featured?&affiliateId=clubMENU"},"menuItems":[]},{"itemId":"6254640c-2069-4447-822f-084d0a38f161″,"text":"MLB.TV Help Center","properties":{"link":"https://www.mlb.com/live-stream-games/help-center?&affiliateId=clubMENU"},"menuItems":[]},{"itemId":"6d167d3d-4063-43ae-b13c-283e83c0e91c","text":"MLB.TV with Extra Innings","properties":{"link":"https://www.mlb.com/live-stream-games/third-party?&affiliateId=clubMENU"},"menuItems":[]}]},{"itemId":"d54d0be0-f610-4f8b-90ac-c246c361e2e2″,"text":"Fantasy","properties":{"link":"https://www.mlb.com/fantasy"},"menuItems":[{"itemId":"5ec4bde4-6bc1-412b-a92b-6b7cb3b2f07c","text":"Yahoo Fantasy Baseball","properties":{"link":"http://yhoo.it/3aK5QQw","visible":"true"},"menuItems":[]},{"itemId":"b2a63b51-03fc-423d-971e-1e566f6008f4″,"text":"MLB Rally","properties":{"link":"https://www.mlb.com/apps/rally","visible":"true"},"menuItems":[]},{"itemId":"f6929b88-632d-4a6f-ba73-8a64fccba1b0″,"text":"MLB Rally Quick Pick","properties":{"link":"https://www.mlb.com/apps/rally/quickpick"},"menuItems":[]},{"itemId":"0ebe9e5d-3fc7-48d2-acb1-c33eb931b911″,"text":"Postseason Bracket Challenge","properties":{"link":"https://www.mlb.com/brackets/postseason"},"menuItems":[]},{"itemId":"14aa1d4b-0193-4670-a1fc-b4386d4977e8″,"text":"The Vault","properties":{"link":"https://www.mlb.com/the-vault"},"menuItems":[]},{"itemId":"1543c12c-66d1-4033-9e05-c025fcb71a6a","text":"R.B.I. Baseball 21″,"properties":{"link":"https://www.rbigame.com"},"menuItems":[]},{"itemId":"4e0abdd4-8a0f-4bc5-838f-91dd2796041e","text":"MLB Home Run Derby","properties":{"link":"https://www.mlb.com/fantasy/home-run-derby"},"menuItems":[]},{"itemId":"7d8dfda7-345a-46fa-82dc-105068ba223e","text":"Opening Day Pick 'Em","properties":{"link":"https://www.mlb.com/opening-day-pick-em?affiliateId=odpe-fantasy-mlb-2021″},"menuItems":[]},{"itemId":"9f1ff266-0ed8-4adb-ba77-428d1871b237″,"text":"Closer Report","properties":{"link":"https://www.mlb.com/closer-report","visible":"false"},"menuItems":[]},{"itemId":"4c4f57bd-e31a-46c9-8f73-0fa2227451d3″,"text":"Prospect Rankings","properties":{"link":"https://www.mlb.com/prospects"},"menuItems":[]},{"itemId":"1ebe4dc3-2c6a-469f-be59-474fe14dbbd7″,"text":"MLB Champions","properties":{"link":"https://www.mlbc-app.com/?ref=mlbcom"},"menuItems":[]}]},{"itemId":"d1f61f89-9fd0-4f03-be17-2c5e128711a4″,"text":"Apps","properties":{"link":"https://www.mlb.com/apps"},"menuItems":[{"itemId":"83ac2ddf-414b-47d1-afec-ffacd068ab57″,"text":"MLB","properties":{"link":"https://www.mlb.com/apps/mlb-app"},"menuItems":[]},{"itemId":"83dbba73-02ac-4ba0-bebf-2c62ef04c19e","text":"MLB Rally","properties":{"link":"https://www.mlb.com/apps/rally","visible":"true"},"menuItems":[]},{"itemId":"e09e6978-fcf7-4c2f-8387-59d83b7be38e","text":"MLB Ballpark","properties":{"link":"https://www.mlb.com/apps/ballpark"},"menuItems":[]},{"itemId":"5e7b8019-9484-4872-abd7-8b963cd5969e","text":"MiLB First Pitch","properties":{"link":"https://www.milb.com/about/first-pitch"},"menuItems":[]},{"itemId":"e3a0183d-1b5f-4e56-9b81-02632ba4ec60″,"text":"R.B.I. Baseball 21″,"properties":{"link":"https://www.rbigame.com"},"menuItems":[]},{"itemId":"4fd8c1f8-a753-4501-916c-663390f1a566″,"text":"MLB Home Run Derby","properties":{"link":"https://www.mlb.com/fantasy/home-run-derby"},"menuItems":[]},{"itemId":"9d8dfe8b-be1a-4ebf-9509-6bd0165a868e","text":"MLB FAQs","properties":{"link":"https://www.mlb.com/apps/mlb-app/faq-apple"},"menuItems":[]},{"itemId":"df4e8527-e357-4272-bcf7-61876ed9455d","text":"MLB Ballpark FAQs","properties":{"link":"https://www.mlb.com/apps/ballpark/faq-apple","visible":"true"},"menuItems":[]},{"itemId":"c2943c65-a843-437a-9ef4-4ccfe5be088f","text":"MLB Rally FAQs","properties":{"link":"https://www.mlb.com/apps/rally/faq-apple","visible":"true"},"menuItems":[]}]}]},"styleProps":{},"teamNameSlug":"","teamsData":[{"id":133,"name":"Oakland Athletics","link":"/api/v1/teams/133″,"season":2021,"venue":{"id":10,"name":"RingCentral Coliseum","link":"/api/v1/venues/10″,"location":{"city":"Oakland","state":"California","stateAbbrev":"CA","defaultCoordinates":{"latitude":37.751511,"longitude":-122.200698}},"timeZone":{"id":"America/Los_Angeles","offset":-7,"tz":"PDT"}},"springVenue":{"id":2507,"link":"/api/v1/venues/2507″},"teamCode":"oak","fileCode":"oak","abbreviation":"OAK","teamName":"Athletics","locationName":"Oakland","firstYearOfPlay":"1901″,"league":{"id":103,"name":"American League","link":"/api/v1/league/103″},"division":{"id":200,"name":"American League West","link":"/api/v1/divisions/200″},"sport":{"id":1,"link":"/api/v1/sports/1″,"name":"Major League Baseball"},"shortName":"Oakland","springLeague":{"id":114,"name":"Cactus League","link":"/api/v1/league/114″,"abbreviation":"CL"},"allStarStatus":"N","active":true},{"id":134,"name":"Pittsburgh Pirates","link":"/api/v1/teams/134″,"season":2021,"venue":{"id":31,"name":"PNC Park","link":"/api/v1/venues/31″,"location":{"city":"Pittsburgh","state":"Pennsylvania","stateAbbrev":"PA","defaultCoordinates":{"latitude":40.446904,"longitude":-80.005753}},"timeZone":{"id":"America/New_York","offset":-4,"tz":"EDT"}},"springVenue":{"id":2526,"link":"/api/v1/venues/2526″},"teamCode":"pit","fileCode":"pit","abbreviation":"PIT","teamName":"Pirates","locationName":"Pittsburgh","firstYearOfPlay":"1882″,"league":{"id":104,"name":"National League","link":"/api/v1/league/104″},"division":{"id":205,"name":"National League Central","link":"/api/v1/divisions/205″},"sport":{"id":1,"link":"/api/v1/sports/1″,"name":"Major League Baseball"},"shortName":"Pittsburgh","springLeague":{"id":115,"name":"Grapefruit League","link":"/api/v1/league/115″,"abbreviation":"GL"},"allStarStatus":"N","active":true},{"id":135,"name":"San Diego Padres","link":"/api/v1/teams/135″,"season":2021,"venue":{"id":2680,"name":"Petco Park","link":"/api/v1/venues/2680″,"location":{"city":"San Diego","state":"California","stateAbbrev":"CA","defaultCoordinates":{"latitude":32.707861,"longitude":-117.157278}},"timeZone":{"id":"America/Los_Angeles","offset":-7,"tz":"PDT"}},"springVenue":{"id":2530,"link":"/api/v1/venues/2530″},"teamCode":"sdn","fileCode":"sd","abbreviation":"SD","teamName":"Padres","locationName":"San Diego","firstYearOfPlay":"1968″,"league":{"id":104,"name":"National League","link":"/api/v1/league/104″},"division":{"id":203,"name":"National League West","link":"/api/v1/divisions/203″},"sport":{"id":1,"link":"/api/v1/sports/1″,"name":"Major League Baseball"},"shortName":"San Diego","springLeague":{"id":114,"name":"Cactus League","link":"/api/v1/league/114″,"abbreviation":"CL"},"allStarStatus":"N","active":true},{"id":136,"name":"Seattle Mariners","link":"/api/v1/teams/136″,"season":2021,"venue":{"id":680,"name":"T-Mobile Park","link":"/api/v1/venues/680″,"location":{"city":"Seattle","state":"Washington","stateAbbrev":"WA","defaultCoordinates":{"latitude":47.591333,"longitude":-122.33251}},"timeZone":{"id":"America/Los_Angeles","offset":-7,"tz":"PDT"}},"springVenue":{"id":2530,"link":"/api/v1/venues/2530″},"teamCode":"sea","fileCode":"sea","abbreviation":"SEA","teamName":"Mariners","locationName":"Seattle","firstYearOfPlay":"1977″,"league":{"id":103,"name":"American League","link":"/api/v1/league/103″},"division":{"id":200,"name":"American League West","link":"/api/v1/divisions/200″},"sport":{"id":1,"link":"/api/v1/sports/1″,"name":"Major League Baseball"},"shortName":"Seattle","springLeague":{"id":114,"name":"Cactus League","link":"/api/v1/league/114″,"abbreviation":"CL"},"allStarStatus":"N","active":true},{"id":137,"name":"San Francisco Giants","link":"/api/v1/teams/137″,"season":2021,"venue":{"id":2395,"name":"Oracle Park","link":"/api/v1/venues/2395″,"location":{"city":"San Francisco","state":"California","stateAbbrev":"CA","defaultCoordinates":{"latitude":37.778383,"longitude":-122.389448}},"timeZone":{"id":"America/Los_Angeles","offset":-7,"tz":"PDT"}},"springVenue":{"id":2532,"link":"/api/v1/venues/2532″},"teamCode":"sfn","fileCode":"sf","abbreviation":"SF","teamName":"Giants","locationName":"San Francisco","firstYearOfPlay":"1883″,"league":{"id":104,"name":"National League","link":"/api/v1/league/104″},"division":{"id":203,"name":"National League West","link":"/api/v1/divisions/203″},"sport":{"id":1,"link":"/api/v1/sports/1″,"name":"Major League Baseball"},"shortName":"San Francisco","springLeague":{"id":114,"name":"Cactus League","link":"/api/v1/league/114″,"abbreviation":"CL"},"allStarStatus":"N","active":true},{"id":138,"name":"St. Louis Cardinals","link":"/api/v1/teams/138″,"season":2021,"venue":{"id":2889,"name":"Busch Stadium","link":"/api/v1/venues/2889″,"location":{"city":"St. Louis","state":"Missouri","stateAbbrev":"MO","defaultCoordinates":{"latitude":38.62256667,"longitude":-90.19286667}},"timeZone":{"id":"America/Chicago","offset":-5,"tz":"CDT"}},"springVenue":{"id":2520,"link":"/api/v1/venues/2520″},"teamCode":"sln","fileCode":"stl","abbreviation":"STL","teamName":"Cardinals","locationName":"St. Louis","firstYearOfPlay":"1892″,"league":{"id":104,"name":"National League","link":"/api/v1/league/104″},"division":{"id":205,"name":"National League Central","link":"/api/v1/divisions/205″},"sport":{"id":1,"link":"/api/v1/sports/1″,"name":"Major League Baseball"},"shortName":"St. Louis","springLeague":{"id":115,"name":"Grapefruit League","link":"/api/v1/league/115″,"abbreviation":"GL"},"allStarStatus":"N","active":true},{"id":139,"name":"Tampa Bay Rays","link":"/api/v1/teams/139″,"season":2021,"venue":{"id":12,"name":"Tropicana Field","link":"/api/v1/venues/12″,"location":{"city":"St. Petersburg","state":"Florida","stateAbbrev":"FL","defaultCoordinates":{"latitude":27.767778,"longitude":-82.6525}},"timeZone":{"id":"America/New_York","offset":-4,"tz":"EDT"}},"springVenue":{"id":2534,"link":"/api/v1/venues/2534″},"teamCode":"tba","fileCode":"tb","abbreviation":"TB","teamName":"Rays","locationName":"St. Petersburg","firstYearOfPlay":"1996″,"league":{"id":103,"name":"American League","link":"/api/v1/league/103″},"division":{"id":201,"name":"American League East","link":"/api/v1/divisions/201″},"sport":{"id":1,"link":"/api/v1/sports/1″,"name":"Major League Baseball"},"shortName":"Tampa Bay","springLeague":{"id":115,"name":"Grapefruit League","link":"/api/v1/league/115″,"abbreviation":"GL"},"allStarStatus":"N","active":true},{"id":140,"name":"Texas Rangers","link":"/api/v1/teams/140″,"season":2021,"venue":{"id":5325,"name":"Globe Life Field","link":"/api/v1/venues/5325″,"location":{"city":"Arlington","state":"Texas","stateAbbrev":"TX","defaultCoordinates":{"latitude":32.747299,"longitude":-97.081818}},"timeZone":{"id":"America/Chicago","offset":-5,"tz":"CDT"}},"springVenue":{"id":2603,"link":"/api/v1/venues/2603″},"teamCode":"tex","fileCode":"tex","abbreviation":"TEX","teamName":"Rangers","locationName":"Arlington","firstYearOfPlay":"1961″,"league":{"id":103,"name":"American League","link":"/api/v1/league/103″},"division":{"id":200,"name":"American League West","link":"/api/v1/divisions/200″},"sport":{"id":1,"link":"/api/v1/sports/1″,"name":"Major League Baseball"},"shortName":"Texas","springLeague":{"id":114,"name":"Cactus League","link":"/api/v1/league/114″,"abbreviation":"CL"},"allStarStatus":"N","active":true},{"id":141,"name":"Toronto Blue Jays","link":"/api/v1/teams/141″,"season":2021,"venue":{"id":14,"name":"Rogers Centre","link":"/api/v1/venues/14″,"location":{"city":"Toronto","state":"Ontario","stateAbbrev":"ON","defaultCoordinates":{"latitude":43.64155,"longitude":-79.38915}},"timeZone":{"id":"America/Toronto","offset":-4,"tz":"EDT"}},"springVenue":{"id":2536,"link":"/api/v1/venues/2536″},"teamCode":"tor","fileCode":"tor","abbreviation":"TOR","teamName":"Blue Jays","locationName":"Toronto","firstYearOfPlay":"1977″,"league":{"id":103,"name":"American League","link":"/api/v1/league/103″},"division":{"id":201,"name":"American League East","link":"/api/v1/divisions/201″},"sport":{"id":1,"link":"/api/v1/sports/1″,"name":"Major League Baseball"},"shortName":"Toronto","springLeague":{"id":115,"name":"Grapefruit League","link":"/api/v1/league/115″,"abbreviation":"GL"},"allStarStatus":"N","active":true},{"id":142,"name":"Minnesota Twins","link":"/api/v1/teams/142″,"season":2021,"venue":{"id":3312,"name":"Target Field","link":"/api/v1/venues/3312″,"location":{"city":"Minneapolis","state":"Minnesota","stateAbbrev":"MN","defaultCoordinates":{"latitude":44.981829,"longitude":-93.277891}},"timeZone":{"id":"America/Chicago","offset":-5,"tz":"CDT"}},"springVenue":{"id":2862,"link":"/api/v1/venues/2862″},"teamCode":"min","fileCode":"min","abbreviation":"MIN","teamName":"Twins","locationName":"Minneapolis","firstYearOfPlay":"1901″,"league":{"id":103,"name":"American League","link":"/api/v1/league/103″},"division":{"id":202,"name":"American League Central","link":"/api/v1/divisions/202″},"sport":{"id":1,"link":"/api/v1/sports/1″,"name":"Major League Baseball"},"shortName":"Minnesota","springLeague":{"id":115,"name":"Grapefruit League","link":"/api/v1/league/115″,"abbreviation":"GL"},"allStarStatus":"N","active":true},{"id":143,"name":"Philadelphia Phillies","link":"/api/v1/teams/143″,"season":2021,"venue":{"id":2681,"name":"Citizens Bank Park","link":"/api/v1/venues/2681″,"location":{"city":"Philadelphia","state":"Pennsylvania","stateAbbrev":"PA","defaultCoordinates":{"latitude":39.90539086,"longitude":-75.16716957}},"timeZone":{"id":"America/New_York","offset":-4,"tz":"EDT"}},"springVenue":{"id":2700,"link":"/api/v1/venues/2700″},"teamCode":"phi","fileCode":"phi","abbreviation":"PHI","teamName":"Phillies","locationName":"Philadelphia","firstYearOfPlay":"1883″,"league":{"id":104,"name":"National League","link":"/api/v1/league/104″},"division":{"id":204,"name":"National League East","link":"/api/v1/divisions/204″},"sport":{"id":1,"link":"/api/v1/sports/1″,"name":"Major League Baseball"},"shortName":"Philadelphia","springLeague":{"id":115,"name":"Grapefruit League","link":"/api/v1/league/115″,"abbreviation":"GL"},"allStarStatus":"N","active":true},{"id":144,"name":"Atlanta Braves","link":"/api/v1/teams/144″,"season":2021,"venue":{"id":4705,"name":"Truist Park","link":"/api/v1/venues/4705″,"location":{"city":"Atlanta","state":"Georgia","stateAbbrev":"GA","defaultCoordinates":{"latitude":33.890672,"longitude":-84.467641}},"timeZone":{"id":"America/New_York","offset":-4,"tz":"EDT"}},"springVenue":{"id":5380,"link":"/api/v1/venues/5380″},"teamCode":"atl","fileCode":"atl","abbreviation":"ATL","teamName":"Braves","locationName":"Atlanta","firstYearOfPlay":"1871″,"league":{"id":104,"name":"National League","link":"/api/v1/league/104″},"division":{"id":204,"name":"National League East","link":"/api/v1/divisions/204″},"sport":{"id":1,"link":"/api/v1/sports/1″,"name":"Major League Baseball"},"shortName":"Atlanta","springLeague":{"id":115,"name":"Grapefruit League","link":"/api/v1/league/115″,"abbreviation":"GL"},"allStarStatus":"N","active":true},{"id":145,"name":"Chicago White Sox","link":"/api/v1/teams/145″,"season":2021,"venue":{"id":4,"name":"Guaranteed Rate Field","link":"/api/v1/venues/4″,"location":{"city":"Chicago","state":"Illinois","stateAbbrev":"IL","defaultCoordinates":{"latitude":41.83,"longitude":-87.634167}},"timeZone":{"id":"America/Chicago","offset":-5,"tz":"CDT"}},"springVenue":{"id":3809,"link":"/api/v1/venues/3809″},"teamCode":"cha","fileCode":"cws","abbreviation":"CWS","teamName":"White Sox","locationName":"Chicago","firstYearOfPlay":"1901″,"league":{"id":103,"name":"American League","link":"/api/v1/league/103″},"division":{"id":202,"name":"American League Central","link":"/api/v1/divisions/202″},"sport":{"id":1,"link":"/api/v1/sports/1″,"name":"Major League Baseball"},"shortName":"Chi White Sox","springLeague":{"id":114,"name":"Cactus League","link":"/api/v1/league/114″,"abbreviation":"CL"},"allStarStatus":"N","active":true},{"id":146,"name":"Miami Marlins","link":"/api/v1/teams/146″,"season":2021,"venue":{"id":4169,"name":"Marlins Park","link":"/api/v1/venues/4169″,"location":{"city":"Miami","state":"Florida","stateAbbrev":"FL","defaultCoordinates":{"latitude":25.77796236,"longitude":-80.21951795}},"timeZone":{"id":"America/New_York","offset":-4,"tz":"EDT"}},"springVenue":{"id":2520,"link":"/api/v1/venues/2520″},"teamCode":"mia","fileCode":"mia","abbreviation":"MIA","teamName":"Marlins","locationName":"Miami","firstYearOfPlay":"1991″,"league":{"id":104,"name":"National League","link":"/api/v1/league/104″},"division":{"id":204,"name":"National League East","link":"/api/v1/divisions/204″},"sport":{"id":1,"link":"/api/v1/sports/1″,"name":"Major League Baseball"},"shortName":"Miami","springLeague":{"id":115,"name":"Grapefruit League","link":"/api/v1/league/115″,"abbreviation":"GL"},"allStarStatus":"N","active":true},{"id":147,"name":"New York Yankees","link":"/api/v1/teams/147″,"season":2021,"venue":{"id":3313,"name":"Yankee Stadium","link":"/api/v1/venues/3313″,"location":{"city":"Bronx","state":"New York","stateAbbrev":"NY","defaultCoordinates":{"latitude":40.82919482,"longitude":-73.9264977}},"timeZone":{"id":"America/New_York","offset":-4,"tz":"EDT"}},"springVenue":{"id":2523,"link":"/api/v1/venues/2523″},"teamCode":"nya","fileCode":"nyy","abbreviation":"NYY","teamName":"Yankees","locationName":"Bronx","firstYearOfPlay":"1903″,"league":{"id":103,"name":"American League","link":"/api/v1/league/103″},"division":{"id":201,"name":"American League East","link":"/api/v1/divisions/201″},"sport":{"id":1,"link":"/api/v1/sports/1″,"name":"Major League Baseball"},"shortName":"NY Yankees","springLeague":{"id":115,"name":"Grapefruit League","link":"/api/v1/league/115″,"abbreviation":"GL"},"allStarStatus":"N","active":true},{"id":158,"name":"Milwaukee Brewers","link":"/api/v1/teams/158″,"season":2021,"venue":{"id":32,"name":"American Family Field","link":"/api/v1/venues/32″,"location":{"city":"Milwaukee","state":"Wisconsin","stateAbbrev":"WI","defaultCoordinates":{"latitude":43.02838,"longitude":-87.97099}},"timeZone":{"id":"America/Chicago","offset":-5,"tz":"CDT"}},"springVenue":{"id":2518,"link":"/api/v1/venues/2518″},"teamCode":"mil","fileCode":"mil","abbreviation":"MIL","teamName":"Brewers","locationName":"Milwaukee","firstYearOfPlay":"1968″,"league":{"id":104,"name":"National League","link":"/api/v1/league/104″},"division":{"id":205,"name":"National League Central","link":"/api/v1/divisions/205″},"sport":{"id":1,"link":"/api/v1/sports/1″,"name":"Major League Baseball"},"shortName":"Milwaukee","springLeague":{"id":114,"name":"Cactus League","link":"/api/v1/league/114″,"abbreviation":"CL"},"allStarStatus":"N","active":true},{"id":108,"name":"Los Angeles Angels","link":"/api/v1/teams/108″,"season":2021,"venue":{"id":1,"name":"Angel Stadium","link":"/api/v1/venues/1″,"location":{"city":"Anaheim","state":"California","stateAbbrev":"CA","defaultCoordinates":{"latitude":33.80019044,"longitude":-117.8823996}},"timeZone":{"id":"America/Los_Angeles","offset":-7,"tz":"PDT"}},"springVenue":{"id":2500,"link":"/api/v1/venues/2500″},"teamCode":"ana","fileCode":"ana","abbreviation":"LAA","teamName":"Angels","locationName":"Anaheim","firstYearOfPlay":"1961″,"league":{"id":103,"name":"American League","link":"/api/v1/league/103″},"division":{"id":200,"name":"American League West","link":"/api/v1/divisions/200″},"sport":{"id":1,"link":"/api/v1/sports/1″,"name":"Major League Baseball"},"shortName":"LA Angels","springLeague":{"id":114,"name":"Cactus League","link":"/api/v1/league/114″,"abbreviation":"CL"},"allStarStatus":"N","active":true},{"id":109,"name":"Arizona Diamondbacks","link":"/api/v1/teams/109″,"season":2021,"venue":{"id":15,"name":"Chase Field","link":"/api/v1/venues/15″,"location":{"city":"Phoenix","state":"Arizona","stateAbbrev":"AZ","defaultCoordinates":{"latitude":33.445302,"longitude":-112.066687}},"timeZone":{"id":"America/Phoenix","offset":-7,"tz":"MST"}},"springVenue":{"id":4249,"link":"/api/v1/venues/4249″},"teamCode":"ari","fileCode":"ari","abbreviation":"ARI","teamName":"D-backs","locationName":"Phoenix","firstYearOfPlay":"1996″,"league":{"id":104,"name":"National League","link":"/api/v1/league/104″},"division":{"id":203,"name":"National League West","link":"/api/v1/divisions/203″},"sport":{"id":1,"link":"/api/v1/sports/1″,"name":"Major League Baseball"},"shortName":"Arizona","springLeague":{"id":114,"name":"Cactus League","link":"/api/v1/league/114″,"abbreviation":"CL"},"allStarStatus":"N","active":true},{"id":110,"name":"Baltimore Orioles","link":"/api/v1/teams/110″,"season":2021,"venue":{"id":2,"name":"Oriole Park at Camden Yards","link":"/api/v1/venues/2″,"location":{"city":"Baltimore","state":"Maryland","stateAbbrev":"MD","defaultCoordinates":{"latitude":39.283787,"longitude":-76.621689}},"timeZone":{"id":"America/New_York","offset":-4,"tz":"EDT"}},"springVenue":{"id":2508,"link":"/api/v1/venues/2508″},"teamCode":"bal","fileCode":"bal","abbreviation":"BAL","teamName":"Orioles","locationName":"Baltimore","firstYearOfPlay":"1901″,"league":{"id":103,"name":"American League","link":"/api/v1/league/103″},"division":{"id":201,"name":"American League East","link":"/api/v1/divisions/201″},"sport":{"id":1,"link":"/api/v1/sports/1″,"name":"Major League Baseball"},"shortName":"Baltimore","springLeague":{"id":115,"name":"Grapefruit League","link":"/api/v1/league/115″,"abbreviation":"GL"},"allStarStatus":"N","active":true},{"id":111,"name":"Boston Red Sox","link":"/api/v1/teams/111″,"season":2021,"venue":{"id":3,"name":"Fenway Park","link":"/api/v1/venues/3″,"location":{"city":"Boston","state":"Massachusetts","stateAbbrev":"MA","defaultCoordinates":{"latitude":42.346456,"longitude":-71.097441}},"timeZone":{"id":"America/New_York","offset":-4,"tz":"EDT"}},"springVenue":{"id":4309,"link":"/api/v1/venues/4309″},"teamCode":"bos","fileCode":"bos","abbreviation":"BOS","teamName":"Red Sox","locationName":"Boston","firstYearOfPlay":"1901″,"league":{"id":103,"name":"American League","link":"/api/v1/league/103″},"division":{"id":201,"name":"American League East","link":"/api/v1/divisions/201″},"sport":{"id":1,"link":"/api/v1/sports/1″,"name":"Major League Baseball"},"shortName":"Boston","springLeague":{"id":115,"name":"Grapefruit League","link":"/api/v1/league/115″,"abbreviation":"GL"},"allStarStatus":"N","active":true},{"id":112,"name":"Chicago Cubs","link":"/api/v1/teams/112″,"season":2021,"venue":{"id":17,"name":"Wrigley Field","link":"/api/v1/venues/17″,"location":{"city":"Chicago","state":"Illinois","stateAbbrev":"IL","defaultCoordinates":{"latitude":41.948171,"longitude":-87.655503}},"timeZone":{"id":"America/Chicago","offset":-5,"tz":"CDT"}},"springVenue":{"id":4629,"link":"/api/v1/venues/4629″},"teamCode":"chn","fileCode":"chc","abbreviation":"CHC","teamName":"Cubs","locationName":"Chicago","firstYearOfPlay":"1874″,"league":{"id":104,"name":"National League","link":"/api/v1/league/104″},"division":{"id":205,"name":"National League Central","link":"/api/v1/divisions/205″},"sport":{"id":1,"link":"/api/v1/sports/1″,"name":"Major League Baseball"},"shortName":"Chi Cubs","springLeague":{"id":114,"name":"Cactus League","link":"/api/v1/league/114″,"abbreviation":"CL"},"allStarStatus":"N","active":true},{"id":113,"name":"Cincinnati Reds","link":"/api/v1/teams/113″,"season":2021,"venue":{"id":2602,"name":"Great American Ball Park","link":"/api/v1/venues/2602″,"location":{"city":"Cincinnati","state":"Ohio","stateAbbrev":"OH","defaultCoordinates":{"latitude":39.097389,"longitude":-84.506611}},"timeZone":{"id":"America/New_York","offset":-4,"tz":"EDT"}},"springVenue":{"id":3834,"link":"/api/v1/venues/3834″},"teamCode":"cin","fileCode":"cin","abbreviation":"CIN","teamName":"Reds","locationName":"Cincinnati","firstYearOfPlay":"1882″,"league":{"id":104,"name":"National League","link":"/api/v1/league/104″},"division":{"id":205,"name":"National League Central","link":"/api/v1/divisions/205″},"sport":{"id":1,"link":"/api/v1/sports/1″,"name":"Major League Baseball"},"shortName":"Cincinnati","springLeague":{"id":114,"name":"Cactus League","link":"/api/v1/league/114″,"abbreviation":"CL"},"allStarStatus":"N","active":true},{"id":114,"name":"Cleveland Indians","link":"/api/v1/teams/114″,"season":2021,"venue":{"id":5,"name":"Progressive Field","link":"/api/v1/venues/5″,"location":{"city":"Cleveland","state":"Ohio","stateAbbrev":"OH","defaultCoordinates":{"latitude":41.495861,"longitude":-81.685255}},"timeZone":{"id":"America/New_York","offset":-4,"tz":"EDT"}},"springVenue":{"id":3834,"link":"/api/v1/venues/3834″},"teamCode":"cle","fileCode":"cle","abbreviation":"CLE","teamName":"Indians","locationName":"Cleveland","firstYearOfPlay":"1901″,"league":{"id":103,"name":"American League","link":"/api/v1/league/103″},"division":{"id":202,"name":"American League Central","link":"/api/v1/divisions/202″},"sport":{"id":1,"link":"/api/v1/sports/1″,"name":"Major League Baseball"},"shortName":"Cleveland","springLeague":{"id":114,"name":"Cactus League","link":"/api/v1/league/114″,"abbreviation":"CL"},"allStarStatus":"N","active":true},{"id":115,"name":"Colorado Rockies","link":"/api/v1/teams/115″,"season":2021,"venue":{"id":19,"name":"Coors Field","link":"/api/v1/venues/19″,"location":{"city":"Denver","state":"Colorado","stateAbbrev":"CO","defaultCoordinates":{"latitude":39.756042,"longitude":-104.994136}},"timeZone":{"id":"America/Denver","offset":-6,"tz":"MDT"}},"springVenue":{"id":4249,"link":"/api/v1/venues/4249″},"teamCode":"col","fileCode":"col","abbreviation":"COL","teamName":"Rockies","locationName":"Denver","firstYearOfPlay":"1992″,"league":{"id":104,"name":"National League","link":"/api/v1/league/104″},"division":{"id":203,"name":"National League West","link":"/api/v1/divisions/203″},"sport":{"id":1,"link":"/api/v1/sports/1″,"name":"Major League Baseball"},"shortName":"Colorado","springLeague":{"id":114,"name":"Cactus League","link":"/api/v1/league/114″,"abbreviation":"CL"},"allStarStatus":"N","active":true},{"id":116,"name":"Detroit Tigers","link":"/api/v1/teams/116″,"season":2021,"venue":{"id":2394,"name":"Comerica Park","link":"/api/v1/venues/2394″,"location":{"city":"Detroit","state":"Michigan","stateAbbrev":"MI","defaultCoordinates":{"latitude":42.3391151,"longitude":-83.048695}},"timeZone":{"id":"America/Detroit","offset":-4,"tz":"EDT"}},"springVenue":{"id":2511,"link":"/api/v1/venues/2511″},"teamCode":"det","fileCode":"det","abbreviation":"DET","teamName":"Tigers","locationName":"Detroit","firstYearOfPlay":"1901″,"league":{"id":103,"name":"American League","link":"/api/v1/league/103″},"division":{"id":202,"name":"American League Central","link":"/api/v1/divisions/202″},"sport":{"id":1,"link":"/api/v1/sports/1″,"name":"Major League Baseball"},"shortName":"Detroit","springLeague":{"id":115,"name":"Grapefruit League","link":"/api/v1/league/115″,"abbreviation":"GL"},"allStarStatus":"N","active":true},{"id":117,"name":"Houston Astros","link":"/api/v1/teams/117″,"season":2021,"venue":{"id":2392,"name":"Minute Maid Park","link":"/api/v1/venues/2392″,"location":{"city":"Houston","state":"Texas","stateAbbrev":"TX","defaultCoordinates":{"latitude":29.756967,"longitude":-95.355509}},"timeZone":{"id":"America/Chicago","offset":-5,"tz":"CDT"}},"springVenue":{"id":5000,"link":"/api/v1/venues/5000″},"teamCode":"hou","fileCode":"hou","abbreviation":"HOU","teamName":"Astros","locationName":"Houston","firstYearOfPlay":"1962″,"league":{"id":103,"name":"American League","link":"/api/v1/league/103″},"division":{"id":200,"name":"American League West","link":"/api/v1/divisions/200″},"sport":{"id":1,"link":"/api/v1/sports/1″,"name":"Major League Baseball"},"shortName":"Houston","springLeague":{"id":115,"name":"Grapefruit League","link":"/api/v1/league/115″,"abbreviation":"GL"},"allStarStatus":"N","active":true},{"id":118,"name":"Kansas City Royals","link":"/api/v1/teams/118″,"season":2021,"venue":{"id":7,"name":"Kauffman Stadium","link":"/api/v1/venues/7″,"location":{"city":"Kansas City","state":"Missouri","stateAbbrev":"MO","defaultCoordinates":{"latitude":39.051567,"longitude":-94.480483}},"timeZone":{"id":"America/Chicago","offset":-5,"tz":"CDT"}},"springVenue":{"id":2603,"link":"/api/v1/venues/2603″},"teamCode":"kca","fileCode":"kc","abbreviation":"KC","teamName":"Royals","locationName":"Kansas City","firstYearOfPlay":"1968″,"league":{"id":103,"name":"American League","link":"/api/v1/league/103″},"division":{"id":202,"name":"American League Central","link":"/api/v1/divisions/202″},"sport":{"id":1,"link":"/api/v1/sports/1″,"name":"Major League Baseball"},"shortName":"Kansas City","springLeague":{"id":114,"name":"Cactus League","link":"/api/v1/league/114″,"abbreviation":"CL"},"allStarStatus":"N","active":true},{"id":119,"name":"Los Angeles Dodgers","link":"/api/v1/teams/119″,"season":2021,"venue":{"id":22,"name":"Dodger Stadium","link":"/api/v1/venues/22″,"location":{"city":"Los Angeles","state":"California","stateAbbrev":"CA","defaultCoordinates":{"latitude":34.07368,"longitude":-118.24053}},"timeZone":{"id":"America/Los_Angeles","offset":-7,"tz":"PDT"}},"springVenue":{"id":3809,"link":"/api/v1/venues/3809″},"teamCode":"lan","fileCode":"la","abbreviation":"LAD","teamName":"Dodgers","locationName":"Los Angeles","firstYearOfPlay":"1884″,"league":{"id":104,"name":"National League","link":"/api/v1/league/104″},"division":{"id":203,"name":"National League West","link":"/api/v1/divisions/203″},"sport":{"id":1,"link":"/api/v1/sports/1″,"name":"Major League Baseball"},"shortName":"LA Dodgers","springLeague":{"id":114,"name":"Cactus League","link":"/api/v1/league/114″,"abbreviation":"CL"},"allStarStatus":"N","active":true},{"id":120,"name":"Washington Nationals","link":"/api/v1/teams/120″,"season":2021,"venue":{"id":3309,"name":"Nationals Park","link":"/api/v1/venues/3309″,"location":{"city":"Washington","state":"District of Columbia","stateAbbrev":"DC","defaultCoordinates":{"latitude":38.872861,"longitude":-77.007501}},"timeZone":{"id":"America/New_York","offset":-4,"tz":"EDT"}},"springVenue":{"id":5000,"link":"/api/v1/venues/5000″},"teamCode":"was","fileCode":"was","abbreviation":"WSH","teamName":"Nationals","locationName":"Washington","firstYearOfPlay":"1968″,"league":{"id":104,"name":"National League","link":"/api/v1/league/104″},"division":{"id":204,"name":"National League East","link":"/api/v1/divisions/204″},"sport":{"id":1,"link":"/api/v1/sports/1″,"name":"Major League Baseball"},"shortName":"Washington","springLeague":{"id":115,"name":"Grapefruit League","link":"/api/v1/league/115″,"abbreviation":"GL"},"allStarStatus":"N","active":true},{"id":121,"name":"New York Mets","link":"/api/v1/teams/121″,"season":2021,"venue":{"id":3289,"name":"Citi Field","link":"/api/v1/venues/3289″,"location":{"city":"Flushing","state":"New York","stateAbbrev":"NY","defaultCoordinates":{"latitude":40.75753012,"longitude":-73.84559155}},"timeZone":{"id":"America/New_York","offset":-4,"tz":"EDT"}},"springVenue":{"id":2856,"link":"/api/v1/venues/2856″},"teamCode":"nyn","fileCode":"nym","abbreviation":"NYM","teamName":"Mets","locationName":"Flushing","firstYearOfPlay":"1962″,"league":{"id":104,"name":"National League","link":"/api/v1/league/104″},"division":{"id":204,"name":"National League East","link":"/api/v1/divisions/204″},"sport":{"id":1,"link":"/api/v1/sports/1″,"name":"Major League Baseball"},"shortName":"NY Mets","springLeague":{"id":115,"name":"Grapefruit League","link":"/api/v1/league/115″,"abbreviation":"GL"},"allStarStatus":"N","active":true}]},"isApp":false,"isPremiumQueryParam":false,"lang":"en","queryString":"","shareOptions":{"shareUrl":"https://www.mlb.com/news/bold-predictions-for-all-30-mlb-teams-for-2021-season","twitterHandle":"mlb"},"storySlug":"bold-predictions-for-all-30-mlb-teams-for-2021-season","topicSlug":"","userAgent":"Mozilla/5.0 (Windows NT 10.0; Win64; x64) AppleWebKit/537.36 (KHTML, like Gecko) Chrome/89.0.4389.90 Safari/537.36″}}
window.adobeAnalytics = {"reportingSuiteId":"mlbglobal08,mlbcom08″,"linkInternalFilters":"mlb"}
window.globalState = {"tracking_title":"Major League Baseball","lang":"en"}
window.appId = "
/*–>*/
When it comes to making predictions for the 2021 MLB season, one doesn't need to wander too far out on a limb to, say, pick Mike Trout to win the American League Most Valuable Player Award.
But where's the fun in that?
Instead, ahead of Opening Day on Thursday, MLB.com asked its beat reporters to make one truly bold prediction for each club.
Here's what they came up with:
BLUE JAYS: Major Trade Deadline splash
The Blue Jays will make the headlining deal of the 2021 Trade Deadline. There's some logic to this, given where Toronto is in its competitive arc and the needs that remain on the roster. It's easy to forecast the Blue Jays being heavily involved in the pitching market at the Deadline — or even earlier — and they have the future payroll flexibility to add a large contract. That could continue to be a major advantage for the club, just as it was this past offseason. The other thing Toronto has working in its favor is the No. 7 farm system in baseball, as ranked by MLB Pipeline. This current roster has been built primarily through development and free agency, meaning the Blue Jays haven't needed to dip into their prospect pool to acquire outside talent just yet. When the time comes, Toronto will have all of the pieces necessary to swing a major deal. — Keegan Matheson
ORIOLES: Six top prospects debut
Of the Orioles' Top 30 prospects per MLB Pipeline, upwards of a dozen are knocking on the door to the big leagues. They probably won't all debut in 2021, but at least half of them easily could. Yusniel Diaz, Michael Baumann, Zac Lowther, Ryan McKenna, Alexander Wells and Jahmai Jones come to mind, with rookies Ryan Mountcastle, Dean Kremer, Keegan Akin and Bruce Zimmermann expected to play large roles, as well. Though the club's top top prospects, like Adley Rutschman, remain a little ways off, this wave could mark a turning point for an organization that's been rebuilding for several years now. — Joe Trezza
RAYS: Randy Arozarena and the farm system live up to the hype
That's a lot to ask, and in Arozarena's case, perhaps mathematically impossible. But there is so much near-ready talent atop the Rays' Top 30 prospects list, and a lot of those players are going to make a big impact this season. Arozarena will naturally come back down to earth a bit, but even a slight fall will leave him in the stratosphere. No. 1 overall prospect Wander Franco could change the dynamic of Tampa Bay's lineup at some point. Shane McClanahan and Luis Patiño will unleash their electric stuff. Vidal Bruján will soon be ready to fill a hole in the infield or outfield, if needed, and Josh Lowe is likely the club's next man up in the outfield. Brendan McKay, Taylor Walls, Joe Ryan and Kevin Padlo could also contribute this year. And here's another prediction: Brent Honeywell Jr. will make his long-awaited debut and get big outs for the Rays this season. — Adam Berry
RED SOX: Jarren Duran takes over center field (and bats leadoff) by June
Almost unfathomably, the thrilling and homegrown outfield trio (Andrew Benintendi, Jackie Bradley Jr. and Mookie Betts) that helped the Red Sox to a World Series in 2018 is entirely gone. Though the Sox have one solid piece in Alex Verdugo, they have an unknown in Franchy Cordero and a player in Hunter Renfroe who might be best served in a platoon role. This could pave the way for Duran, the club's No. 4 prospect, to make his entry to the Major Leagues fairly early in the season. Duran has speed to burn and emerging power, and he projects as a leadoff hitter. If he can complete his development at the alternate training site and Triple-A in a timely fashion, Duran could provide a major spark for the Red Sox. While Kiké Hernández deserves credit for embracing the chance to be the leadoff hitter, he would need to make a significant jump in his career stats to be effective in that spot. — Ian Browne
YANKEES: 308 or bust!
With Aaron Judge and Giancarlo Stanton both remaining healthy for most of the 2021 campaign, the Yankees will reclaim the Major League record for home runs in a single season by a team, a mark held by the '19 Twins (307). The Yanks established the previous high with 306 homers in '18, when Gleyber Torres led the squad with 38 home runs. Thanks to Yankee Stadium's hitter-friendly dimensions and the team's improved training regimen, they'll surpass the Minnesota "Bomba Squad" despite a slightly altered baseball intended to reduce year-to-year fluctuations in power numbers. — Bryan Hoch
INDIANS: At least three starters toss 200 innings
In any other year, maybe this wouldn't be considered as bold, but after a season in which no starter in the Majors threw more than 84 innings, this would be a monumental feat for a club that's going to rely heavily on its rotation. Reigning AL Cy Young Award winner Shane Bieber has done it before, recording 214 1/3 frames in 2019. But neither Zach Plesac nor Aaron Civale has been a part of a full 162-game season. Civale tossed a career-high 74 innings in '20, and Plesac reached 115 2/3 frames in '19, but these three have the potential to each hit the 200-inning mark. If they do it, it'll be the first time since 1999 that Cleveland has three hurlers do so in the same season, as Dave Burba, Bartolo Colon and Charles Nagy were the last to accomplish the feat. — Mandy Bell
ROYALS: Bobby Witt Jr. wins AL Rookie of the Year Award
For Witt, the Royals' top prospect and baseball's No. 7 prospect per MLB Pipeline, to win the AL Rookie of the Year Award would mean a lot has to go right. The 20-year-old infielder will not be on the Opening Day roster, so Witt would need the opportunity to come up in the early part of the season with everyday playing time and stick with the Royals the rest of the way. He was knocking at the door of the Majors with his performance for most of Spring Training, and the club won't hesitate to bring him up when he's ready and there's an opportunity. He would be Kansas City's first ROY since Angel Berroa won the award in 2003. — Anne Rogers
TIGERS: Miggy joins 3,000-hit, 500-homer club
Just six hitters in Major League history have reached both milestones, but Cabrera has the chance to achieve them in the same season. He needs 134 hits and 13 home runs to do it, both of which are reachable if he can stay healthy for a full season. It won't be automatic, as he nears his 38th birthday on April 18, but he hit 10 homers in the abbreviated 2020 season, and he churned out 139 hits in 136 games in '19. Moreover, the support he's getting from teammates and the energy boost he has shown from being able to play first base again have him looking a few years younger. — Jason Beck
TWINS: Byron Buxton plays 140 games
There. We said it. Laugh if you'd like, but Buxton showed up to camp this season with an additional 10-15 pounds added to his frame, and he's another year removed from the torn labrum in his left shoulder that ended his 2019 season and the associated soreness in the area following his surgery that cost him a few more games in '20. His frame is much more filled out from when he debuted in the Majors, which should better protect him from collisions and the rigors of the schedule — and 140 games isn't an unrealistic target considering he hit that mark in '17, when he won his Platinum Glove Award. With free agency slowly ticking closer following the '22 season, Buxton has every reason to be careful on the field and put together a full season. — Do-Hyoung Park
WHITE SOX: See you in the ALCS
For the first time in franchise history, the White Sox will reach the playoffs in consecutive seasons. But getting to the playoffs is not enough for this group. They have the offensive excellence throughout their lineup to offset the key loss of Eloy Jiménez, who could return near the end of the 2021 campaign. If they need to make an outside addition, general manager Rick Hahn said there's financial room to maneuver, and those maneuvers might come well before the Trade Deadline. The bullpen figures to be one of the best in baseball and the starting staff looks strong one through six, with the return of Carlos Rodón and Michael Kopech. All of these facts translate into a chance for the White Sox to emerge as one of the final two AL teams. — Scott Merkin
ANGELS: Angels win the division
The Angels will end their postseason drought and return to the playoffs for the first time since 2014 by winning the AL West. The offense will carry the team, while they'll get just enough help from the pitching staff to break into October play. The Astros and A's lost key free agents this offseason, which will help the Angels capture the division title. Heck, they might even win their first postseason game since '09 — or two years before Trout debuted. — Rhett Bollinger
ASTROS: Jose Altuve wins AL batting crown
Altuve, a three-time batting champion, is coming off easily the worst season of his career in which he hit .219 — nearly 100 points below his career average. Altuve didn't seem to be in a good frame of mind last year, coming off a winter that was dominated by the fallout of the sign-stealing scandal. He was nowhere close to the same player who won the '17 AL MVP Award, though he picked it up in the postseason. Altuve's teammates and coaches say he's back to his old self, which means he could have a huge year. — Brian McTaggart
ATHLETICS: Matt Olson wins AL MVP Award
The last time the A's played a full schedule in 2019, Olson hit .267 and bashed a career-high 36 homers. He managed to do this despite suffering a broken hamate bone in his right hand — an injury that usually saps some power from hitters for a while even after they return — just two games into the season. If he can hit that many home runs while missing 35 of the first 37 games of a season, just imagine how many he can hit when fully healthy with an entire season to work with. Entering '21 motivated to prove his .195 average over a shortened 60-game season last year was a fluke, Olson is already tearing through the Cactus League. He believes he's on track for a big year after working hard with hitting coach Darren Bush over the offseason to fix some mechanical issues with his setup at the plate. Combine a bounce-back year at the plate with his excellent defense that has brought him two Gold Glove Awards, and Oakland might have its first MVP Award winner since Miguel Tejada in '02. — Martín Gallegos
MARINERS: Jarred Kelenic wins AL Rookie of the Year Award
This might not be super bold, given that he is MLB Pipeline's No. 4 overall prospect and knocking on the Major League door. But given the Mariners' stance that he needs more Minor League development, and as such, won't be up in the Majors at the start of the season, he'll already be playing some catch up. The 21-year-old has exhibited all the raw tools in camp — from throwing to baserunning, and of course, hitting — but it's his polished approach and baseball IQ that have stood out most. There aren't many holes in Kelenic's compact swing, and he has the patience to work pitchers deep into counts and either take walks or feast on mistakes. He doesn't sell out for power, either. And if he reaches his self-professed goal of 30 stolen bases, that should supplement what could be some strong offensive numbers. Put it all together, and Kelenic should be in the mix to become the second straight Mariner to take home the hardware after Kyle Lewis was the unanimous winner in 2020. — Daniel Kramer
RANGERS: Isiah Kiner-Falefa wins another Gold Glove Award — this time at shortstop
Kiner-Falefa was a Gold Glove winner at third base in 2020, following two years as a utility infielder and catcher for the Rangers. He's a natural shortstop and he played 142 games at the position over seven Minor League seasons. He won the starting shortstop spot well before Spring Training even started, taking it from longtime Ranger Elvis Andrus before the organization dealt Andrus to Oakland for Khris Davis and Jonah Heim in the offseason. Manager Chris Woodward has praised Kiner-Falefa's hard work and dedication as he's taken over a leadership role in the infield left vacant by Andrus. Kiner-Falefa has the elite defensive abilities to at least be a finalist for the award in '21 — and he has a lot of motivation after FanGraphs ranked him dead last in its positional rankings.– Kennedi Landry
BRAVES: Ian Anderson and Cristian Pache finish 1-2 in ROY balloting
It's not too often you find a Rookie of the Year candidate who was in the starting lineup for Game 7 of a League Championship Series game the previous year, but that's what we have with both Anderson and Pache. Anderson produced a 1.95 ERA over six regular-season starts and worked 17 2/3 scoreless innings during the postseason before finally allowing a run in the third inning of Game 7 of the NLCS. He possesses one of the game's best changeups and has the potential to rival Mike Soroka's 2019 rookie season. Pache will instantly become a Gold Glove Award winner, and after some initial struggles, he will hit enough in the second half to draw strong consideration for this award. — Mark Bowman
MARLINS: "Bottom Feeders" reach postseason again
How bold are we talking? With a relatively clean bill of health on the pitching side, the Marlins will do just enough on offense to once again shock pundits by reaching the postseason for a second straight year. Turns out the combination of a young starting staff, a veteran-laden lineup, an experienced bullpen and a deep farm system can win enough close games to secure a Wild Card berth. Was that too bold? Miami will at least be part of the playoff chase into August, when the pitching begins to wear down during a long season. — Christina DeNicola
METS: Jacob deGrom produces his best season … ever
That's not to say deGrom will improve upon his otherworldly 1.70 ERA from his first Cy Young-winning campaign in 2018, but he could come close while reaching new heights in other areas. deGrom has consistently added velocity over the past three years — he hit 102 mph on the radar gun this spring — without sacrificing the refinement of his pitches. A couple minor muscle tweaks held him back from winning a third straight Cy Young Award last summer, but things might have been different over a full season. deGrom has already demonstrated his ability to stay strong as others fade. Now entering his age-33 campaign with relatively little mileage on his right arm, deGrom is primed to prove himself all over again as the best pitcher in baseball. Don't be shocked if he sets a career high in innings, approaches 300 strikeouts and, yes, with a better offense behind him, wins 20 games for the first time in his career. — Anthony DiComo
NATIONALS: Soto wins NL MVP Award
Soto finished fifth in NL MVP voting last year in his third Major League season, so it's not a stretch to think he will contend again in 2021. There is tough competition in the NL, with the four vote-getters who finished ahead of him returning to the same teams, but Soto has the potential to put up even more head-turning numbers than he has before. According to ZiPS, Soto is projected to lead all of baseball in RBIs (141) and slash .305/.420/.595 with a 1.015 OPS, 37 homers and 105 walks. The Nationals added power around him, as well, to protect his bat in the lineup. — Jessica Camerato
PHILLIES: Phillies go for it in July
Who cares about money? The Phillies will find themselves playing well in July, and president of baseball operations Dave Dombrowski will make a push for a piece to give his club an edge against the rest of the NL East. The Phils will move over the luxury tax threshold for the first time in franchise history as they chase their first postseason appearance since 2011. — Todd Zolecki
BREWERS: Christian Yelich hits 60 homers
Even with the new baseballs. (Hey, the instructions said "bold" and I'm swinging for the fences here.) Yelich is at his best when he plays with a chip on his shoulder, from the rumblings about "regression" going into 2019 to this spring, when he is bidding to bounce back from a .205 average and otherwise pedestrian — by his standards — production during the pandemic-shortened season. He went deep with Andy Haines, Yelich's first full-season manager in the Minors who is now Milwaukee's hitting coach, during a multi-day workshop over the winter in which they talked through '20 and worked extensively in the batting cage. The result this spring? "He looks like Christian up there," Haines said midway through camp. Maybe he won't actually get to 60 homers, but with the league's best pitchers watching their workloads this year, there's every reason to believe Yelich's numbers will look more like themselves, too. — Adam McCalvy
CARDINALS: Adam Wainwright gets NL Cy Young Award votes
Wainwright may be set to turn 40 in August, but he's pitching like he's bound to turn just 30. The right-hander has said that he's pitching better than he's ever physically felt before, with a 1.83 spring ERA to show for it, to go along with 20 strikeouts against just three walks. Jack Flaherty may be the Cardinals' true Cy Young candidate, but don't discount Wainwright from at least finding his name on some ballots. It was Wainwright who led the club in starts last season, pitching to a 3.15 ERA, and it was Wainwright who was the only Cards starter to make it out of the first inning in the rotation's first turn this spring. — Zachary Silver
CUBS: Javy wins NL MVP Award
A couple seasons ago, this would hardly have been considered a bold prediction. After all, Javier Báez was the runner-up for the trophy in his stellar 2018 season. But now? After what Báez went through last year? And with so many great shortstops throughout the game? It's definitely a bold prognostication. Last season, Báez hit .203 and ended with a 62 OPS+ in 59 games. He was vocal about the lack of in-game video hindering his routine and approach, and the energetic shortstop (like many players) looked a bit lost without an audience there in person to enjoy "The El Mago Show."
Well, Báez will have his video and Wrigley Field will have its fans (at 25 percent capacity to start the season). Báez started for the NL All-Star team at second base in 2018 and then started for the Senior Circuit at shortstop in '19. He led infielders in Outs Above Average in '19 and picked up his first career Gold Glove Award at short in '20. If his offense returns this season, and he pairs it with that stellar defense — not to mention all those made-for-GIF slides, tags and bat flips — then Báez might just be able to reach MVP heights. — Jordan Bastian
PIRATES: Hayes will get more than NL ROY Award votes
Ke'Bryan Hayes will win the NL Rookie of the Year Award. Is that not bold enough for you? Fine, he'll also garner NL MVP Award votes. What's not to love? Hayes is a guy who has been compared to Matt Chapman and Nolan Arenado on defense, can hit for power and average and is a threat on the basepaths. That's basically the blueprint for the types of players regularly earning MVP Award votes — and the hype is already there. Even if the Pirates don't compete, I don't think it's unimaginable that a great year by Hayes could sway a few voters to give him consideration. — Jake Crouse
REDS: Eugenio Suárez hits a club-record 55 home runs
Suárez has dropped 15 pounds and will move to shortstop, his natural position. That, combined with having a full season again and being able to see his family during the year under more normal conditions, will have the veteran slugger happier and more relaxed. And that will yield the similar good vibes he had when he crushed 49 homers in 2019. Suárez found '20 to be mostly a struggle until his power resurfaced down the stretch. The Reds' single-season record for homers is 52 by George Foster in 1977. Suárez is tied for second with Ted Kluszewski, but he very well could be standing alone with the record by the time '21 is complete. — Mark Sheldon
D-BACKS: D-backs make the playoffs
What do the last two D-backs' playoff teams — 2011 and '17 — have in common? In both years, Arizona was coming off last-place finishes and little was expected. Well, here we are in '21 and the D-backs are coming off a last-place finish and are not among most people's postseason predictions. The times the D-backs have underperformed came the year after those successful seasons when there were actual expectations. It's possible this year that Arizona will get enough from its pitching staff while its key offensive performers rebound from last year, helping the club find a way to earn a Wild Card spot. — Steve Gilbert
DODGERS: Dodgers win 110 games
Somehow, this doesn't feel bold enough. That's all you need to know about the talent on this year's Dodgers team. But the franchise's single-season wins record is 106, so that should give everyone some perspective on just how difficult it is to win that many games in the Majors. If this Dodgers team stays healthy for most of the season, they have a chance to break multiple franchise records. If a couple of things break Los Angeles' way, the '01 Mariners and 1906 Cubs, who share the all-time record with 116 wins, might be in danger of losing their mark. — Juan Toribio
GIANTS: Logan Webb emerges as the Giants' best starter
Webb debuted with the Giants in 2019, but he's logged a 5.36 ERA over his first two Major League seasons and has struggled to pitch deep into games on a consistent basis. Still, the 24-year-old right-hander has been untouchable this spring, firing 11 scoreless innings with three hits, 17 strikeouts and one walk over his first four Cactus League starts. Along with improved fastball command, Webb has flashed a devastating changeup that has the potential to be an elite secondary weapon moving forward. Everything seems to be coming together for Webb, who is poised to develop into a rotation mainstay for the Giants for years to come. — Maria Guardado
PADRES: Padres set the franchise wins record
The best team in franchise history — the 1998 Padres — won 98 games. This team is every bit as talented, if not more so. Whether a win total in the high-90s is enough to win the NL West remains to be seen. The Padres share a division with the defending-champion Dodgers, after all. But following a disheartening exit at the hands of L.A. last season, the Padres are hungry. — AJ Cassavell
ROCKIES: Cron has found a home
C.J. Cron, who joined the Rockies on a Minor League contract but was clearly signed to be the regular first baseman, has shown when he gets consistent playing time that he can be counted on for high home run totals. After having his playing time with the Angels early in his career limited by the presence of Albert Pujols, Cron hit 30 homers with the Rays in 2018 and knocked 25 with the Twins in 2019 while playing through a right thumb injury. He went to the Tigers last year and early indications were good until he sustained an early season knee injury that cost him the rest of the year. Cron will exceed 30, and put himself in line for a multi-year contract. And the Rockies will end up signing him as the answer to a longtime headache position in the infield. — Thomas Harding