Basketball
Bohnenkamp: Iowa, UConn More Than Clark-Bueckers' Matchup | Basketball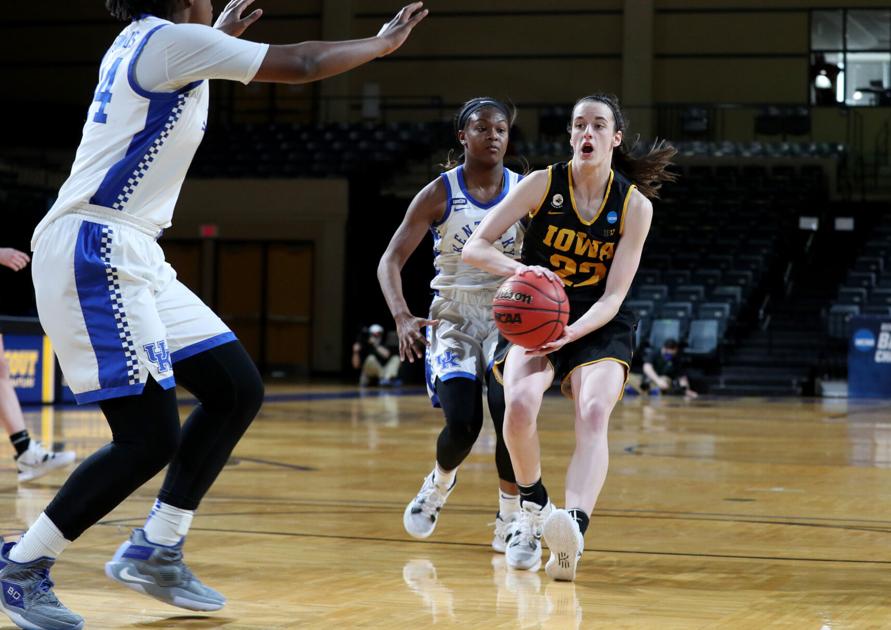 The side glance spoke volumes.
Caitlin Clark knew the question was coming during Thursday's press conference, it was only a matter of when.
"We know that this game is between two teams, but everybody wants to see the matchup between you and Paige…"
Clark's eyes immediately shifted to someone to her left. She smiled with a kind of here-we-go-again look.
Iowa's NCAA tournament regional semifinal game against UConn does have that big-players-on-a-big-stage feeling.
Noon, Saturday, a national TV audience on ABC.
Clark, the Iowa freshman guard who leads the nation in scoring, against UConn's Paige Bueckers, a freshman guard who is just as dynamic with perhaps a little more attention to her game.
Big storylines, but Clark is only interested in the team part of it.
So, you can ask the question, but she isn't going to give you the answer you want.
There's a big-picture focus that Clark has about this.
"Obviously, we both have had great respective seasons," Clark said. "It's so great for the women's game. More and more people are noticing, more people are watching. I think a lot of people are going to tune in for this game, and that's exactly what you want for women's basketball. I think that's the whole goal that all women athletes are trying to get across right now — there can be multiple superstars, there can be multiple good players. It doesn't have to be one end-all, be-all, and that's what we have to do to keep growing this game."
UConn coach Geno Auriemma wasn't about to get into comparisons either.
"It's been a while since you have two kids that have had this kind of an impact, both on their teams and on the game itself nationally," Auriemma said. "To have one is cool. To have two and to be so alike in so many ways … unfortunately they're going to be put in a situation where, it's like a big football game, when they say it's (Tom) Brady versus Aaron Rodgers, and it couldn't be further from the truth. It's two really, really young kids, really good players who do a lot for their teams. But like it always is in these games, they're just a part of it. I think they would tell you that hey, we appreciate the attention, but I think it's better if it's left to Iowa versus UConn."
And that's what this will be, although the two guards will draw the most attention.
Clark averages 26.8 points, Bueckers 19.9. Clark leads the nation in assists, Bueckers is sixth. Clark leads the nation in field goals, points, 3-point goals made and attempted.
"Everybody saw Caitlin Clark play," Auriemma said. "If you didn't, you were recruiting some place else where that type of player wasn't on your radar, because you don't recruit at that level. Every Division I coach that's been out there certainly knows of her, and has seen her play. And I don't think any of them are surprised at what she's doing. It's the same thing that she was doing in the summer, and a lot of the same things she was doing for USA Basketball.
"You're always kind of 'Wow!' when they do it this quickly and they do it this well. But you knew it was going to happen. You didn't know quite how long it would take, and obviously it didn't take long at all."
There is something bigger here, though. UConn is UConn, one of the elite programs in women's basketball. Iowa is a bit of a surprise getting to the Sweet 16, but Clark was quick to issue a correction when someone referred to the Hawkeyes as an "upstart" team.
"Obviously, this is our second consecutive Sweet 16," Clark said. "Iowa's been here — they were just to the Elite Eight (in 2019) with Megan (Gustafson). Coach Bluder has been around a long time, she knows what she's doing. She's been here, she knows how to lead teams in the NCAA tournament. That's another reason why I came here, because she just flat-out wins."
The starting lineup that takes the court for Iowa on Saturday will consist of Clark, sophomores McKenna Warnock, Kate Martin and Gabbie Marshall, and junior Monika Czinano. Whatever happens this season, Clark said, is part of the construction of the future.
"We're just focused on building a consistent culture," she said. "We want to be here every single year, for the next three years I'm here."
So, the Hawkeyes have no fear that they'll be facing the top-ranked team in the nation.
Iowa averages 86.6 points per game, second-best in the nation. UConn is No. 4 at 82.8.
The Hawkeyes don't plan on changing their approach.
"That's us," Bluder said. "If you start going away from what you've been doing, what's got you here, that can cause problems. So we have to do what's gotten us here. We like to score quickly. We like to take good shots — it's not that we want to take bad shots. We do want to push the game."
"I agree with her 100 percent," Auriemma said. "When you get to this stage, you've got to be who you are. You're not going to come in here and say, we've played a certain way for 28 games, 29 games, and now we're going to play a different way.
"I think if you try to change too much, I think the kids lose a little bit of what got you here."
What got Iowa here was a talented lineup led by one of the best freshmen in the country. What got UConn here was a talented roster led by one of the best freshmen in the country. It's about the teams, not about the two young stars, and they'll tell you that.
Still, it's going to be fun. And it's an opportunity, Clark said.
"Personally, I'm not going to be star-struck," Clark said. "Obviously that's a team you grow up watching. It's a cool opportunity, more than anything, and that's what the coaches have been telling us, you have a chance to do something special here.
"When we step on the court, we're not scared."