South Africa
Bestaven holds lead >> Scuttlebutt Sailing News
Read more at www.sailingscuttlebutt.com
(December 18, 2020; Day 41) – The first three Vendée Globe boats are into the Pacific Ocean today and have passed the midpoint of the 24410 nautical miles race-course around the world. Yannick Bestaven, the skipper of Maître Coq IV, who has had a very consistent race since the start, has held the lead for over 24 hours now, more than 100 miles up on Thomas Ruyant on LinkedOut who had to stop for several hours last night when his bow compartment filled up when he was asleep.
The southern Pacific Ocean between the longitude of Tasmania and New Zealand has proven to be just a little bit too peaceful for the liking of leaders Yannick Bestaven, Charlie Dalin and Thomas Ruyant today as the pacemaking trio have been slowed, conceded nearly 100 miles to the chasing group of boats who have enjoyed perfect conditions.
Perhaps the most nervous of all has been Yannick Bestaven, who has been leading Dalin and Ruyant for more than two days.
Stuck for most of today in a zone of calms the skipper of Maître CoQ has seen his margin shredded to less than 50 nautical miles by Dalin who has been pushing hard to regain the lead he lost to a technical failure which required him to slow to a crawl and repair for nearly 24 hours.
And in third place Thomas Ruyant appears to have made a risky attempt to get back on terms with the leaders by trying to go north and cross the high pressure ridge's light winds to hitch himself first to the next low pressure system, a strategy which rival Dalin believes might have offered him rich pickings had his timing been just a little earlier and his speeds faster.
"It was an option that required a big investment at the outset but which meant losing ground sailing in light winds, to gain big afterwards." Said Dalin early this morning; "It's not totally dead for him. But you had to sail in light wind to make some gains afterwards. We can't say yet that it won't work but I think there is a chance now that his timing is screwed up because of his little problem.
"For me it was do-able, but the percentages of the polars that I had to sail to to make it was very high and I had told myself this was not my option. It is a huge gain if it works and big loss if it doesn't. It's a daring option, if I had been in his place I think I would have done the same." In second, Dalin is nearly 100 miles ahead of Ruyant again.
The expansion and compression, gains and losses between the leading groups, are very typical of racing in the southern oceans where so much is pre-determined by the timing of the low pressure systems tracking east and the high pressure zones in between them.
And this edition of the race is significantly slower than the 2016-17 edition. Four years ago at this stage eventual leader Armel Le Cléac'h was nearly half way closer to Cape Horn which he rounded on 23rd December after just 47 days of racing. Vendée Globe meteo supplier Christian Dumard is predicting the leader will pass the famous Cape on the last day of 2020.
"This is a very different race." Suggested his associate Sébastien Josse this morning, three times Vendée Globe racer, "Not only have the meteo conditions been very different, slowed in the South Atlantic, a difficult, disorderly Indian Ocean and now light winds for the leaders.
But the last two editions have featured pairs of skippers who knew their boats perfectly, who were prepared to push them hard and had the confidence of having a few Vendée Globe races under their belts and having confidence in their boats. Right now there has been some damage, because of COVID we lost two Transatlantic Races and so perhaps there is a bit more caution."
Prudency, the desire to keep his boat at 100% has been very much part of the patient, long term strategy for Germany's Boris Herrmann who is on his third racing circumnavigation and his fourth round the world challenge. He is steadily making inroads into Jean Le Cam's fourth place, just eight miles behind the French veteran this evening.
Explaining the differences seen between the Indian and the Pacific, Volvo Ocean Race winner Franck Cammas – who was awarded France's Sailor of the Decade Award yesterday – explained, "Conditions in the Indian Ocean are dictated by the weather and the wind on the surface. It varies from year to year. One often says that the Indian Ocean can be rougher because you get the tropical storms coming down.
"There tends to be more violent changes and in particular in how the weather system moves there. The pacific is bigger, calmer, that is maybe why it is called that! If you look the experience people have had, it does vary with some having had quite easy Indian Ocean crossing and then tougher Pacific ones."
Meanwhile eighth placed Louis Burton is still expected to pit-stop briefly in the shelter of Macquarie Island which is 260 miles in front of him to make repairs.
Alexia Barrier, TSE – 4myplanet, said today, "It's going well, that's cool. I'm trying hang on to the front and have as much sail up as I can manage. It's not very comfortable, but we are much faster. I'd like to avoid being caught up by Clément (Giraud). If I miss can't hang on to the front, I'll have to go down too far south, and it will make me lose time. I also like to pass Cape Leeuwin for Christmas; it would be a great gift! I always take great care of my boat.
I had a pilot problem last night just when I was about to get a bit of rest and had to use the spare pilot. Today I'm going make up as much ground as I can going East and try to fix it. But I understand after 40 days that my pilot has had enough and wants a holiday for Christmas! As I don't have a coach roof, my electronics are very exposed. I'd rather have everything in working order before attacking the Pacific."
Ranking – 21:00 (GMT)*
1. Yannick BESTAVEN, Maître CoQ IV – 11487.6 nm DTF
2. Charlie DALIN, APIVIA – 57.54 nm DTL
3. Thomas RUYANT, LinkedOut – 150.86 nm DTL**
4. Jean LE CAM, Yes We Cam! – 348.28 nm DTL
5. Boris HERRMANN, SEAEXPLORER – YACHT CLUB DE MONACO – 362 nm DTL
DTF – Distance to Finish; DTL – Distance to Lead
* Time awards given to Yannick Bestaven, Jean Le Cam, and Boris Herrmann for their participation in the rescue of Kevin Escoffier will be applied when the skipper finishes. – Details
** Damaged port foil on Nov. 24 at 02:00.
Race details – Boat types – Tracker – Ranking – YouTube
The Vendée Globe is the only sailing race round the world that's solo, non-stop, and without assistance, and it was all systems go for the 9th edition on November 8. Beginning in 1989 with 13 entries, and held every four years, the start line in 2020 had 33 skippers taking off from Les Sables d'Olonne, France.
The development of the IMOCA Class toward foiling will see these boats hurl themselves around the world, teetering on carbon skates through inhospitable regions, chasing the record set in 2016-17 by Armel le Cléac'h of 74:03:35:46.
2020-21 Attrition
Nov. 16, 2020 – Nicolas TROUSSEL, CORUM L'EPARGNE – dismasted
Nov. 28, 2020 – Alex THOMSON, HUGO BOSS – rudder damage
Nov. 30, 2020 – Kevin ESCOFFIER, PRB – hull damage (sunk)
Dec. 4, 2020 – Sébastien SIMON, ARKEA PAPREC – foil damage
Dec. 5, 2020 – Sam DAVIES, Initiatives-Cœur – keel damage (collision)
Dec. 11, 2020 – Fabrice AMEDEO, NEWREST – ART & FENÊTRES – computer failure
Participation history:
1989-90: 13 boats at the start
1992-93: 15 boats
1996-97: 15 boats
2000-01: 24 boats
2004-05: 20 boats
2008-2009: 30 boats
2012-2013: 20 boats
2016-2017: 29 boats
2020-2021: 33 boats
2020-21 Entries
Fabrice AMEDEO: NEWREST – ART & FENÊTRES
Romain ATTANASIO: PURE – BEST WESTERN
Alexia BARRIER: TSE – 4MYPLANET
Yannick BESTAVEN: MAÎTRE COQ IV
Jérémie BEYOU: CHARAL
Arnaud BOISSIÈRES: LA MIE CÂLINE – ARTISANS ARTIPÔLE
Louis BURTON: BUREAU VALLÉE 2
Didac COSTA: ONE PLANET ONE OCEAN
Manuel COUSIN: GROUPE SÉTIN
Clarisse CREMER: BANQUE POPULAIRE X
Charlie DALIN: APIVIA
Samantha DAVIES: INITIATIVES-CŒUR
Sébastien DESTREMAU: MERCI
Benjamin DUTREUX: OMIA – WATER FAMILY
Kevin ESCOFFIER: PRB
Clément GIRAUD: COMPAGNIE DU LIT / JILITI
Pip HARE: MEDALLIA
Boris HERRMANN: SEA EXPLORER – YACHT CLUB DE MONACO
Ari HUUSELA: STARK
Isabelle JOSCHKE: MACSF
Jean LE CAM: YES WE CAM !
Stéphane LE DIRAISON: TIME FOR OCEANS
Miranda MERRON: CAMPAGNE DE FRANCE
Giancarlo PEDOTE: PRYSMIAN GROUP
Alan ROURA: LA FABRIQUE
Thomas RUYANT: LINKEDOUT
Damien SEGUIN: GROUPE APICIL
Kojiro SHIRAISHI: DMG MORI
Sébastien SIMON: ARKEA – PAPREC
Maxime SOREL: V AND B – MAYENNE
Alex THOMSON: HUGO BOSS
Armel TRIPON: L'OCCITANE EN PROVENCE
Nicolas TROUSSEL: CORUM L'ÉPARGNE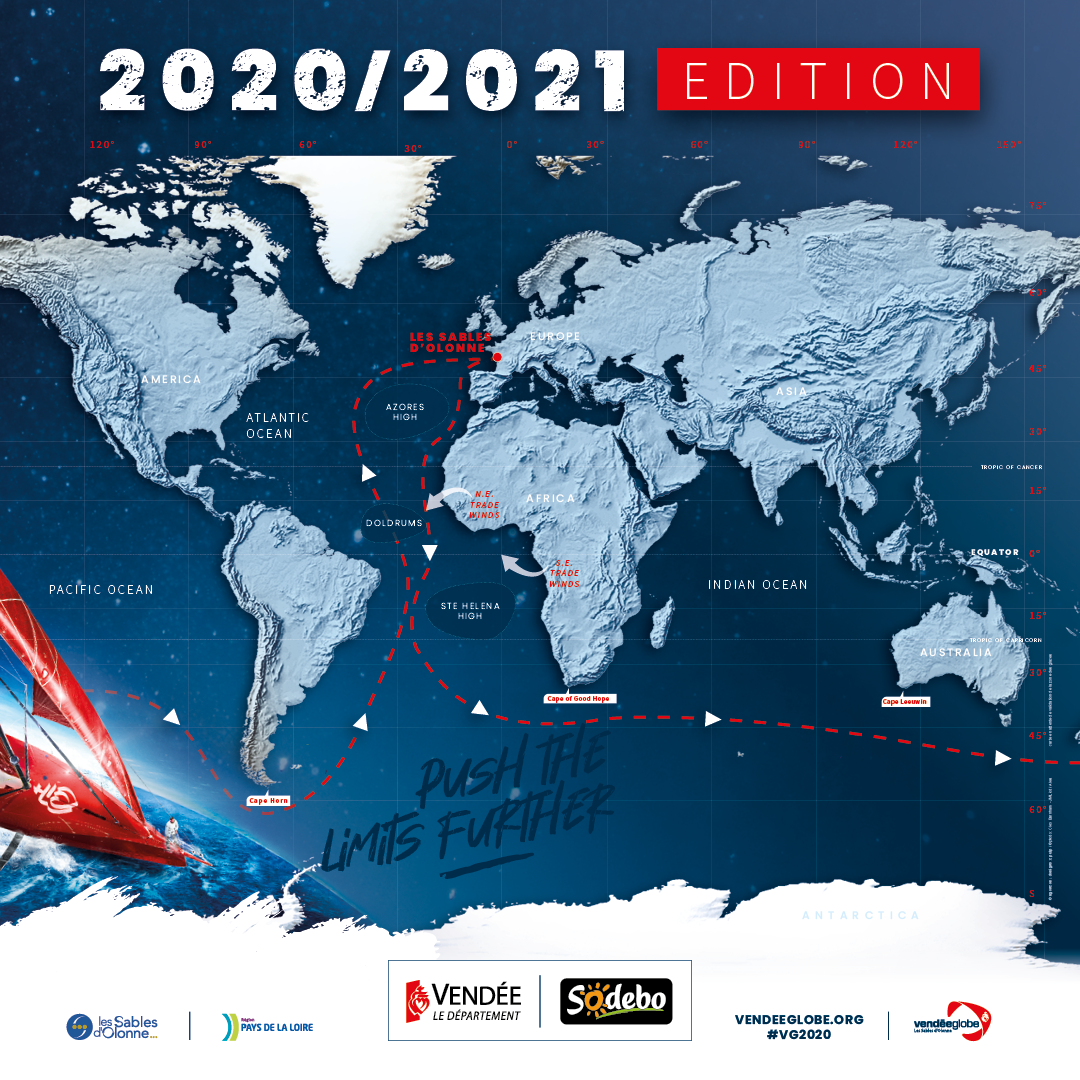 Source: Vendée Globe