Football
Bears' Ulrich signs with WSC football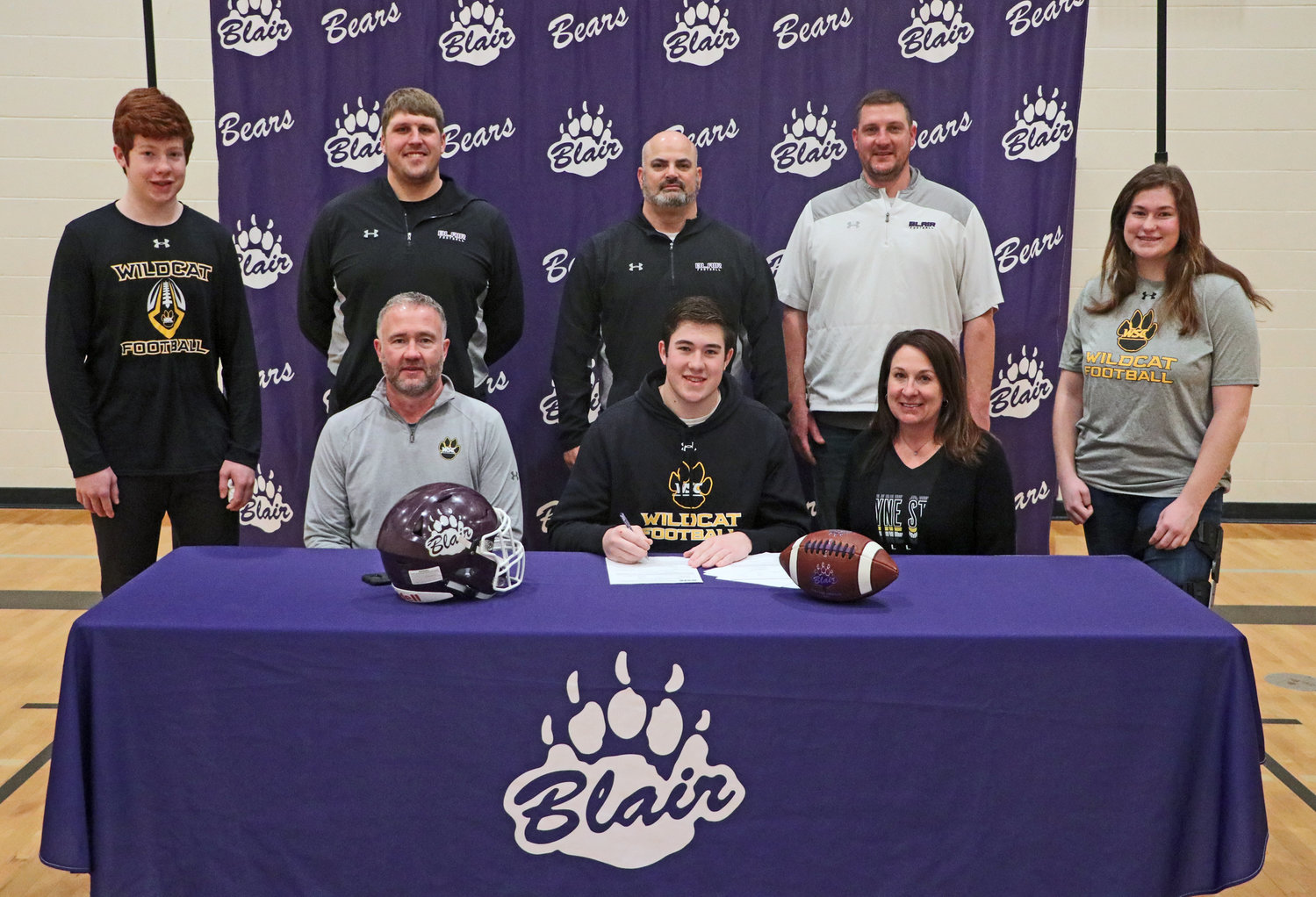 By Grant Egger – [email protected]
Blair High School senior Nolan Ulrich made the most of his offseason.
"This past quarantine (in 2020), I spent a lot of my time lifting, exercising and getting myself ready," the football lineman said. "It just all came together. I grew 1.5" and I put on 20 pounds of muscle, and just took it from there."
The Bear had a breakout senior season last fall, totaling 26 tackles and recording team highs in sacks (2.5) and tackles for loss (7.5). His efforts led to national signing day, Feb. 3, when he signed with the Wayne State College Wildcats. Ulrich, his family and teammates celebrated the move Wednesday morning at BHS.
The 6-foot-5, 260-pounder started his ascent to college football in Blair's fall opener against Plattsmouth. The offensive and defensive lineman was a terror against the Blue Devils, breaking through the line and mauling ball carriers to the ground behind the line of scrimmage.
"First varsity start ever," Ulrich said, noting his successes in the opener. "It kind of helped me realize, 'Oh, I'm meant to be here. I can actually do something for this team.'"
The senior sustained his level of play as BHS' 6-4 year went on.
"With more experience through the season, the easier it was," he said.
Ulrich's favorite game was a rout against Omaha Gross, while his favorite moment was a strip sack against Omaha Roncalli. As his accomplishments increased, he decided to investigate his recruitment opportunities.
"I came onto the scene late, so I didn't know what to expect," the Bear said.
But college programs took interest, Wayne State among them. Ulrich said he's excited to be apart of the Wildcats' recruiting class, which includes teammate Dex Larsen and several other names local to the area.
"A lot of these guys were state runner-ups or in the state playoffs," said the future WSC lineman. "So, we all know how to work hard. It's going to be a great turnout I feel like."
Ulrich said he hopes to become a Wildcat starter one day. He'll work toward that goal while studying physical therapy.