South Africa
Ask Steven – How many players have been dismissed by the very first ball of a Test on debut?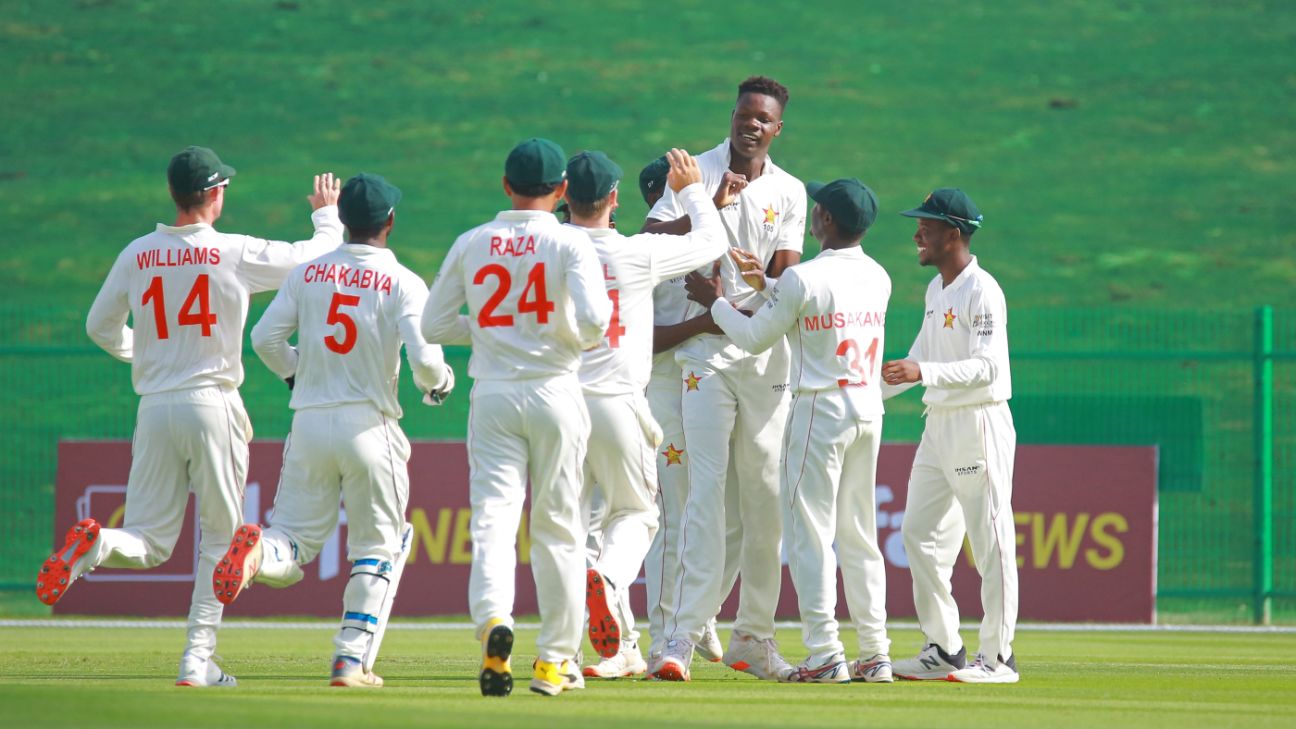 Ask Steven
And how many men made their highest score in their last Test?
After his first series, Axar Patel's bowling average was just over 10. Has anyone got a lower one than this? asked Siddharth Menon from India
In his first three Tests, India's slow left-armer Axar Patel took 25 wickets – as we noted last week, only Narendra Hirwani of India (31) and Australia's Charles Turner (29) had more after three matches. But Patel's average of 10.59 is unmatched: among those that took at least 15 wickets in Tests, the next-lowest average is 10.75, by the 19th-century England seamer George Lohmann. He sustained that average over 18 Tests, in which he took 112 wickets, so Axar has a lot to live up to. Of those who took at least 15 wickets, Turner (8.55) and two other Australians, Ernie Toshack (9.27) and Jack Iverson (10.50), did have better averages than Patel after three matches.
There's another current bowler high on this list: the tall New Zealand seamer Kyle Jamieson who has an average of 13.27 after six matches, in which he took 36 wickets.
Abdul Malik of Afghanistan, who was making his debut, was dismissed by the very first ball of their recent Test against Zimbabwe. Has anyone else suffered this fate? asked David Campbell from England
The unfortunate Adbul Malik, who was bowled by Zimbabwe's Blessing Muzarabani in Abu Dhabi last week, was actually the third man to be dismissed by the opening delivery of his Test debut. He followed South Africa's Jimmy Cook, against India in Durban in 1992-93, and the West Indian Leon Garrick, against South Africa in Kingston in 2000-01 (Garrick never played another Test). For the full list of those dismissed by the first ball of a Test, click here.
How many men made their highest score in what turned out to be their last Test match? asked Mike Johnston from England
You have to impose some sort of qualification here, otherwise everyone who played only one Test – and quite a few people who played only a few – would swamp the list. But if we look at players who appeared in at least ten Tests, only ten finished their careers with a score of 100 or more in their final match.
Top of the list is England's Andy Sandham, with 325 against West Indies in Kingston in 1929-30. The Australian opener Bill Ponsford made a career-best 266 in his final Test, against England at The Oval in 1934, while the West Indian Seymour Nurse signed off with 258 against New Zealand in Christchurch in 1968-69. The others are Jason Gillespie of Australia (201 not out in 2005-06), Maurice Leyland (187 in England's 903 for 7 at The Oval in 1938), India's Vijay Merchant (154 in 1951-52), Reggie Duff of Australia (146 in 1905), Jack Russell (the Essex batsman not the Gloucestershire wicketkeeper; 140 in 1922-23) and England's Raman Subba Row (137 in 1961).
The next name on the list is a famous one, even though he just missed a century: Harold Larwood, in as a nightwatchman, made his highest score of 98 in his final Test, against Australia in Sydney at the end of the 1932-33 Bodyline series.
Had Zimbabwe ever won a Test by ten wickets before? asked Mike Makwana from England
That two-day victory over Afghanistan in Abu Dhabi was only Zimbabwe's 13th victory, in their 111th Test (they have lost 70, and drawn 28). They had never won a Test by ten wickets before, but they have won two by an innings – against Pakistan in Harare in 1994-95, their first Test victory (by an innings and 64 runs), and by an innings and 32 over Bangladesh in Bulawayo in 2000-01. Zimbabwe also beat Bangladesh by 335 runs in Harare in 2012-13.
What unique Test record is held by Bert Vogler? asked Azweer from India
Bert Vogler was perhaps the best of the phalanx of South Africa wristspinners who caused problems early in the 1900s after the googly was developed. Vogler took 64 wickets in his 15 Tests, with a best return of 7 for 94 to bowl his side to a narrow 19-run victory over England in Johannesburg in 1909-10.
A little more than two years before that, Vogler had claimed 7 for 128 against England at Lord's in July 1907. He was the first to take two seven-fors for South Africa, and their first bowler to do it at Lord's. But I think the unique record you're referring to dates from Vogler's Test debut, also against England in Johannesburg, in January 1906. First, Vogler took a wicket (Surrey's Ernie Hayes) with the first ball he bowled in Test cricket. Then, when South Africa batted, Vogler fell to the first delivery from another debutant, Jack Crawford, another Surrey player. For the list of bowlers who struck with their first ball in Test cricket, click here.
Use our feedback form, or the Ask Steven Facebook page to ask your stats and trivia questions
Steven Lynch is the editor of the updated edition of Wisden on the Ashes