South Africa
650 miles to Point Nemo >> Scuttlebutt Sailing News
Read more at www.sailingscuttlebutt.com
(December 24, 2020; Day 47) – Strategies are now diverging significantly between the leading two skippers Thomas Ruyant and Charlie Dalin at the front of the Vendée Globe fleet. Ruyant has split north to seek a low pressure system first, looking to reap the rewards of a fast downwind ride after the weekend but he must sail many more miles, some of them at an oblique angle to the best course east – and some of them potentially upwind into 25-30 knots of wind.
While third placed Thomas Ruyant has now dropped to be over 300 miles behind leader Bestaven, as the distance to the finish line dropped today to be less than 10,000 nautical miles, so it seems that Dalin might be rewarded by returning to the race lead on Christmas Day, by virtue of his more direct course.
Dalin said today, "The situation is tense, we're trying to escape from the high-pressure bubble and trying not to get swallowed up, but depending on the weather models, we could get through or we might not. It's not easy on the nerves to deal with.
"What is certain is that my decision was taken based and supported by my initial position to the south. Going north meant drawing a "huge circumflex accent" (an upturned V) in the Pacific and my southern route I think means a better chance of finding a favorable outcome. But I decided to dare, to try and to believe. Every mile gained towards the East is a victory but it is still too early to draw conclusions.
Asked about the sub 10,000 miles marker he said, "I've been looking at this number for quite some time like many others and it's true that it's symbolic to pass this milestone. It's a good thing, like a milestone; I like these markers that make the race more enjoyable!"
In 17th Pip Hare is relishing the tough going on her first time in the big south. The English skipper continues to impress the French cognoscenti and long time race fans with her ability to attack on her evergreen 20 year old IMOCA. Today she is threatening to pass French skipper Arnaud 'Cali' Boissières who is on his fourth consecutive Vendée Globe on a 2007-8 design which has been retrofitted with foils and has been posting consistently fast speeds and high 24 hour runs.
"I want to salute the very good race of Pip Hare who, with a 1999 boat (Superbigou, built by Bernard Stamm), a late and modest budget, stands up to skippers benefiting from newer and updated boats with foils. Her routes are beautiful and smooth, we can see that she knows how to use the weather and navigate, I find what she is doing is quite fantastic on a high level." Wrote Yoann Richomme today in the French e-newsletter Tip & Shaft
Laying to rest the ghosts of Christmas past, for Stéphane Le Diraison on Time for Oceans, this Christmas period is a long awaited contrast to four years ago. At this time in 2016 after breaking the mast of the same IMOCA 60 that he is racing this time he was crawling at five or six knots towards Melbourne, Australia.
After passing Cape Leeuwin two days ago, Le Diraison has also crossed the point where he lost his mast on the 42nd day of racing last time. "It was a long, long, long time to get to Melbourne and so in fact Christmas was a welcome diversion to open presents and to open presents and to be alone on the boat. But to be honest I prefer this time with a mast. I am looking forwards to learning the Pacific now, here I am living my dream."
Paul was in third place at the time and was going really well before he broke his hydraulic keel ram and he had to lash it in the middle. He was further across the Pacific and so the safest thing was for him to go to Tahiti. It was stressful for him as it took him ten days and it was a stressful time for us. He could not go to New Zealand as it was upwind. We did want him to go all the way to Chile as it was a lee-shore. I had to head out with the team on Boxing Day.
At the same time Hutchinson had to juggle with the logistics and management of a difficult situation with Enda O'Coineen the Irish skipper who was dangerously fatigued due to computer and other issues and had to stop into Stewart Island. He dismasted not long after leaving.
This year Hutchinson's skipper Thomas Ruyant is in third place, again, but in much more placid sailing conditions, dealing this time with too little wind rather than too much. "In fact it was a great experience in Tahiti but it was a Christmas with the family ruined. And it was very, very disappointing for Paul as he was in third place at the time."
Ranking – 21:00 (GMT)*
1. Yannick BESTAVEN, Maître CoQ IV – 9818.25 nm DTF
2. Charlie DALIN, APIVIA – 1.58 nm DTL
3. Thomas RUYANT, LinkedOut – 328.17 nm DTL**
4. Jean LE CAM, Yes We Cam! – 336.17 nm DTL
5. Boris HERRMANN, SEAEXPLORER – YACHT CLUB DE MONACO – 339.02 nm DTL
DTF – Distance to Finish; DTL – Distance to Lead
* Time awards given to Yannick Bestaven, Jean Le Cam, and Boris Herrmann for their participation in the rescue of Kevin Escoffier will be applied when the skipper finishes. – Details
** Damaged port foil on Nov. 24 at 02:00.
Race details – Boat types – Tracker – Ranking – YouTube
The Vendée Globe is the only sailing race round the world that's solo, non-stop, and without assistance, and it was all systems go for the 9th edition on November 8. Beginning in 1989 with 13 entries, and held every four years, the start line in 2020 had 33 skippers taking off from Les Sables d'Olonne, France.
The development of the IMOCA Class toward foiling will see these boats hurl themselves around the world, teetering on carbon skates through inhospitable regions, chasing the record set in 2016-17 by Armel le Cléac'h of 74:03:35:46.
2020-21 Attrition
Nov. 16, 2020 – Nicolas TROUSSEL, CORUM L'EPARGNE – dismasted
Nov. 28, 2020 – Alex THOMSON, HUGO BOSS – rudder damage
Nov. 30, 2020 – Kevin ESCOFFIER, PRB – hull damage (sunk)
Dec. 4, 2020 – Sébastien SIMON, ARKEA PAPREC – foil damage
Dec. 5, 2020 – Sam DAVIES, Initiatives-Cœur – keel damage (collision)
Dec. 11, 2020 – Fabrice AMEDEO, NEWREST – ART & FENÊTRES – computer failure
Participation history:
1989-90: 13 boats at the start
1992-93: 15 boats
1996-97: 15 boats
2000-01: 24 boats
2004-05: 20 boats
2008-2009: 30 boats
2012-2013: 20 boats
2016-2017: 29 boats
2020-2021: 33 boats
2020-21 Entries
Fabrice AMEDEO: NEWREST – ART & FENÊTRES
Romain ATTANASIO: PURE – BEST WESTERN
Alexia BARRIER: TSE – 4MYPLANET
Yannick BESTAVEN: MAÎTRE COQ IV
Jérémie BEYOU: CHARAL
Arnaud BOISSIÈRES: LA MIE CÂLINE – ARTISANS ARTIPÔLE
Louis BURTON: BUREAU VALLÉE 2
Didac COSTA: ONE PLANET ONE OCEAN
Manuel COUSIN: GROUPE SÉTIN
Clarisse CREMER: BANQUE POPULAIRE X
Charlie DALIN: APIVIA
Samantha DAVIES: INITIATIVES-CŒUR
Sébastien DESTREMAU: MERCI
Benjamin DUTREUX: OMIA – WATER FAMILY
Kevin ESCOFFIER: PRB
Clément GIRAUD: COMPAGNIE DU LIT / JILITI
Pip HARE: MEDALLIA
Boris HERRMANN: SEA EXPLORER – YACHT CLUB DE MONACO
Ari HUUSELA: STARK
Isabelle JOSCHKE: MACSF
Jean LE CAM: YES WE CAM !
Stéphane LE DIRAISON: TIME FOR OCEANS
Miranda MERRON: CAMPAGNE DE FRANCE
Giancarlo PEDOTE: PRYSMIAN GROUP
Alan ROURA: LA FABRIQUE
Thomas RUYANT: LINKEDOUT
Damien SEGUIN: GROUPE APICIL
Kojiro SHIRAISHI: DMG MORI
Sébastien SIMON: ARKEA – PAPREC
Maxime SOREL: V AND B – MAYENNE
Alex THOMSON: HUGO BOSS
Armel TRIPON: L'OCCITANE EN PROVENCE
Nicolas TROUSSEL: CORUM L'ÉPARGNE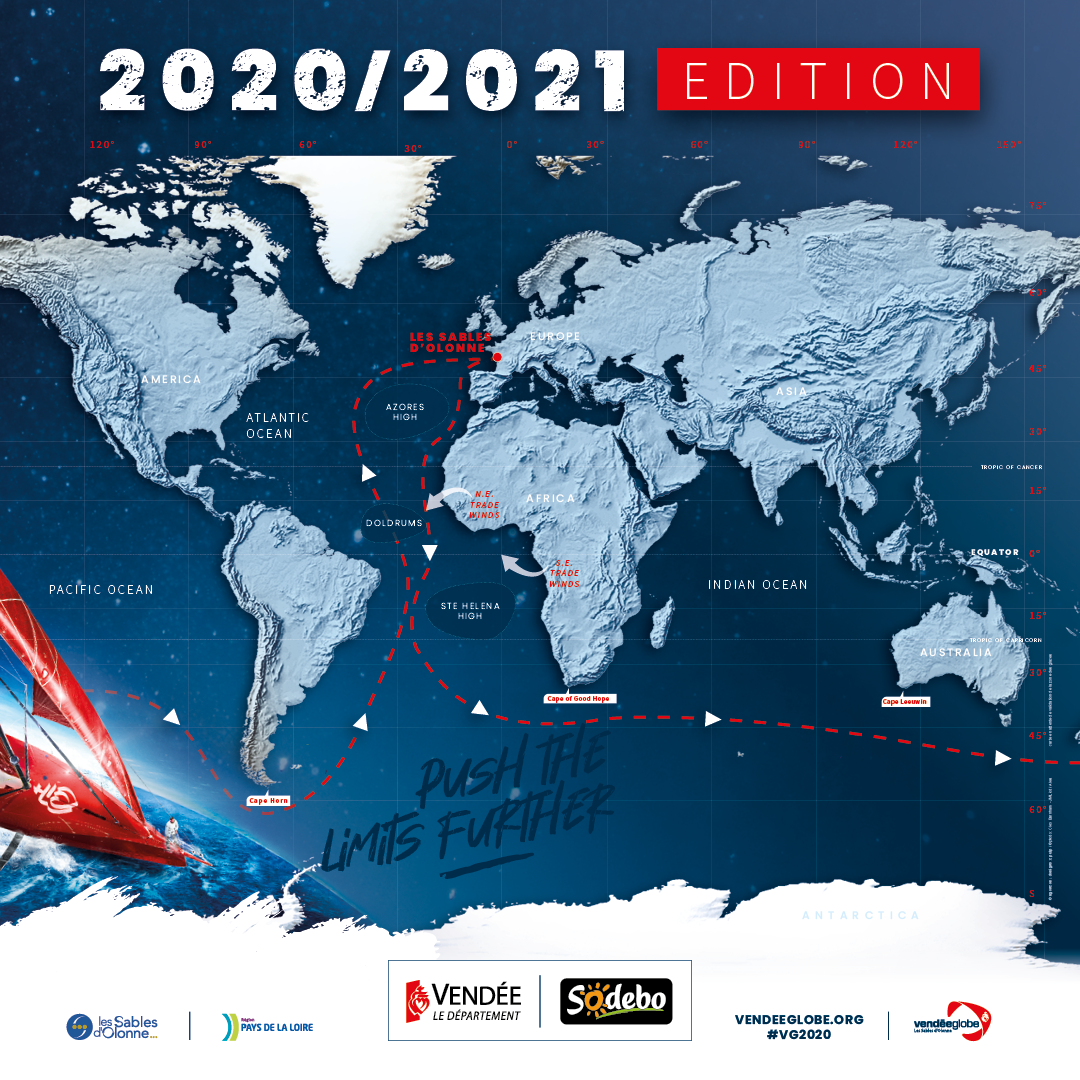 Source: Vendée Globe