NASCAR
21 Things We Can't Wait to See in Motorsports in 2021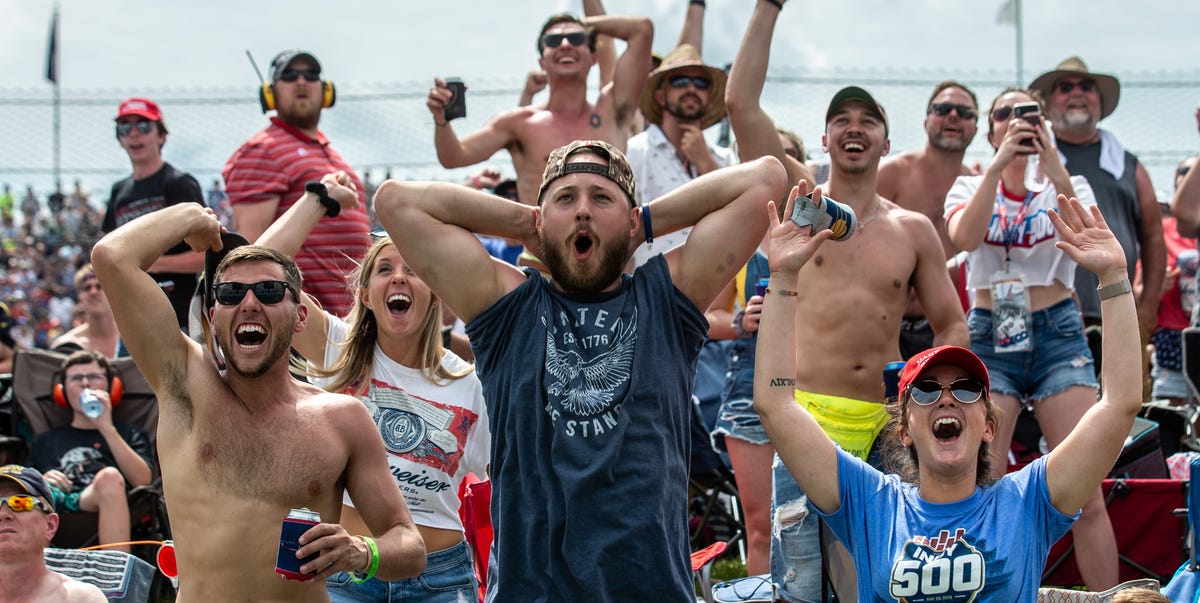 Thanks, or more like NO THANKS to COVID-19, race fans missed so much in 2020. The racing gods owe us a make-good year in 2021.
And while we patiently wait for our turn in line for the vaccine, here's 21 things we can't wait to see and a few wishes for the 2021 year in motorsports:
21
Return of the Force
John Force pulled his John Force Racing team out of the NHRA Camping World Drag Racing Series early last year after COVID-19 started wiping events from the 2020 schedule.
Lost events and limited attendance at the events that did come off resulted in lost revenue and led the NHRA to reduce its prize fund by a reported 70%. You can bet Force did the math.
Force did say last summer that he'll be back in 2021, but he's been awfully quiet this offseason. Is the 16-time Funny Car champ truly returning, and will he bring teammates Robert Hight, Brittany Force and Austin Prock along for the full-season ride?
Fingers crossed.
Memo to John: Race weekends just aren't the same without JFR giving everyone a run for their money.
20
Racing's Biggest Day(s) of the Year
The Sunday of Memorial Day weekend, with the Monaco Grand Prix, Indianapolis 500 and NASCAR's Coca-Cola 600, was a shell of its usual self in 2020.
Only the NASCAR event came off on the scheduled May 24 date. Monaco never happened, and Indy was put off until August and held without fans in the stands and before record-low TV audience.
Nope, the Memorial Day weekend grilled hot dogs just didn't taste as good last year.
In 2021, COVID-19 willing, Monaco will race on May 23, while Indy and NASCAR jewels go on May 30.
it won't be the same as the one-day tripleheader we all love, but it sure will beat 2020.
19
Flushing at Indianapolis Motor Speedway
Last year, Roger Penske took the keys as the new owner of the Indianapolis Motor Speedway, the NTT IndyCar Series and other IMS holdings.
One thing that Penske promised was to remodel restrooms and upgrade the concession stands as part of several fan-friendly initiatives at IMS.
Well, the pandemic kept us out of those re-tooled IMS restrooms in 2020. Hopefully, we won't have to wait much longer.
18
No. 8 for Lewis Hamilton
The 2020 season netted more Formula 1 records for Lewis Hamilton. He passed Michael Schumacher atop the all-time F1 wins list and tied Schumacher with his seventh world championship.
With no major changes in the regulations or to the cars in 2021, there's no reason to think that Hamilton can't take over sole position of the top spot with F1 title No. 8.
17
The Mick
Racing fans have been salivating for years at the thought of another Schumacher collecting race wins in Formula 1.
It's only fitting that Mick Schumacher, 21-year-old son of seven-time F1 champion Michael Schumacher, is making his debut in the series in the same year that Lewis Hamilton is expected to eclipse Michael's record seven championships.
Look for Mick, the 2020 Formula 2 champion, in a Haas F1 Team car in 2021.
It will likely be a short pit stop before he moves on to Ferrari.
16
More Air Time for W Series
The W Series, which was parked in 2020 due to schedule complications caused by the COVID-19 pandemic, returns in 2021 and on a bigger stage.
This time around, the second-year open-wheel series for women is being run as a support race on eight Formula 1 weekends. One of the F1/W Series weekends will include an Oct. 23 W Series race at Circuit of the Americas in Austin, Texas.
Jamie Chadwick is the series defending champion. She's one to watch, as she's also part of the Williams Academy and at least on the F1 team's radar.
As for Americans in the series, there's one—Sabre Cook, a 26-year-old mechanical engineer from Grand Junction, Colo. She finished 12th in the 2019 points standings to earn her place on the grid in 2021.
W Series will be a fun addition to the F1 weekend.
15
Willy T. Rubbing Fenders with Helio
We're rooting for Tony Stewart and Ray Evernham's Superstar Racing Experience—a made-for-TV short-track racing series featuring racing all-stars, past and present that will visit several historic venues in 2021.
It will conjure up visions of the old International Race of Champions series that featured drivers from different disciplines racing in similarly set up stock cars.
Drivers expected to be in the fold for the new-look IROC-style racing series include Stewart, Helio Castroneves, Bobby Labonte, Paul Tracy, Tony Kanaan, Willy T. Ribbs (pictured), Mark Webber, Ernie Francis Jr. and Bill Elliott.
Must-see TV.
14
Michael Jordan's New Dream Team
NASCAR, and a lot of fans, will be rooting for Bubba Wallace (pictured) to strike gold with his new 23XI Racing alliance with NBA great Michael Jordan and Denny Hamlin.
It will also be worth watching to see if Hamlin's interest in the new racing operation takes away from his own on-track performance in the Cup Series.
Wallace's car will essentially be a fifth Joe Gibbs Racing entry, so he should be competitive right out of the box.
13
Hailie Deegan on the Fast Track
Will this be the year that Hailie Deegan starts making her mark on the big stage?
After finishing third in the ARCA Menards series standings (zero wins, but four top-five finishes) in 2020, Deegan, 19, makes the move to the NASCAR Camping World Truck Series with co-owner David Gilliland's DGR-Crosley race team and Ford.
Many fans have been waiting for the next Danica ever since, well, ever since the old Danica left the NASCAR Cup Series after crashing out halfway through the 2018 Daytona 500.
Don't worry, Hailie. No pressure!
12
Can Anybody Beat Don Schumacher Racing?
Don Schumacher Racing comes into the 2021 NHRA Camping World Drag Racing Series season on an unprecedented 14-event winning streak in Funny Car, dating back to 2019.
DSR's Matt Hagan was king of that hill in last year's abbreviated 11-race schedule and took home a Funny Car championship.
The team, however, enters 2021 with plenty of questions, none bigger than where is the funding? Two of the 2021 Funny Cars—those driven by Tommy Johnson Jr., and Jack Beckman—are currently unfunded and may not make it to opening day March 12-14 at Gainesville, Fla.
11
Tony Stewart's Next Act?
Word is that NASCAR Hall of Famer Tony Stewart now has a drag-racing license. How cool would it be to see Smoke in a NHRA Camping World Drag Racing Series Top Fuel Dragster? We'd watch.
This year's NHRA Gatornationals at Gainesville marks the 10th anniversary of NASCAR champ Kurt Busch's NHRA Pro Stock debut. And anything Kurt can do, Tony can certainly do.
Right, Tony?
10
Getting Dirty at Bristol
The NASCAR Cup Series will take to the dirt at Bristol Motor Speedway on March 28.
This will mark the first Cup Series race on dirt since a race at the North Carolina State Fairgrounds at Raleigh, N.C., in 1970.
One notable dissenter to this latest NASCAR experiment is none other than the 1970 Raleigh dirt-race winner, Richard Petty. Petty is no fan of NASCAR's back-to-the-future move, saying that NASCAR worked hard to shed that small-venue, dirt-track image.
We're willing to give this new, old-school, venture a chance.
9
Kyle Larson's Return
NASCAR Cup veteran Kyle Larson let a racial slur slip during a virtual race last year early in the pandemic. and it cost him his real ride and real sponsors faster than you can say 'two all-beef patties, special sauce, lettuce, cheese, pickles, onions on a sesame seed bun.'
NASCAR has since lifted the suspension, and Hendrick Motorsports is giving Larson a fresh start in 2021.
If nothing else, prerace introductions might be interesting for a while. We'll watch.
8
NASCAR's Next Generation
We've seen glimpses of NASCAR's next-generation car over the course of a half dozen test sessions.
More testing and a finished product are on the horizon. We're anxious to see that finished product later this year and looking forward to debating NASCAR's final rules package ahead of the new car's race debut at Daytona in 2022.
7
New Series Promises a Lot of Electricity
If series team owners Lewis Hamilton, Nico Rosberg, Chip Ganassi and Michael Andretti are buying into this new off-road SUV motorsports venture, it's probably worth giving it a look.
After all, these are SUVs and a lot closer to products in the showroom than that other all-electric series (Formula E) delivers. Might even find the family's next grocery-getter.
Just make sure to wear green when you're watching, as the series promises to hammer home climate awareness messages.
No events in the U.S., so check your local listings, as they say.
6
Austin Cindric is Worth the Watch
It's a good bet that no one will come into the NASCAR Cup series in 2022 with more hype than Austin Cindric.
All defending Xfinity Series champion Cindric has done the last two years is win eight races and place in the top-five 33 times in 66 races. He has nothing left to prove in that series, but Team Penske is sticking to its game plan. And that game plan calls for the 22-year-old Cindric to race one more year in Xfinity before moving to the Cup Series to race full-time with the Wood Brothers in 2022.
Penske and the Wood Brothers have a technical alliance. And technically speaking, this kid is worth watching.
5
Fernando Alonso is back!?
Don't look now, but Fernando Alonso is making a Formula 1 comeback.
Maybe the two-time F1 champion wasn't happy with how he went out with McLaren in 2018. He finished 11th in the standings that year. Maybe he was just bored with the limited schedule afforded to him in his Toyota Gazoo ride in the WEC.
Or maybe he just finally ran into someone willing to meet his price tag.
Alonso's F1 heroics are barely a memory to many fans. He hasn't reached the podium since 2014 or finished inside the top-five in the season drivers' standings since 2013.
This year, Alonso returns to race at Renault, a mid-pack team (Renault finished fifth in the F1 Constructors' Championship in 2020) that hasn't spent much time running the leaders in recent years.
And it's not like Alonso is using Renault as some kind of stepping stone to one of the big teams. He turns 40 in July.
It's a comeback with more questions that answers.
This could be interesting. Or a train wreck.
4
99 and Holding For the Wood Brothers
Wood Brothers Racing has been stuck on 99 NASCAR Cup wins since Ryan Blaney's win at Pocono in 2017.
Matt DiBenedetto came close to victory lane for Wood Brothers in 2020, finishing third at Kentucky and runner-up at Las Vegas. It would be a feel-good story of the year if he could make it to victory lane in 2021.
A win would also give the Wood Brothers wins in eight different decades.
We've got a hunch that it just might happen.
3
Chase Elliott's Encore Performance
In 2020, Chase Elliott lived up to the hype of being NASCAR's Most Popular Driver and the son of a former Cup Series champion as he won his first Cup Championship.
And at 25, Chase accomplished the feat while eight years younger than dad Bill Eiliott was when he won the title at the age of 33 in 1988. Even seven-time champion Jimmie Johnson didn't win his first Cup championship until he was 31. Richard Petty won his first title at 27.
We might be watching something really special here.
2
Jimmie Johnson's New Rides
Talk about jumping out of the frying pan and into the fire.
Seven-time NASCAR Cup champion Jimmie Johnson walked away from NASCAR after the 2020 season and is walking into a Chip Ganassi Racing IndyCar ride for 2021.
As part of a two-year deal, Johnson will race a 13-race schedule of street and road circuits in the NTT IndyCar Series for Ganassi in 2021. Johnson is also in line to race a Cadillac DPi in the Rolex 24 at Daytona. It will be Johnson's eighth Rolex appearance, but first since 2011.
So much for retiring to that rocking chair on the front porch.
1
Full Grandstands, No Mask Required
And finally, we can dream can't we?
It seems like only yesterday (0r maybe a decade ago, if we're being honest), that we could leave the house without worrying about where we left our face mask.
Going to a race and sitting in a packed grandstand and not having to wear a mask sounds so good right now. We won't even complain about getting stuck in post-race traffic.
We promise.
Now, where can I get that vaccine? Hurry, the season starts soon!
This content is created and maintained by a third party, and imported onto this page to help users provide their email addresses. You may be able to find more information about this and similar content at piano.io